The selection of a logo to represent a business often involves considerable thought and discussion and it was an important decision for First National Bank in 1981. Bank executives wanted something that incorporated the area's waterways and ocean.
The bank held an employee contest to design the new logo. All of the submissions were considered but one stood out to the board. The concept was then handed off to a professional design company to render the final "Sails" logo.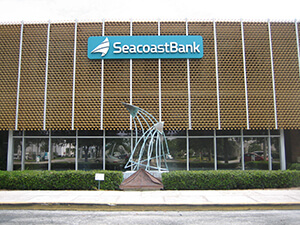 With the evolution to Seacoast National Bank, customers were told to expect new signs, but the "sails in the wind" logo, adopted by the bank in 1981, would remain. The logo was considered a graphic interpretation of a poem by Ella Wheeler Wilcox, "The Winds of Fate."
The Winds of Fate
One ship drives east and another drives west
With the selfsame winds that blow.
'Tis the set of the sails,
And Not the gales,
That tell us the way to go.
Like the winds of the sea are the ways of fate;
As we voyage along through life,
"Tis the set of a soul
That decides its goal,
And not the calm or the strife.
Ella Wheeler was born in Johnstown, Wisconsin in 1850, but grew up in Madison, writing poetry at a young age. Ella's poems were quite popular for simple rhyming verse with sentiments usually of cheer and optimism.
Perhaps one of the best known of the Wilcox works is "Solitude" with the memorable opening lines written after meeting a crying widow.
Laugh, and the world laughs with you;
Weep, and you weep alone.
For the sad old earth must borrow its mirth
But has trouble enough of its own.
Seacoast Bank's "sails in the wind" logo was inspired by "The Winds of Fate" an Ella Wheeler Wilcox poem.
PHOTO CONTRIBUTOR: ALICE AND GREG LUCKHARDT