"Ramar of the Jungle" was a 1950s nationally syndicated television series starring Jon Hall, husband of famed singer Frances Langford, who had a home estate in Jensen Beach. The popular half-hour action-adventure show featured Hall as Dr. Tom "Ramar" Reynolds, a white "medicine man" in the wild jungles of Africa.
Some of the stock footage reportedly was filmed in locations around Martin County. The series originally aired in two seasons of 26 episodes each, beginning April 18, 1953.
However, it was through the efforts of David B. Irons, Jr., executive vice-president of Citizens Bank of Stuart, that a sponsor was secured for the last 26 episodes of Ramar to be shown in cities of New York State, except for New York City. It was one of the largest television contracts at that time.
The chairman of the Genesee Brewing Company Inc. of Rochester, New York, Louis A. Wehle, maintained a home in Martin County. Irons, as Hall's friend, brought the bargaining parties together to make the deal between Arrow Productions and the brewery. Hall and Langford, although notable celebrities, often trading at local stores or businesses.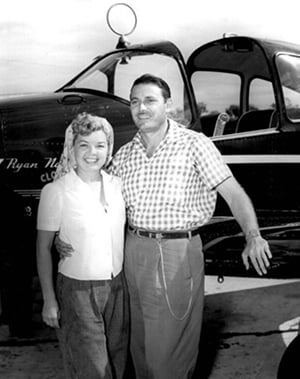 Research from newspapers, including The Stuart News, The St. Lucie Tribune and Palm Beach Post; personal interviews with Dale M. Hudson and Dennis S. Hudson Jr.; and the Luckhardt Collection of records and photos.
"Ramar of the Jungle" was a nationally syndicated television series in the 1950s starring Jon Hall, husband of famed singer Frances Langford, who had a home estate in Jensen Beach. The popular half-hour action-adventure show featured Hall as Dr. Tom 'Ramar' Reynolds, a medicine man in the wild jungles of Africa. CONTRIBUTED PHOTO FROM STATE OF FLORIDA MEMORY PHOTOGRAPHIC ARCHIVES