Citizens Bank of Stuart had several name changes, including First National and eventually Seacoast Bank.
Through the years, many items, some considered as, would be given away or sold for a nominal price. Some banks in the 1970s even offered free toasters for new accounts.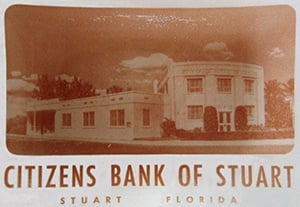 In the 1950s, Citizens Bank had designed an attractive small glass dish which could also serve as a table ashtray and a prototype was made for approval. The small opaque white dish, which was 4½-inch by 3½ inch with rounded corners, featured an embedded and labeled sepia toned photographic image of the bank building at its Osceola Street, Haney Circle location.
It is not known if the original prototype was ever produced in any sizable quantity, but a few examples, clearly marked "Sample" do exist, probably increasing the value to collectors of such memorabilia.
Research from newspapers, including The Stuart News, The St. Lucie Tribune and Palm Beach Post; personal interviews with Dale M. Hudson and Dennis S. Hudson Jr.; and the Luckhardt Collection of records and photos.
Header Image Contributor: The Luckhardt Collection