Dennis S. Hudson, Sr. was the right person to start a bank during the Depression, said Dennis "Cork" Hudson, Jr. "And I'll tell you why.
"In the 1920's, he was in the middle of failing banks and he saw what was wrong," Cork Hudson said. "He didn't do that at his branch." He was referring to making bad loans.
That's because his father was honest, ambitious, hard-working and strong, he said.
"Not just physically strong. Dennis Hudson, Sr. had the strength of character and didn't succumb to the hype of the 1920s land boom leading up to the Depression," Cork Hudson said. "He made smart loans to keep the depositors' money safe."
Dennis S. Hudson, Sr., founder of Seacoast Bank, was born in 1889 in Janney, Florida in sparsely populated Levy County.
"As a teenager he used to work on Cedar Key culling lumber to make pencils," said Dale Hudson, Dennis Hudson, Sr.'s second-born.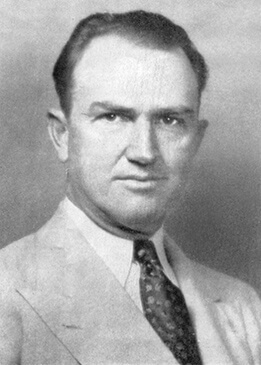 A 1930s photo of Seacoast Bank founder Dennis S. Hudson. CONTRIBUTED PHOTO FROM STUART HERITAGE MUSEUM AND HUDSON FAMILY
In 1915, Dennis S. Hudson, Sr., made application to the Banker's Financing Company of Jacksonville, FL for employment in their chain of banks and in a short time was called to Jacksonville and given a job as a relief man among their several banks in Florida. After which, he was permanently located as Assistant Cashier of the Citizen's Bank of Eustis. He resigned in May of 1917 to enlist in the United States Army after the declaration of World War I.
After World War I, Dennis Hudson, Sr., remained in the army in France.
When Sergeant Hudson returned in 1919, he returned to his job with the Banker's Financing Company. They then transferred him to the Bank of Boynton to be the Cashier.
As Hudson built his bank branch during the 1920s, developers carved new cities from Florida's wilderness and promoted them across the country.
Real estate agents took busloads of buyers to tour properties, said Cork Hudson.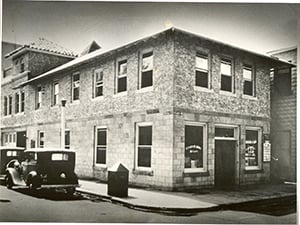 The site of Citizens Bank of Stuart in 1933. It's now the Vine and Barley Restaurant. CONTRIBUTED PHOTO BY STEVEN MARTINE FOR SEACOAST BANK
"There was a great demand, but as land values went up it attracted speculators," he said. "Many banks were helping to finance the lots and they were also financing the developers."
Many banks, especially the chains, Cork Hudson said, became over leveraged. When the bubble burst in 1925, many banks became insolvent, including the Banker's Financing Company.
The Florida State Comptroller, Earnest Amos, appointed Hudson as receiver for the Bank of Boynton. It was unusual for a bank officer to be appointed receiver for the bank that the officer managed. This came about because of a petition from depositors sent to Amos requesting Hudson be appointed receiver of the bank. Amos also put Hudson in charge to liquidate the Bank of Boca Raton.
Hudson then pursued his career in banking. He received the patent, or bank charter, to open what today is Seacoast Bank. Dale Hudson still has the original Letter of Patent from 1926 signed by the Governor John W. Martin. This charter allowed Hudson to open the Citizens Bank of Okeechobee in 1930. Hudson then moved the bank to Stuart in 1933 and changed the name to Citizens Bank of Stuart.
Header Image Contributor: Part of the Thurlow/Ruknke Collection. Contributed by Steven Martine for Seacoast Bank.