The dawn of the Space Age in the 1950s made dreams of travel to the moon a reality.
During this time, movies, comic books and toys often were related to science fiction or outer space.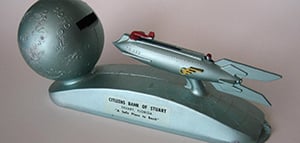 Capitalizing on that theme, the Duro Mold & Mfg Company produced and sold a Moon Rocket, Strato Coin Bank. Primarily distributed to commercial banks or savings institutions, it was offered to children as a promotion to encourage them to save pennies and soon have dollars.
The mechanical metal bank featured a rocket ship on which a coin was placed against a spring action mechanism, designed as an airplane, to be 'set' so that when triggered to release, forcibly shot the coin into an opening or 'slit' in the moon.
The bank was 8 inches long and 3 inches wide and weighed about a pound. A keyed, small metal plate on the bottom would unlock its treasured coinage.
The banks distributed by Citizens Bank had a decal on the base stating the institution's name, address motto, which was "A Safe Place to Bank" printed in bold black type.
No doubt many youngsters in Martin County owned and played with this unusual space age bank from Citizens. Those wise enough to keep it through the years in good condition may be surprised to learn that the value of that bank can be quite significant as evidenced by internet auction sales on eBay.