When it comes to success, many business owners and leaders talk about the hard work it took to get there. But it's not only about hard work, it's about smart work and smart thinking. In addition to the 5 ways listed below to work smarter, one of the smartest decisions of all would be to partner with Seacoast Bank for your small business banking or commercial business banking needs.
Inc.com has compiled 5 tips from successful business owners and leaders on how to work smarter:
1. Consider the Big Picture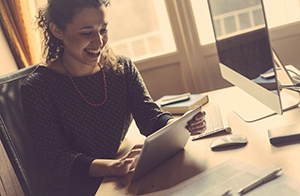 Great success comes from integration. If you look at each task on its own, the cumulative effort will likely exceed the available hours in your day. One Inc.com contributor recommends setting out all your opportunities on paper and looking for the synergy, then identifying patterns and creating repetitive practices. Select team members for their highest and best use, so you can restrict your efforts to doing just the things that only you can do best. Then, pre-plan everything, so you are pragmatic rather than optimistic about resources, budgets, and timelines.
2. Tackle the Big-Picture Items
Limit how many items you add to your to-do list. Take your master list and choose one to three of the most important tasks--the big, tough tasks for your day that you really need to get done, the ones that will keep you in the office past the time you planned to leave or working after dinner if you don't complete them. Then do them first. Not only will you get important stuff done, you'll feel good about yourself and motivated to tackle some of the other things on your list--and to start tomorrow off by knocking out one to three more most important tasks. Jeff Haden--Owner's Manual
3. Break Your Routine
There's always a better way to do something--even something you think you've perfected or done 1,000 times before. I'm always challenging my approaches to doing work, looking for new ideas and new ways to do something. Don't let routines rule your approach to work--constantly look for new and better ways to do the same thing. And when you get a new task, take some time up front to really map out the best approach, or ask others for advice on how they approached it. Peter Economy--The Leadership Guy
Get the latest updates, offers and helpful financial tips.
4. Reassign Responsibility
When I have a new or ongoing project, I design systems around it and assign as much of it as I can to a virtual assistant. People often resist this outsourcing opportunity, claiming that they don't have the time to train, or that no one else can do the job properly. Even if a task takes only a few minutes, when you add them up you'll be surprised to see the amount of time you've wasted. In the long run, investing in training is well worth it. And yes, someone else can do the job just as well, if not better! Marla Tabaka--The Successful Soloist
5. Fire Yourself
Early in my career, I thought the companies I managed wouldn't survive without my involvement in every aspect of the work. I found myself working "in the company" rather than "on the company"--the exact definition of working harder, not smarter. Over a spring break vacation, I read The E-Myth Revisited by Michael E. Gerber. Gerber teaches you how to run your business with an eye toward repeatable processes and delegation. A light bulb came on for me. I had surrounded myself with very capable individuals, and I needed to practice better delegation. I emphasized that everyone in the company should do their work in such a way that they could teach their job to others. This is a hard lesson to learn in business, but it ultimately makes your company better and is the smartest way to work. Eric Holtzclaw--Lean Forward

While these 5 tactics and ideas will lead you in the right direction to working smarter, it's equally important to seek out business relationships with companies that are truly passionate about your success, like Seacoast Bank. Your team of local advisors will work smart, work hard and think strategically to create the best possible outcomes for you and your business goals. As your community bank, we're here to assist you in planning for the financial future of your business, and to be your hand-in-hand partner. To learn more contact your local banker using the form below.

Read the original article on Inc.com. Copyright 2015.