All You Need to Know About Credit Card Fraud
Many of us use credit cards. In fact, according to credit reporting agency TransUnion, the average American currently carries a balance of almost $6,000, which is the highest in a decade.
Along with increased credit card use has come increased credit card fraud. As of 2022, 65% of American credit card holders — that is, about 151 million — have experienced fraud, according to Security.org. And 44% of American credit card holders have dealt with at least two fraudulent charges. There were $12 billion worth of fraud attempts in the U.S. in 2022 alone.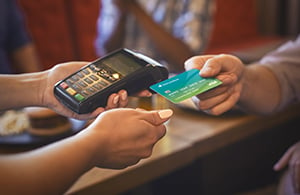 With just a bit of skill, thieves only need a minute — or even a few seconds — to pilfer your credit card data. The schemes are often surprisingly simple. Let's look at some of the most common ways thieves might steal your credit card information, how you can avoid this problem and what to do if it happens to you.
What is Credit Card Fraud?
Credit card fraud is when someone uses your credit card information for financial gain without your consent. In short, credit card fraud is theft.
Credit card fraud has been with us since the mid-20th century when thieves began stealing and counterfeiting cards. As digital use of cards became more common, thieves also went online. This century has witnessed an explosive rise in online fraud, including massive data breaches in which thieves hack into company or bank networks to steal customers' financial data.
Credit card fraud is now extremely widespread. Nilson estimates that card fraud losses globally will total $397.40 billion over the next decade, with $165.12 billion of that in the U.S. In 2022, the U.S. Federal Trade Commission (FTC) received more than 5.1 million consumer reports of fraud, identity theft, and other problems.
How is Credit Card Data Stolen?
There are many ways that thieves operate, with an increasing emphasis on digital crime as the most common way to steal data. Here are some ways criminals grab your financial info:
Stealing Physical Cards
Even though data thieves have moved heavily online, it is still possible for you to experience credit card fraud due to the theft of your physical card. Credit card issuers typically forgive any fraudulent charges on the card if you report it missing.
Data Skimming
Criminals often steal card data by running it through a skimmer device that records the information. Skimmers can be attached to legitimate credit card readers at gas pumps, ATMs, parking meters, vending machines and other unmanned credit card readers. A thief who can get your card out of your sight, such as at a restaurant, can skim the card before returning it.
Public Wi-Fi
Thieves can steal information from those using public Wi-Fi in a number of ways. They may set up false Wi-Fi connections that give them access to what you input. With a man-in-the-middle (MITM) attack, they insert a data-capture element between you and the server. Another option is "packet sniffing," in which thieves use software to intercept data packets as they transmit.
Get the latest updates, offers and helpful financial tips.
Malware and Spyware
Malware is a type of software that damages or infiltrates a computer or network. It instantly downloads to your computer when you visit a phony website or a legitimate site with low security, allowing the fraudster to access your information. Spyware, a form of malware, lets thieves capture every keystroke, including credit card numbers and account passwords.
Phishing and Smishing
Thieves often get victims to install malware via fake emails and text messages. A phishing email, which looks like a legitimate email, uses urgency and other tactics to get recipients to click on a link. Smishing uses fake text messages to get people to install malware unknowingly.
Cyberattacks on Website Forms
There are a wide variety of attacks that hackers can execute on websites. One of these, form action hijacking, is when criminals modify a web form so that it will perform in a way it's not supposed to, such as by recording customers' inputs instead of keeping them secure.
Data Breaches
Fraudsters may infiltrate the computer systems of banks, retailers and other businesses to steal personal account information in bulk. In 2023, such attacks racked up a global average cost of $4.45 million. There have been 838 reported data breaches and cyberattacks on institutions in 2023, accounting for 4,500,775,104 breached individual records, according to IT Governance.
Can Credit Card Info Be Stolen Remotely?
Credit card information can be stolen remotely with relative ease and in many different ways. Many data thieves are hackers who find ways to trick unsuspecting consumers into sharing sensitive data or who break into databases to grab financial information.
How to Reduce Your Risk of Credit Card Fraud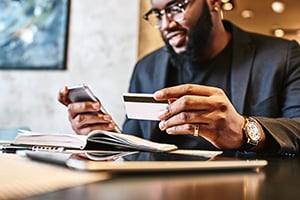 There are some concrete guidelines you can follow to reduce your risk of credit card fraud.
Practice Good Online Banking Security
Avoid using banking websites on public Wi-Fi and public computers. Don't even log into your email on these computers if you get bank correspondence there. On public Wi-Fi, use a VPN to connect directly with the server.
Choose a Bank That Will Keep Your Money Safe
When choosing where to bank, pick an institution that prides itself on maintaining strong security for online and mobile banking. Look for banks that offer security options like Touch ID, Face ID, multi-factor authentication, software updates and account monitoring.
Always Transact With Familiar Vendors
Avoid doing business with unfamiliar online vendors; instead, prioritize established merchants and websites. If you must purchase from an unfamiliar site, use a virtual credit card number that masks your account's actual number.
Use a Mobile Wallet
A mobile wallet is an app that securely stores financial information and other data, including credit card numbers. These apps increase security by creating a token, or random identification number, to substitute for your authentic credit card number.
Monitor Your Account
Set up mobile banking alerts with your financial institution so you can be aware of unusual activity as quickly as possible. Also, regularly check your accounts and verify that all charges are accurate.
Sign Up For Identity Theft Protection Services
The major credit reporting agencies — Experian, Equifax and TransUnion — and other vendors offer services to protect you from identity theft. If you have been the victim of a data breach, you may get access to such a program for free as part of a settlement.
What to Do if Your Credit Card Info is Stolen
Do you know if you are a victim of credit card fraud? Start by becoming aware of whether your information has already been compromised. Then, learn what to do next. According to a survey by Varonis, 64% of Americans don't know if they're a victim of a data breach, and 56% don't know what to do if they are.
What to Look Out For
There are a number of ways you may be alerted that you've been a victim of fraud. Look out for any or all of the following:
Email or other notices from companies you've transacted with saying that you may have been part of a breach
News reports that a company you've transacted with has experienced a data breach
Alerts from your bank or credit monitoring service about suspicious activity on your accounts
Charges on your credit cards that you did not make
What to Do Next
If you realize you've been the victim of a financial data breach or theft, take the following steps as soon as possible:
Notify your bank or credit card issuer's fraud department that your data is compromised
Dispute any unfamiliar charges via your bank or credit card issuer's process
Review your credit report to check for other problems
Contact the fraud units of the credit-reporting agencies to place a fraud alert on your accounts
Reset your passwords and enable two-factor authentication on your accounts
Consider freezing your accounts until you have handled the problem
Contact local law enforcement via the non-emergency number to report identity theft
Report the theft to the FTC hotline at www.ftc.gov or (877) ID-THEFT
For more information on what to do if you've experienced fraud, visit Seacoast Bank's advice page, which includes a handy checklist of actions.
Look for Zero-Liability Policies
While credit card fraud is widespread and on the rise, there is a lot you can do to avoid it. Additionally, card issuers are well aware of the dangers such crime poses and are ready to work with their customers to mitigate the damage.
Look for card issuers that have zero-liability policies, which means that they guarantee you won't have to pay for fraudulent charges. For example, if you're ever subject to fraud when using your Seacoast Visa® credit card, you'll have no obligation to pay.
Along with choosing a card from an issuer that takes security seriously, your best bet is knowing how to stay safe, keeping an eye out for fraud and acting quickly if you fall prey to this common financial problem.
For more cybersecurity tips, visit Seacoast's fraud prevention page.