Seacoast educates you on the latest warning signs of phishing scams. The uninformed are easy for hackers to hook. Read how you can protect yourself from the cybercrime that reels in millions of consumers annually.
How Do You Recognize a Phishing Scam?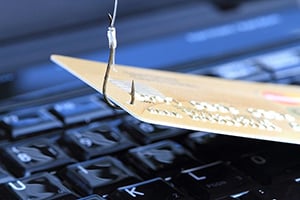 Phishing email messages, websites, and phone calls are designed to steal money. Cybercriminals can do this by installing malicious software on your computer or stealing personal information off of your computer.
Cybercriminals also use social engineering to convince you to install malicious software or hand over your personal information under false pretenses. They might email you, call you on the phone, or convince you to download something off of a website. Read on to learn more about the most common signs to stay alert to when you receive emails, phone calls and pop-ups.
What Does a Phishing Email Look Like?
Here is an example of what a phishing scam in an email message might look like.
Spelling and bad grammar.

Cybercriminals are not known for their grammar and spelling. Professional companies or organizations usually have a staff of copy editors that will not allow a mass email like this to go out to its users. If you notice mistakes in an email, it might be a scam. For more information, see Email and web scams: How to help protect yourself.

Beware of links in email.

If you see a link in a suspicious email message, don't click on it. Rest your mouse (but don't click) on the link to see if the address matches the link that was typed in the message. In the example below the link reveals the real web address, as shown in the box with the yellow background. The string of cryptic numbers looks nothing like the company's web address.

Links might also lead you to .exe files. These kinds of file are known to spread malicious software.

Threats.

Have you ever received a threat that your account would be closed if you didn't respond to an email message? The email message shown above is an example of the same trick. Cybercriminals often use threats that your security has been compromised. For more information, see Watch out for fake alerts.

Spoofing popular websites or companies.

Scam artists use graphics in email that appear to be connected to legitimate websites but actually take you to phony scam sites or legitimate-looking pop-up windows. For more information, see Avoid scams that use the Microsoft name fraudulently.

Cybercriminals also use web addresses that resemble the names of well-known companies but are slightly altered. For more information, see Protect yourself from cybersquatting and fake web addresses.
Get the latest updates, offers and helpful financial tips.
Beware of Phishing Phone Calls
Every year, thousands of people lose money to telephone scams — from a few dollars to their life savings. Scammers will say anything to cheat people out of money. Some seem very friendly — calling you by your first name, making small talk, and asking about your family. They may claim to work for a company you trust, or they may send mail or place ads to convince you to call them.
If you get a call from someone you don't know who is trying to sell you something you hadn't planned to buy, say "No thanks." And, if they pressure you about giving up personal information — like your credit card or Social Security number — it's likely a scam. Hang up and report it to the Federal Trade Commission.
Often, scammers who operate by phone don't want to give you time to think about their pitch; they just want you to say "yes." But some are so cunning that, even if you ask for more information, they seem happy to comply. They may direct you to a website or otherwise send information featuring "satisfied customers." These customers, known as shills, are likely as fake as their praise for the company.
Here are a few red flags to help you spot telemarketing scams. If you hear a line that sounds like this, say "no, thank you," hang up, and file a complaint with the FTC:
You've been specially selected (for this offer).
You'll get a free bonus if you buy our product.
You've won one of five valuable prizes.
You've won big money in a foreign lottery.
This investment is low risk and provides a higher return than you can get anywhere else.
You have to make up your mind right away.
You trust me, right?
You don't need to check our company with anyone.
We'll just put the shipping and handling charges on your credit card.
Scammers use exaggerated — or even fake — prizes, products or services as bait. Some may call you, but others will use mail, texts, or ads to get you to call them for more details. Here are a few examples of "offers" you might get:
Travel Packages. "Free" or "low cost" vacations can end up cost­ing a bundle in hidden costs. Some of these vacations never take place, even after you've paid.
Credit and loans. Advance fee loans

,

payday loans

,

credit card protection,and offers to lower your credit card interest rates are very popular schemes, especially during a down economy.
Sham or exaggerated business and investment opportunities. Promoters of these have made millions of dollars. Scammers rely on the fact that business and investing can be complicated and that most people don't research the investment.
Charitable causes. Urgent requests for recent disaster relief efforts are especially common on the phone.
High-stakes foreign lotteries. These pitches are against the law, which prohibits the cross-border sale or purchase of lottery tickets by phone or mail. What's more, you may never see a ticket.
Extended car warranties. Scammers find out what kind of car you drive, and when you bought it so they can urge you to buy overpriced — or worthless — plans.
"Free" trial offers. Some companies use free trials to sign you up for products — sometimes lots of products — which can cost you lots of money because they bill you every month until you cancel.
Understanding how these cyber criminals function will help you stay alert to risks and avoid risking your financial security by allowing sensitive information to fall into the hands of scammers. If you ever have any questions about the legitimacy of any Seacoast Bank communications, please call our Florida-based customer service team at 866-710-5778.
Read the original article on Microsoft.com and original article on FTC.gov. Copyright 2016.