Joanne Snodgrass's clothing shop, Nouvelle Silk95Five, is one of roughly 1 million women-owned businesses in Florida, but it has a style all its own. Walking into her upscale store, ironically on the corner of Tuxedo Avenue in trendy West Palm Beach, visitors are greeted with a collection of timeless silk fashions inspired by her eye for design and composed confidence. Though her small business is thriving, she's faced her fair share of challenges – some of which she never expected.
Joanne's first challenge took her around the world. Before she could worry about the logistics of running a small business, she needed to find a better fabric. As the foundation of her clothing line, silk has a lot of things going for it – it's airy and durable enough for unforgiving Florida weather, but it wrinkles easily. Her customers needed fashionable classics that could last from the workplace to the evening social.
"The biggest drawback of silk is that it has an uncompromising fit. It's very hard to take care of, and it creases a lot. So, I went on a journey in 2017 to create the perfect silk," Joanne says.
With her signature silk in hand, she could now turn her attention to commerce. Luckily for Joanne, the solutions for those challenges were found much closer to home.
Becoming a Small Business Owner
Opening a small business is never a small task, as it takes an unprecedented degree of patience and determination. Joanne's challenges were no different than most business owners, but as a woman business owner, she experienced negativity she never expected.
"Often, as an entrepreneur, you have to be very independent of thought. You have to be bullish and just move forward regardless of all of the naysayers because there are many," she adds.
Get the latest updates, offers and helpful financial tips.
To move forward, she sacrificed her time and energy attending countless fashion shows and meetings to break into the ultra-competitive industry. She was constantly traveling, pouring herself into the process of becoming a successful small business owner.
The Cost of Launching a Small Business
Undaunted by the sacrifices, Joanne joined a small business development group seeking sound advice and support. It's there that she met Seacoast Bank's SVP of SBA Lending, Stacy Maclure, who proved to be just the partner she needed.
"I was able to connect with Stacy whose family actually had a fashion showroom, so she totally understood the journey and how fashion works," Joanne said.
Stacy's knowledge stemmed from her family's wholesale apparel business and subsequent deep understanding of the manufacturing process. By combining that personal experience with expertise in small business lending, Stacy helped underwriters understand Joanne's business model and the path to generating sales.
A Partner That Understands Florida Small Business
As customers embraced her label and other retailers asked to carry her clothing, Joanne strived to keep up with demand. Joanne quickly discovered that sustainable growth can be just as daunting as getting a business off the ground. Ramping up manufacturing, generating working capital and streamlining your supply chain is expensive, and you need money up front. Joanne's dilemma this time was whether she should look to investors for funding or seek alternatives.
Once again, she sought guidance and consultation from Stacy Maclure, who explained the flexibility and benefits of securing another SBA 7(A) Loan, perfect for maintaining cash balances and giving operating partners the cash infusion needed to meet growing demand. The biggest benefit of another SBA Loan was the promise of retaining full control of her business, instead of diluting equity with investors.
"… We were able to keep the business and grow it in the way we want to grow, focus on the areas we see are the most important … Only you know as the entrepreneur, the founder, at this stage of the business knows what is the most important."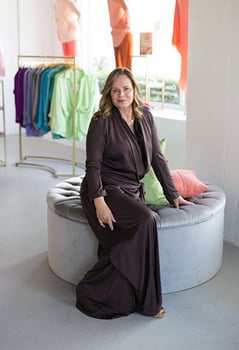 As Joanne's business grows, she's strengthened her relationship with Seacoast Bank to include a suite of Business Banking solutions that include payroll services and international wire transfers. With clothing in hundreds of stores worldwide, and a partnership with luxury retailer Neiman Marcus, she sees no signs of slowing down. And thankfully, slowing down isn't necessary - not with a business she's firmly in control of and partners like Seacoast Bank who truly understand the Florida small business landscape.
"Seacoast bank works like a community bank, where one has access to decision makers. I know that it would not have been possible for Nouvelle to get the loans through a large national bank … The entire team specializes in the area of business development and have a deep understanding of the needs of an entrepreneur and growing enterprises," Joanne says.