Barbara Alfaro is at the helm of a thriving women-owned business. The owner of Advanced Surgical Technologies in Palm City launched the medical laser company in her 40s after a successful career in the corporate world. Trading predictability and comfort for risk and uncertainty, she dove headfirst, believing that if she brought the right team together to support her vision, her small business could change lives.
Charting Your Course
To say that fearlessness is in her blood wouldn't be a stretch. Barbara's parents immigrated from Cuba in the 60s after losing everything – their business, possessions, and livelihoods. As they settled in the US, they instilled a passion for entrepreneurship and an uncanny sense of resourcefulness working in factories while learning to speak English. They taught Barbara firsthand the value of charting your course in life and constantly pushing for more.

Her parents' story of reinvention became the catalyst for her career transformation.
When Entrepreneurship Comes Calling
A corporate accountant by trade, Barbara cultivated her skills working in a myriad of industries. From automotive retail and solar energy to consumer goods and fossil fuels, she was constantly challenged and, in many ways, became an industry expert out of necessity.
Get the latest updates, offers and helpful financial tips.
Focused on identifying inefficiencies and develop cost-saving processes, she needed to know each industry's unique pain points and be able to communicate the importance of balancing operating costs and helped ensure each department's objectives aligned with corporate goals.

"I was able to navigate that really well by having all of the financial background and understanding, and then immersing myself into the operations so that I could be that liaison between the numbers and the operators and the salespeople," she says.

It was through her time consulting that she first experienced laser technology. She worked with a small company to implement controls around equipment costs, draft corporate processes and develop guides for technician education. Initially a small business with one technician, Barbara played a pivotal role in its growth to a $16 million company.
She found the work with the laser company intriguing and witnessed firsthand how streamlining on the corporate level can directly impact patient outcomes. When an executive at the company retired in 2017, she decided to put her passions into practice by partnering with him to launch their own laser company, Advanced Surgical Technologies.
Launching A Women-Owned Business
Having developed a strong understanding of the laser industry, she understood the industry's pain points and identified methods that could give her new company a competitive edge. Her business model focuses on investing heavily in laser equipment and loaning the devices to medical centers and hospitals as needed based on contractual agreements.

By removing the financial burden of having to purchase the latest medical laser technology, clinicians are able to provide better care to their patient with access to a non-invasive surgery option. From an economic perspective, Barbara's plan was a win-win, and from a personal perspective, she could feel good knowing she was making a difference in people's lives.

"Rather than selling something, I wanted to provide a service that was a good service, [one] that I could feel good about," she says.
A Bank that Understands Small Business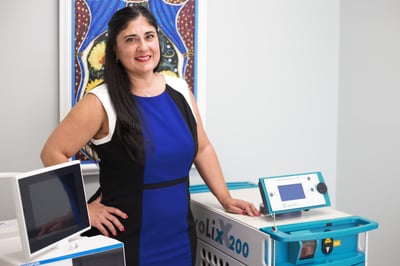 Investing in expensive equipment can be challenging for small business owners, especially
when the cost of innovative medical lasers is up to $100,000. Even with a strong business model and forecasted profits, obtaining financing through conventional methods was
a challenge. Through her work as a consultant, Barbara became acquainted with Seacoast Bank when they assisted one of her clients in securing an equipment loan. Seeing first-hand how they support small businesses, Barbara connected with Zaid Iqbal, VP of SBA Banking, who she met through a commercial banker. With Zaid's help, she received her first Equipment Loan.
"They [Seacoast] helped us to finance the first laser with no sales to speak of, just an idea that we wanted to do something," she adds.

The support Barbara received from Seacoast Bank has enabled her to streamline her business model and enhance service to her clients. She's developed a "Home-Town Tech Policy" that ensures advanced laser equipment is always available when a surgical team needs them and invested heavily in hiring highly trained local technicians.
Supporting Business Growth
Over the years, Barbara's small business has thrived. With the expansion of her workforce and increase in her client base, she needed to secure additional financing to keep pace. Again, partnering with her Seacoast Business Banker, she was able to obtain additional equipment loans for new laser technology, purchase company vehicles, and secure a Business Line of Credit to support revolving capital needs.

"We might be a little more than doubling our sales from last year based on the trend we're seeing right now," she adds. "As a small business owner, it's comforting that you're not just an account number to a bank. Seacoast makes every visit a personal interaction, and AST [Advanced Surgical Technologies] is a face with a name and a business owner trying to support families and coworkers with its continual growth and expansion."

And as the women-owned business expands, it's further proof that she's living the legacy of entrepreneurship that her parents instilled at an early age – a gift of believing that transformation is a matter of will and success comes to those willing to take the risk.