After multiple months of dealing with the global pandemic, uncertainty is still front and center for many. But with every new challenge comes the opportunity to create a new solution, or be a force for change— either in your business, your industry, or in our greater society.
We're already seeing changes occur on a global scale across industries. Businesses are finding new ways to adapt processes, repairing long-standing flaws in communication, workflow and hiring practices. And, since this is new territory for all of us, we're also seeing a broader sharing of knowledge—from "here's what worked for us" ideas to "let's work on it together" cooperative solutions.
And consumers, now more readily analyzing and rethinking their buying habits, are looking to new and different brands for better value, more convenience and, in some cases, branding and messaging that shows a deeper understanding of the greater issues facing the world.
As a multitude of possibilities present
themselves, it's an interesting time to be a business owner. Those who are willing to change can make the most of the moment—especially with an expert banking partner on their side.
Focusing On Manufacturing
Overall, the manufacturing industry has done a good job of adapting to current conditions. New health and safety measures are helping to keep workers safe. And initial disruptions to supply chains have begun to level off. It's far from what we've recently regarded as normal, but progress is indeed being made.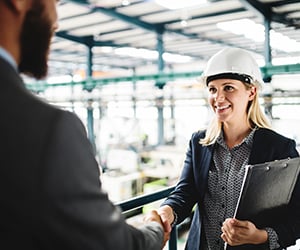 As can be expected, this moment in time has provided us with a great deal of questions—from the broader "how long will this continue?" and "what should we be doing right now?" to the more targeted "how can a more prepared federal response help our country's manufacturing moving forward?"
While the answers continue to come in from all angles, one thing is certain, now is not the time to sit back, watch and wait. Now is the time to leverage any and all opportunities—from simpler brand assessments to more involved business optimizations.
Now is the time to reevaluate your brand.
Marketing is usually one of the first things to get reeled in when uncertainty presents itself, which makes sense—the last thing you want to do is put out messaging that appears tone-deaf and oblivious to what's going on in the world.
Get the latest updates, offers and helpful financial tips.
While your marketing efforts are slowed or on pause, it's a great time to examine your brand. Don't forget, your brand is much more than just your logo and tagline. It's also how you communicate messaging and how you position yourself in the community.
When was the last time you updated your brand book or brand guidelines? Do you even have brand guidelines in place? Helping everyone, both internally and externally, understand what your brand stands for is essential in today's environment—especially with the current trend of consumers readily switching brands.
What aspects of your brand could use a little attention right now?
Now is the time to Think More Digitally
It's important to realize where your customers are right now. With on-site face-to-face visits taking a back seat to interactive website visits, make sure your online presence is on point.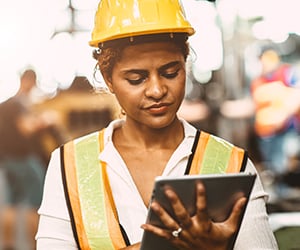 Give your website an update. Publish some new content for the company blog. Consider creating a podcast that highlights your business's unique perspective on manufacturing. Or, since trade shows are also on pause right now, consider investing in virtual events by hosting webinars or offering to participate in online conferences.
What digital investments can you make now that will position you for future growth and recognition?
Now is the time to Optimize and Embrace New Technologies
Innovations can be great time savers. They can also be great time disruptors when you're at your busiest.
If you've considered implementing new systems or Industrial Internet of Things (IIoT) strategies, but haven't wanted to disrupt processes, consider this moment in time an invitation to begin collecting the data and insights you need to gain a greater understanding of your operations.
Where could new data collection solutions help optimize your manufacturing processes?
The Wrap Up
With more than 90 years of servicing manufacturing businesses large and small throughout Florida, Seacoast has the financial knowledge and expertise to help guide and inspire you and your business right now. Our technology and information rival the nation's biggest banks, but our focus on the community means we never lose sight of you and your business.
Reach out today and start experiencing what it's like to have a banking partner that's always got your back—ready and waiting with solutions that make the most sense for you.