Small Business Saturday falls on the last Saturday of November, immediately following Thanksgiving and Black Friday. This strategic timing allows small businesses to have the flexibility of setting their own operating hours, giving them the opportunity to attract more customers by either opening earlier or closing later than their competitors. By extending their hours, businesses can entice shoppers to visit and consequently boost their sales on this significant day.
5 Lessons on How to Promote Small Business Saturday
The 2022 Small Business Saturday Consumer Insights Survey commissioned by American Express identified that two-thirds (72%) of shoppers strongly agree that they will continue to Shop Small during the holiday season given the impact that it has on their local community.
If you are looking to maximize your businesses revenue during the holiday season, here are some inspirational ideas to make Small Business Saturday a success every year.
1. Look for Small Business Saturday to continue to break records.
In 2021, Small Business Saturday saw an incredible turnout, with 51 million shoppers participating and a remarkable $23.3 billion spent—a record-breaking achievement. However, there is still room for growth, and investing in advertising and email marketing can further enhance sales. Utilize the power of social media platforms by leveraging hashtags such as #SmallBusinessSaturday and #ShopSmall to increase your online visibility and attract more customers to your business.
2. Take advantage of online shopping opportunities.
The 2022 Small Business Consumer Insights Survey also revealed that out of the 104 million U.S. consumers who participated in the Shop Small Movement, 41% opted for online shopping on Small Business Saturday. According to a Shopify survey, Gen Z is playing a significant role in driving the economy this season, with 37% planning to spend more than last year. What's more, nearly half of them intend to shop through social media, which is higher than the one-third of all U.S. holiday shoppers. To cater to this trend, American Express has introduced the #ShopSmall Accelerator, a pioneering program focused on helping small businesses connect with Gen Z shoppers on Small Business Saturday.
3. 'Tis the season to tap into holiday shoppers.
Small Business Saturday is a game-changer for businesses during the bustling holiday shopping season. A whopping 92% of participants in the Shop Small Movement agree that their business stands out because of Small Business Saturday, with 59% stating that the day significantly contributes to their holiday sales each year. According to Shopify, 41% of shoppers plan to start their shopping spree by the end of October, making it the perfect opportunity to kick off your pre-holiday sales or tempt customers with even bigger discounts later in the season.
Get the latest updates, offers and helpful financial tips.
4. Plug into your local shopping community.
Become a member of the Small Business Saturday Coalition, a collaborative initiative established by American Express and Women Impacting Public Policy (WIPP). This coalition provides businesses with valuable resources, tools, and materials to effectively promote the "Shop Small" message and foster connections within their local community. Joining this coalition will empower your business to make a meaningful impact and contribute to the success of Small Business Saturday.
Get involved as an American Express Neighborhood Champion or connect with other champions in your area. These organizations coordinate Small Business Saturday events, including shopping passport programs and festive pop-up markets, that you can participate in.
5. Use hashtags for Small Business Saturday.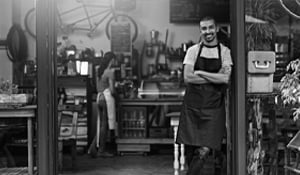 Harness the power of social media as a dynamic advertising tool this Small Business Saturday. Take advantage of popular hashtags like #ShopSmall and #SmallBizSat on platforms such as Facebook, Instagram, Twitter and TikTok. Increase your online presence by tagging American Express's @shopsmall social media accounts. Promote your Small Business Saturday promotions, events and activities. However, don't limit yourself to social media alone. Consider innovative approaches, such as offering discounts or free gifts to customers who tag your store and use Small Business Saturday hashtags.
Other Ways to Get Ready for Small Business
Here's a quick checklist to help you get started, stay competitive, spread the word, increase sales and promote Small Business Saturday:
Remind customers about Small Business Saturday when they come into the store.
Take advantage of the Shop Small Studio to create free, branded and customized posters, emails and small signage.
Check that your prices align with other local sales so you stay competitive.
Make sure you're adequately staffed for an increase in foot traffic and web traffic.
Tighten up online and in-store data security to let your customers know their transactions are safe.
Go over your inventory and make sure any goods shipping into or out of your store won't disrupt business or sales.
Consider co-marketing with other local businesses that complement your products or services.
Don't forget that eateries also participate in Small Business Saturday — send business to each other.
There are countless ways to increase sales and turn this Small Business Saturday into your most significant day. But if you haven't started planning, the date is fast approaching.
At Seacoast Bank, we're here to help. If you have questions about the financial side of your business or want to know more about the solutions we offer for business banking, contact your local banker using the form below.