Falling on the last Saturday of November — right after Thanksgiving and Black Friday. However, the business hours you keep that day are completely up to you, and can even act as an incentive to shop — and increase sales — if you open earlier or close later than your competition.
5 Lessons on How to Promote Small Business Saturday
The Small Business Saturday Consumer Insights Survey from 2018 provides insight and can inspire great ideas for Small Business Saturday any year.
1. Look for Small Business Saturday to continue to break records.
In 2018, shoppers spent an estimated $17.8 billion on Small Business Saturday — a record high. With a booming economy and the National Retail Foundation forecasting 2019 holiday sales to increase 3.8% to 4.2%, you may see an organic boost in profits. But spending a little on advertising could help increase sales even more.
2. Take advantage of online shopping opportunities.
According to the survey, of the 104 million U.S. consumers that took part in the Shop Small Movement last year, 41% reported that they shopped online on Small Business Saturday. Most businesses already have a website. But with eMarketer forecasting most online purchases will be made via smartphone by 2021, it's not only a good idea to use hashtags for Small Business Saturday to reach users browsing social media, it's imperative that your website is responsive to mobile screens so you aren't locking potential buyers out.
3. 'Tis the season to tap into holiday shoppers.
92% of participants in the Shop Small Movement say their business stands out during the busy holiday shopping season because of Small Business Saturday. 59% said the day is a significant contributor to their holiday sales every year. This could be the perfect time to kick off your pre-holiday sales or tease even bigger sales later in the season.
Get the latest updates, offers and helpful financial tips.
4. Plug into your local shopping community.
The survey also recorded 7,500 Neighborhood Champions in all 50 states last year, a 4% increase, supporting the Shop Small Movement. in all 50 states. These organizations put together Small Business Saturday events you might want to be a part of, such as shopping passport programs or holiday pop-up markets. You can find your local Neighborhood Champions here. Additionally, the Small Business Saturday Coalition had 615 organizations spreading the Shop Small message last year. Reach out to them through Women Impacting Public Policy (WIPP) to see how you can participate and benefit.
5. Use hashtags for Small Business Saturday.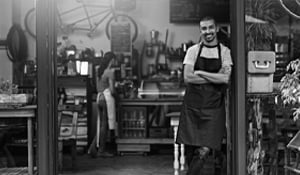 Social media is a powerful advertising tool so it's no surprise the survey found that in the three weeks leading up to last year's Small Business Saturday, more than 715,000 posts on Facebook, Instagram and Twitter used the #ShopSmall and/or #SmallBizSat hashtags. That's almost 20% more than 2017, and a figure that is likely to rise in 2019. Use these hashtags for Small Business Saturday to plug your promotions, events and activities taking place on November 30th, but consider other avenues as well. For example, you might offer a customer who tags your store and uses hashtags for Small Business Saturday a discount or free gift.
Other Ways to Get Ready for Small Business
Here's a quick checklist to help you get started, stay competitive, spread the word, increase sales and promote Small Business Saturday:
Remind customers about Small Business Saturday when they come into the store.
Take advantage of the Shop Small Studio to create free, branded and customized posters, emails and small signage.
Check that your prices are in line with other local sales so you stay competitive.
Make sure you're properly staffed for an increase in foot traffic and web traffic.
Tighten up online and in-store data security to let your customers know their transactions are safe.
Go over your inventory and make sure any goods shipping into or out of your store won't disrupt business or sales.
Consider co-marketing with other local businesses that compliment your products or service.
Don't forget that eateries also participate in Small Business Saturday — send business to each other.
There are countless ways to increase sales and turn this Small Business Saturday into your biggest day yet. But if you haven't started planning, the date is fast approaching.
At Seacoast Bank, we're here to help. If you have questions about the financial side of your business or want to know more about solutions we offer for business banking, contact your local banker using the form below.