Major changes are in store for the healthcare industry, specifically healthcare technology. From artificial intelligence to blockchain technology, there are affordable and efficient opportunities out there that just might be the shot in the arm your practice could use.
AI-Assisted Robotic Surgery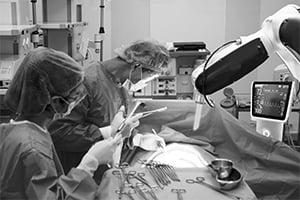 Patients love AI-assisted robotic surgery because it's considered "minimally" invasive. Minimally invasive surgeries, like the ones performed with robots, often mean patients won't need to heal from large scars. As a surgeon, you will appreciate it because it makes surgeries more efficient and more precise. Robots even have the capabilities to analyze previous surgical data to inform new techniques.
Plus, robots can analyze data from pre-op medical records to assist in guiding a surgeon's instrument during surgery, which can lead to a 21% reduction in a patient's hospital stay. AI-assisted robotic procedures also lead to five times fewer complications compared to surgeons operating alone.
Virtual Nursing Assistants
As much as patients would like them to be, your staff can't be in two places at one time. While they can never replace the "human touch," virtual nursing assistants can supplement your nursing staff when they have exceeded optimal workloads. As studies have shown, overworked nurses are more likely to make mistakes, which is why virtual nursing assistants can be so powerful in your patient care toolbox. Virtual nursing assistants are available 24/7 to help monitor patients, keep them informed, and even answer questions about medications, right on your patients' phones.
What's really exciting is virtual nursing assistants could potentially drive better medical outcomes at a lower cost. By reducing hospital re-admissions and decreasing the burden placed on human health care professionals, virtual nursing offers a $20 billion value potential for health care.
Get the latest updates, offers and helpful financial tips.
The Next Generation of Radiology Tools: Virtual Biopsies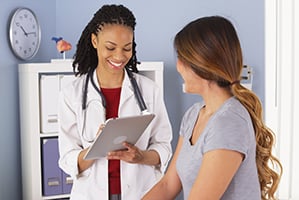 Speaking of cutting-edge technology, ever hear of virtual biopsies? If you haven't already, you will – and sooner. In the late stages of beta testing, artificial intelligence could signal the end of physical tissue samples for diagnostic processes.
With enhanced imaging analytics, you'll be able to diagnose, define and treat tumors cheaper and quicker. And when your patient hears there will be no need for an invasive biopsy, everyone wins.
Improved Electronic Health Record (EHR) Use
You didn't get in this field for the paperwork, did you? Computer-Assisted Physician Documentation (CAPD) will be able to automate your most routine tasks, like order entry, and help turn your "to-do" list into a "done" list simply by voice recognition and dictation.
By saying hello to artificial intelligence, you can say goodbye to spending more time on paperwork than patients. Newer iterations of the EHR just might restore the joy of medicine to overworked providers.
Healthcare Cybersecurity
Quick, what is one of the biggest problems in health care? Data security. Blockchain could be the solution you've been looking for. Blockchain technology stores and encrypts each unit of data individually until it reaches an authorized recipient, which makes it useful for ensuring each patient's privacy and protecting all of your data.
Blockchain can also maintain data integrity and consistency in areas where control is decentralized such as medical records, consent management and micropayments. It will enable health care providers to take a 360o view of the patient's profile and do so in a way that protects their identity.