The beginning of a new year brings with it an opportunity to reexamine the current state of your business. 2020 turned and twisted everyone's work environments and processes in entirely new ways. Some we were prepared for. Some we were not. And some we completely made up as we went along—the old "building the airplane as we're flying it" analogy comes to mind.
Start The Year With a New Focus
In times of chaos, many of our flaws are pushed to the forefront. When this happens we have to ask ourselves the hard questions. Do we continue doing things the way we've always done? Or do we adapt? Do we make a small change or a big one?
As industries attempt to regain revenues and find solid financial footing once more, for many reinvention may be the key not only to survival but also to long-term success.
Questions For Transforming and Finding Focus: Professional Services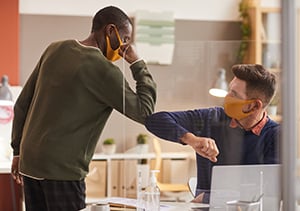 As both recovery plans and back-to-work policies are being formulated, this is also an opportune time to examine your business as a whole and make more informed decisions based on long-term predictions for your industry.
Across the board, people-centric approaches will be an important focus for many industries as we emerge from the pandemic. Those who are bold enough to focus on the future of employee and customer interactions now will have an opportunity to set themselves up for greater success.
From legal services and accounting to architectural and engineering to advertising and public relations to any and all building and home services, there are a number of questions you can be asking yourself—and in some cases your customers and employees—to position your business for post-pandemic prosperity.
How Can You Put Your Customers at the Center of Your Transformation?
If your customers are under stress and strain, there's a good chance it's affecting your business. Reach out to them now to gain a greater understanding of their pains. Once you've gathered information, look for patterns. How can you position your business as answer to their problems/concerns? What new services or offerings could you adopt to help you stand out from the competition? The more data you collect, the more you can steer company change in a direction that makes sense for everyone. Rely on your customers to inform your path forward.
How Can You Put Your Employees at the Center of Your Transformation?
The same approach can work internally as well. Your employees may have valuable customer stories and insights to share. But also, don't forget that across every industry, the average worker is being stretched to the breaking point—be it financially, mentally and/or emotionally. Your empathy can go a long way right now. Find out how they/their families are coping with remote work or being back in the office. Ask what is weighing on their mind, and shoulders, right now. Set aside some time to talk to your employees at all levels—preferably one-on-one. And don't be afraid to discuss life away from work. Showing you care about your employees away from the office makes a big impact on your brand's reputation.
Get the latest updates, offers and helpful financial tips.
How Can You Inspire Your Leadership to Initiate Transformational Change?
Challenge your leaders to think differently about your industry. Empower them to "fix things, before they break." What have they seen and heard about your competition? Or your competition's customers? The pandemic has given many of us time to think and ponder what's next. While the early months led to knee-jerk reaction ideas, what new insights or learnings have the additional months brought? Where can improvements be made? Are there any old systems/processes/equipment holding you back? What could help you make a big leap forward? What would happen if you were to give your leaders the green light to think bigger with the promise that you'll invest in the best of their ideas? You never know what brilliant idea, more efficient system, or new source of revenue could be inside their minds at this moment. Provide the inspiration and see what happens.
Does Your Brand Reflect a Business Focused on the Future?
Remember, your brand is more than just a logo. It's a set of values. A mission. A vision. A positioning that informs and enables you and your employees to continuously build something better. Without a solid brand in place, your staff may not understand where the company is going—or how to improve upon it. A strong brand gives you more of a story to tell beyond simply making money. It gives you a strategy and foundation for growth. If you've overlooked this part of your business in the past, now may be the best time to address it and define it—for yourself and your staff.
The Wrap Up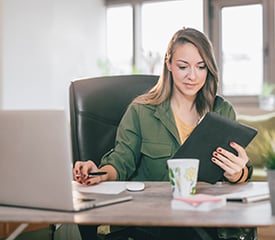 This post was designed to make you think and take a longer look at your business with the ultimate goal of helping you grow.
With more than 90 years of servicing businesses large and small throughout Florida, Seacoast has the financial knowledge and expertise to guide and inspire. Our technology and information rival the nation's biggest banks, but our focus on the community means we never lose sight of you and your business.
Reach out today and experience what it's like to have a banking partner that's always got your back—ready and waiting with solutions that fit your business perfectly.