The aptly named Fourth Industrial Revolution — when modern businesses build and implement a digital roadmap to boost productivity and profitability — has been taking place for decades now. That's more than enough time to capture data on a wide array of successful digital transformations — and failures. Yet even with a data-driven digital roadmap on the table, overall success rates for the digital transformation of an organization are not that impressive — according to a new McKinsey report, only 16% effectively improve their business's performance with tangible, long-term sustentation.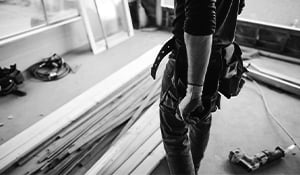 With that said, why should businesses keep trying? Perhaps the most helpful insight comes from the construction industry, one of the least digitized sectors in the world, according to the McKinsey Global Institute (MGI) Industry Digitization Index. This lack of successful digital transformation in construction occurs despite the fact that the industry is one of the world's largest economic sectors, generating $10 trillion worth of services and goods each year. What's more, the sector employs about 7% of the world's working-age population — a sizable chunk. Yet its inherent productivity problems leave the industry lagging far behind the economy in its entirety.
To close that gap, a new MGI study suggests that digital transformation in construction is the answer, which estimations say can boost the value of the entire sector by $1.6 trillion. That would add a substantial 2% to the global economy or, in other words, answer almost 50% of the Earth's infrastructure needs, one-third of which is right here in the United States — a golden opportunity.
Why Do the Construction and Engineering Sectors Struggle With Digital?
Clearly there's an incredible upside — and a voracious demand — for digital transformation in construction, as well as the related sectors of engineering and commercial real estate (CRE). So what's the problem? According to the McKinsey study, three main issues affect this industry's ability to successfully transform:
Fragmentation. Difficulties arise when getting independent contractors, subcontractors and suppliers — often from competing companies — on the same page, especially in the short time span workers might be on a particular project.


Uniqueness. Construction jobs differ in design, scope, time frame and workforce from project to project, making reliable, universal digital tools more difficult to develop.


Decentralization. Standards are rarely handed down from corporate to individual construction divisions, which are often acquired piecemeal as a conglomerate grows. Crews remain independent and tend to do their own thing while on sites that are mostly nowhere near company offices. Further, dangerous worksites don't always lend themselves to technology designed for an office.
Get the latest updates, offers and helpful financial tips.
3 Data-Driven Tips for Successful Digital Transformation
McKinsey's research identified a number of adoptable digital strategies that construction, engineering and CRE companies can use to avoid potential pitfalls, increase their chances of transformative success and capture greater value from digital in the long run.
Don't chase trends — solve problems.


Engineering and construction companies can get caught up in the technical part of a digital transformation rather than focusing on pragmatics. For instance, instead of upgrading legacy systems and installing new software just because they're bright and shiny new objects, it makes sense to first figure out if those types of digital transformations are actually going to translate into operational value. If the tech doesn't improve your operations, chances are your workforce is going to reject it as useless and cumbersome.

A better, process-oriented approach is to first identify operational changes that will improve your company's performance, then find digital approaches to actualize those operational changes. This helps suppress the impulse to chase tech trends for the sake of being cutting-edge. Done correctly, this will also foster a type of methodology that the workforce believes in, causing the digital solution to be more easily replicated and implemented across multiple groups — even if they're decentralized. Further, this first wave of tech implementations will often shine the spotlight on new opportunities for digital improvement.



Let digital help solve collaboration problems.


As mentioned above, one of the issues facing digital transformation in construction is fragmentation. Getting new tech to work across multiple organizations can be complicated, but the upside of tackling this problem is vast: Eliminating the loss of efficiency due to poor or miscommunication can smooth interactions, ultimately unlocking a piece of the $1.6 trillion in estimated value digital can bring to the construction sector.

One successful strategy for digital collaboration between construction, engineering and CRE appears when using business information modeling (BIM). This 3D intelligent modeling system helps professionals plan, design, construct and manage properties, giving all three sectors one digital tool for project management from start to finish. BIM can help companies design a space that's optimized for occupational use — for instance, installing smart sensors, internet of things (IoT) devices and other mobile technology so rental properties can be managed remotely in real time. Service interruptions, temperature changes, repair alerts, tracking water and electricity use — the implementation and usage of these technologies can seamlessly transfer from engineering to construction to CRE using digital collaboration tools like BIM.


Restructure engineering around digital advancements.
As with most sectors digital gets a hold of, technology has completely transformed engineering design. Digital design tools can now automatically generate a wide array of design options based on a set of specifications defined by a user. Instead of continuously designing original concepts as a core component of the industry, engineering has shifted to additionally interpreting and tweaking these generative designs, thus leaning more heavily on digital competency. This, coupled with the adaptation of modular construction, has placed an emphasis on building digital libraries filled with stock design elements for quick retrieval and reuse.


This shift in digital engineering requires organizations to either hire skilled workers — or retrain current employees — to create design libraries, automate elements of the drafting process and facilitate a shift from traditional designing to agile development. The ultimate outcome of such a digital transformation in engineering is faster iterations for testing and enhancement, a better utilization of standards and repetition and, ultimately, more availability for engineers to work on more time-worthy and groundbreaking design tasks.
Of course, the digital roadmap is becoming clearer. Data learning continues to pour in, showing us how factors such as the size and location of a company can dictate the success or failure of a digital transformation in construction, engineering or commercial real estate. You can read more of McKinsey's digital transformation tips here — perhaps most telling is their data on digital competition, showing that fortune favors the companies that make successful digital transformations first.
At Seacoast Bank, we're here to help. If you have questions about the financial side of your business or want to know more about solutions we offer for business banking, contact your local banker using the form below.