You've heard all the names. Digital readiness. Or digital journey or transformation or digitalization. A dozen different iterations, one convoluted meaning. And though we've seen buzzwords like these come and go for decades, it's almost a full year into a global pandemic and "going digital" hasn't quit going viral—with good reason.
Hatching the Digital Chicken and Egg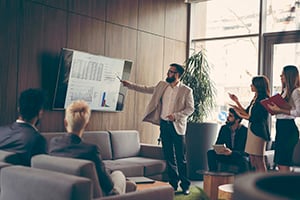 For starters, we've seen 30% growth to the global online customer base as consumers look to make more purchases via the Internet. Not surprisingly, studies also show that COVID-19 lockdowns forced businesses to accelerate their overall digital plans by up to 7 years in just a few months' time—an unprecedented feat that includes supply chain interactions, digital products and internal operations.
But what consumer data aficionados will find most notable about these stats 10 years from now is that both of these phenomena took place at the same time thanks to a global disruption, so there's no "chicken or the egg" question for the recent digital uptick. They both hit first, which left no clear path for either consumers or businesses to follow. Customers were left chasing online solutions that weren't always there, while businesses were scrambling to find digital solutions with no clear data to follow—all while the global supply chain was choked off and everything ground to a halt.
Get the latest updates, offers and helpful financial tips.
But now that we're slowly starting to pick up the pace with an economic rebound and stronger rollout of vaccinations, it seems the entire small business community is ready to go digital. But what does that even mean?
STEP 1: Demystifying Digital Transformation
In the simplest terms, if your business goes through a digital transformation it takes the old school, mom and pop, brick and mortar, word of mouth, cash only, paper receipts business model and shifts at least some of the budget and focus into obtaining the same or better revenue streams with the help of technology and digital tools.
That shift in focus and spend might look something like this:
Brick-and-mortar rent

Online webstores and e-commerce marketplaces
Word of mouth or flyers

Paid search ads, social media and review sites
Cash-only policies

Contactless point-of-sale hardware and online payments
Personal relationships

Customer Relationship Management (CRM) platforms
Paper receipts

Bookkeeping software
It really is that simple. Whether this digital transformation happens all at once or slowly over time has typically depended on monetary constraints, reluctance to change and lack of access. But in a world where simply going to the store could be considered a health risk, to say digital attitudes have changed would be an understatement.
The long and short of it is businesses that aren't quickly starting, or at least heavily considering, a swift digital transformation are almost certainly setting themselves up for failure as, unfortunately for some, they're finding out too late.
The Choice to Go Digital Isn't Really a Choice Anymore
Sound a bit alarmist? Well, the numbers don't lie—this has been an unprecedented movement to digital readiness for SMBs (small and mid-sized businesses):
93% of SMBs were disrupted by the COVID-19 crisis, with 30% seeing decreased customer demand
Only 45% of SMBs felt digitally prepared when the crisis began
Since then, 85% of SMBs say the crisis made them rethink their approach to digital tools
And in the strongest indicator of willingness to take digital action, 72% actually increased their use of digital tools during the pandemic
The trend is strong. And while nobody is saying that everyone has to accept digital as the future of all business, the competition and customers have spoken and the results are clear—digital isn't just the future, the future is now.
STEP 2: Lowering Your Digital Costs and Risks
The transformation to your digital future doesn't have to be scary or full of high risks and costs. An in-depth report on how small businesses understood, implemented and used digital tools before and throughout the coronavirus crisis highlights two crucial ways SMBs can overcome challenges to adoption:
1. Understand that your digital gaps are unique opportunities.
No two small businesses are truly alike, even in the same industry. Businesses have different goals and metrics for success, so it's only fitting that even two nearly identical businesses will need different digital solutions and, therefore, have a different digital journey. This could explain why digital transformation is so hard to pin down—everyone's digital roadmap is pinned up differently. But it's important not to get scared off by what other companies have gone through and, instead, start your digital journey with your own specific goals, limits and metrics for success in mind. For example, the top three digital concerns for Florida small businesses are adopting a business website, customer relationship management tools and being involved in e-commerce—you may already have one or more of those in place.
2. You can lower your digital costs by investing time before money.
Although early digital adopters might have a leg up on implementation, small businesses looking to start going digital today have enormous advantages that weren't around five to ten years ago: an abundance of free digital tools, trial periods, peer reviews and online training resources. Essentially, it's never been easier to cut costs and risks by learning digital yourself. Spend a little bit of time looking through these free digital resources available for small businesses, talking to your SMB network, and trying out free or trial-based digital tools before making any investments in digital. Not only will it likely save you money in the long run, but it can help you make a more informed decision when it comes time to choose digital platforms, vendors and solutions.
STEP 3: Planning Your Digital Transformation
When you feel that your digital cost, effort, and risk entry points are manageable, look into some of the most common areas for small business digitalization: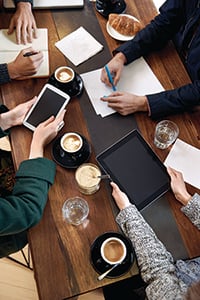 1. Customer Interaction.
Social media is accessible to almost the entire world and provides a great way to quickly and organically get your business/brand in front of a wider audience. It also allows you to respond to questions in real time, offer customer support, and promote your products and services with professional-scale media thanks to built-in app features like filters and live streaming tools. If you're unsure where your customers hang out online, ask them. Or, check out your competitors' social media sites for an idea on your audience's social habits. For an in-depth starter course on everything from social media jargon to web analytics, check out this 18-video social media course for small businesses from the Small Business Association (SBA).
2. Customer Relationships.
Investing time and/or money into a reliable CRM platform will help you centralize your customer data so you can build stronger, more lucrative relationships. Plus you can make the data you collect actionable by incorporating it into marketing campaigns. In fact, most CRMs give you a way to track your entire sales process, from first contact to closing, plus offer support via phone, chat, email and social media. Many free trial CRMs are geared toward beginners, with easy-to-use and customizable dashboards that allow you to create reports in real time. If you have a peer-to-peer network, this would be a good time to reach out for CRM suggestions so you can begin researching solutions that best fit your business's needs.
3. Inventory Management.
Inventory management software solves logistics and revenue stream problems by bringing clarity to your on-hand assets, from the smallest backrooms to the largest warehouses. Because there are so many different types of businesses—each with their own inventory needs—there are a plethora of digital inventory management tools that specialize in areas like e-commerce, warehousing, enterprise resource planning (ERP), manufacturing, etc. A good way to assess what each platform can do for your business is to chat with customer support or a sales rep to find out if the software you're looking at has the tools you'll need, or if it's just extraneous bells and whistles that you'll never use.
4. Receiving and Outbound Payments.
Cash flow is the livelihood of your business so making it easier to send, receive and manage payments through digital means should be a priority. For payments receivable, digital can be as simple as upgrading from cash only to debit and credit cards, or from credit cards to offering gift cards. For both receiving and outbound payments, there are also e-checks, electronic bank transfers, contactless mobile wallets, app-based payments (including paying person-to-person or through QR codes) and even cryptocurrencies. Talk to your financial advisor about your business's capabilities and how potentially adding digital tools and accounts payable automation may improve your bottom line.
5. Marketing and Growth.
Boosting your digital outreach can help you grow and retain your customer base, two areas nearly half of all SMBs in Florida say they'll focus on post-COVID-19. A mobile-friendly company website is at the core of any good digital marketing strategy, serving as a home base of operations on the Internet in almost the same way that a brick and mortar serves as a physical address on a map. Once established, you can begin driving traffic to your website using social media, paid digital advertising, search engine optimization, automated email nurture campaigns through your CRM, and even mobile apps. Much like having multiple people stationed throughout a store to greet, educate and eventually ring up a customer, the goal of a wide-ranging digital marketing strategy should be to manage your customer's journey through multiple touchpoints online, guiding them further into your sales funnel (perhaps an e-commerce site) until they convert. In addition to the Small Business Technology Coalition website, where you can learn all types of successful digital growth strategies, the SBA and U.S. Government have just launched Ascent, a free-learning platform for women entrepreneurs, with a heavy focus on digital.
6. Cybersecurity.
Finally, the one aspect of digital transformation many businesses tend to overlook is digital security. You wouldn't expand your storefront without extending your alarm system or placing locks on the new doors, and your digital expansion should be treated the same. Make sure every step along your digital journey is filled with cybersecurity measures that are firmly in place. For apps, websites and any other platforms where you log in, it's a good idea to enable two-factor authentication or, preferably, multi-factor authentication. You should also pay attention to local and federal data security and compliance laws, which will help you maintain best security practices. You can find more tips on small business cybersecurity from the Federal Communications Commission, plus cybersecurity tips and training events from the SBA.
Still Need a Little Help With Your Digital Transformation?
Making the leap to digital can seem daunting and expensive, but it doesn't have to be. At Seacoast Bank, we have the right resources and digital tools—both financial and guidance—to help you navigate your digital journey like a pro. If you have questions about the financial side of going digital, or want to know more about digital solutions we offer contact a local banker today.