Artificial intelligence (AI) in manufacturing may be leading the way for current AI applications across all industries, but there is some evidence that the progress presently being made could be even better. In fact, AI in the manufacturing industry might even lag behind its larger aggregate, the supply chain.
Why Is AI for Supply Chain Management Ahead of Manufacturing Technology?
AI for supply chain operations has seen significant investments from some of the largest names in the sector. For example, leading warehousing provider DHL Supply Chain — also a part of the world's largest logistics company — is investing $350 million on deploying emerging technologies in 350 of its 430 North American facilities. This includes investments in augmented reality (AR), the internet of things (IoT), MySupplyChain (DHL's visibility solution) and robotics.
Expanding Existing AI in Warehouses
But perhaps more importantly, many of the upgrades will build upon the intelligent warehouse management systems (WMAs) that have been in place for years now with an increased focus on automating the laborious task of picking parcels from shelves — a time-intensive burden driven by the uptick in e-commerce.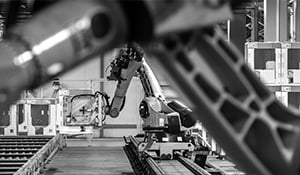 It's this long-standing infrastructure in early adopter warehouses that allows supply chain and operations to be one of the leading sectors for businesses to drive revenue from AI investment. This easily increased revenue comes from AI applications such as:
Intelligent robotic sorting. AI-driven machines lower labor costs by using a wide array of identifiers to sort parcels and pallets, often using "smart" pressurized grippers to preserve the integrity of the packages.
AI-powered visual inspection.

Replacing the labor-intensive task of human visual inspection, AI software uses specialized cameras to take and examine photos of cargo, helping to identify damage and suggest an appropriate corrective action (replacement, return, reboxing, etc.).
AI in Manufacturing Technology Is Playing Catchup
While supply chain managers were busy installing WMAs and AI in warehouses, for the past few decades, manufacturing companies have been content with digitizing their plants with supervisory control systems and advanced process controls. These applications have had an enormous impact on the machine operators — increasing both their visualization and control over the production process — but in the end, workers still relied on their knowledge, instinct and judgment to operate the machinery.
Get the latest updates, offers and helpful financial tips.
As these experienced operators retired, the lack of highly skilled replacement workers began to affect manufacturing performance and, in turn, profits. This talent deficit made the impending transition to AI in manufacturing technology all the more apparent — especially as other facets of the supply chain highlighted the benefits of AI:
Standardization and preservation of knowledge without worker reliance
Ability to improve learning and make autonomous operational decisions
Consistent and predictable results despite workforce talent shortages
Lower costs of creating and maintaining in-house intellectual property
Increased adaptability and versatility to changes in markets and equipment
Reduced manpower and increased agility, making production changes easier
Operations are automatically optimized to complete complex jobs more efficiently
Implementing AI for Manufacturing the Right Way
To get a better understanding of how upgrading AI manufacturing technology in the real world works, it's helpful to look at a McKinsey case study on AI implementation for a cement company, one of many types of manufacturers who may have lagged on AI due to their heavy assets. The task at hand was to build optimizers into the kiln, finishing mills and vertical raw mill — all with real-time AI capabilities. To accomplish this, McKinsey formed an agile AI solutions group consisting of data scientists, process experts, plant engineers, and analytic and digital consultants. They then took the following six steps:

1. Captured massive amounts of data spanning hundreds of processes
2. Formatted and evaluated the findings using analytic tools
3. Mapped the data against automation process flows
4. Used design software and applied neural networks to build the optimizer offline
5. Constructed the online version of the optimizer and used data interfaces to connect it to the control and automation system
6. Performed online tests in autopilot mode until the asset optimizer could operate without an operator's help

Data Drives AI Success
As you can see, the process was measured from start to finish, beginning with pointed data collection and analysis, followed by a blueprint, a prototype, testing, iterations and, finally, launch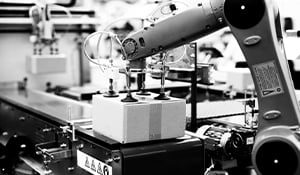 and metric monitoring. The results? The hourly feed rate in the vertical mill showed a cumulative improvement of 16.6% during the first four months while the optimizer was in continuous learning mode. During the next four months — while the manufacturing technology was in autopilot and self-learning mode — the cumulative improvement over manual operations rose to 19.8%.
To replicate this type of success in your own manufacturing plant, McKinsey emphasizes the importance of building the right team. This includes project managers, AI creation experts, process and production engineers, data and IT specialists, and data engineers and scientists. Once assembled, following a measured, data-heavy approach from beginning to end will net you the best results.
Moving Forward With AI Manufacturing Technology
With so much to gain, AI in manufacturing certainly has its work cut out. A recent Forbes Insight survey showed 44% of manufacturing professionals think AI is highly important to the sector over the next five years, while 49% deemed AI in manufacturing "absolutely critical to success." With those types of expectations — combined with the successes of cases like McKinsey's cement company — it won't be long before manufacturing catches up with the rest of the supply chain.
At Seacoast Bank, we're here to help. If you have questions about the financial side of your business or want to know more about solutions we offer for business banking, contact your local banker today.