Almost every single person out there has a debit card they use these days, but not everyone realizes the benefits that come with having one.
Although swiping a debit card has become second hand to most, it's important to understand when it's best to use one over cash, checks, or credit cards, and why.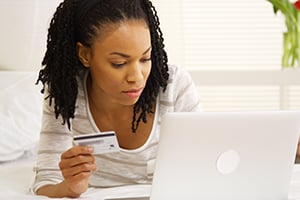 Most debit cards function on a fundamental level. They're issued by banks so that cardholders can easily and quickly move money from one bank account to another electronically. When making a purchase, money is withdrawn directly from the cardholder's bank account, and is deducted. Debit cards function as an ATM card (so that you can take out cash instantly) or as a check so that when a purchase is made, money is deducted from the cardholder's account immediately. Seacoast Bank's Visa® Debit Card, provides additional benefits that come from the association with Visa®, such as compatibility with Visa Checkout and Apple Pay™. Here's five more reasons why using a debit card is your next best life decision.
Using a Debit Card is Convenient and Safe
Many card users enjoy the convenience of their checking accounts thanks to the ease and convenience of debit cards these days. Just swipe your card or hand it to the cashier. You'll skip trips to the ATM, and you can leave your checkbook at home. Using a paper checkbook is becoming more and more outdated, and many retailers won't even accept checks. Plus, a debit card can help speed through any checkout process—all without the need to carry change, write a check, or stop at the ATM.
A Mobile Wallet Gives You More Options for Convenience
Several individuals believe you need a credit card to make certain purchases, like shopping online, renting a car, or having an emergency fund. With debit, you can spend the money you already have. When renting a car, for instance, the car rental company will put a small hold on your card that will be released once the car is returned without damages.
It's also safer to use debit cards, rather than carry around cash, which can easily get stolen or lost. There's an extra layer of security with debit cards like the chip, pin, and online banking access that allow you to track transactions right from your phone.
Get the latest updates, offers and helpful financial tips.
Sometimes, You're Just Not in a Position to Touch Your Credit
The main reason why people use credit cards over debit cards is because they need to borrow money they don't have in their checking account or they're trying to build their credit. Debit can be a great idea if you know you're going over the 30% recommended credit amount from your credit line or if you know that you usually find yourself painfully close to maxing out your credit card each month.
With a debit card, you're able to track your purchases in real-time because transactions take money directly out of your bank account immediately, unlike credit cards which provide monthly statements. This can make purchases easy to forget, until your payment due date or when you catch it online. If you don't have your credit under control, interest will accrue which can get you in debt quickly. If you're not good at using credit, or you're new to it, getting an idea of what your income and expenses are is more transparent with your debit card. Plus, it's always empowering to know you don't have to keep borrowing money or falling deeper into debt.
Additionally, you don't need a credit card to build your credit. By simply paying your bills on time, like rent and utilities, you'll build enough credit over the years to quality for big life expenses like a home loan.
Debit Can Help You Really Stick to Your Budget
You might be one of those buttoned-up characters who don't have a problem with spending and can pay off your credit card every month. However, knowing you have that extra amount on your credit line can be tempting for anyone—-whether you're a shopping fiend or just negotiate treating yourself or a love one again (maybe a bit more than you let on). If you're swipe happy and use your credit card mindlessly, or for a future paycheck, you're likely making impulse purchases on things you don't truly need, and more importantly, isn't included in your budget. There's no point of making a budget if you're just going to meddle with it. Use a debit card to train yourself to understand how you're actually making financial decisions. Avoid paying just the minimum payment on your credit card each month, as your interest charges will quickly snowball. No matter how small, interest on purchases is your hard-earned money lost.
Credit Cards Aren't the Only Cards With Benefits. Reap the Perks of Debit Cards
Many debit cards nowadays also offer special perks. Spending on everyday purchases you know you'll make anyway, like groceries and gas, is a great way to maintain your debit card and get special offers. Saving money is possible when paying close attention to the various promotions that become available as you make purchases. Seacoast offers different deals and exclusive coupons from your favorite retailers. When using a Seacoast debit card, you get great deals like this:
Save $5 on $50 when you shop at Target

Receive 20 percent off a 1-hour airboat and gator park combo

Get 20 percent off single-day tickets to LEGOLAND Florida Resort
It's Time to Shop Local
>When it comes to banking local, it's a no brainer. Getting the same simple services, like online bill pay, is a given, plus you'll receive the best rates on interest, savings, and more. Debit cards come with many of the same benefits of credit cards, and less of the disadvantages. Skip annual fees, late payment charges, and foreign transaction fees. Plus, if you're worried about overdrafting your account, you can easily set up an overdraft protection to prevent any mishaps.
Want to learn more about your debit card options? Experience safe and convenient banking with a Seacoast Bank debit card.