Physical debit and credit cards can be helpful financial tools, but your finances and identity can be at risk if one is lost or stolen. Fortunately, digital wallets can be used as an alternative payment option. A digital wallet lets you pay directly from an internet-connected device, offering added convenience and contactless payments. But how do these wallets work, and are they more secure than carrying a physical card?
Continue reading to gain a deeper understanding of the various types of digital wallets available and the enhanced security measures they offer for mobile payments.
Types of Digital Wallets
Digital wallets are financial tools that let you connect your debit or credit card information and pay on the go. They can be set up and used on any internet-connected device, including a laptop, tablet, smartphone or wearable device. You must enter a passcode or verification code sent to your phone or rely on facial recognition to access a digital wallet.
Mobile wallets are a kind of digital wallet that's typically only accessible via your smartphone. These wallets offer contactless payment, meaning you can utilize tap-to-pay features if retailers accept contactless payment. This is not only convenient, but it can be a more secure means of payment processing. Other mobile wallet security features, like multi-factor authentication, offer more protection than a physical card.
Standard digital wallet options include:
Capabilities and features may vary depending on your digital wallet type. You can typically use a digital wallet to store funds, make payments and track your transaction history. In addition to debit or credit card information, mobile wallets can store gift cards, loyalty cards, event tickets and more.
How Mobile Wallets Work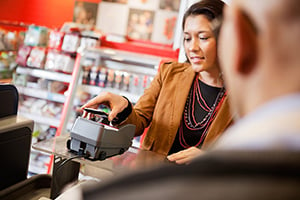 When you pay using a digital wallet for in-person shopping, your bank information is never vulnerable, unlike with a standard magnetic card reader. Your phone carefully encrypts your account information (NOT your bank, card or other payment information), which point of sale (POS) software reads through near-field communication (NFC). NFC is a technology enabling devices to establish radio communication with each other within a certain small distance.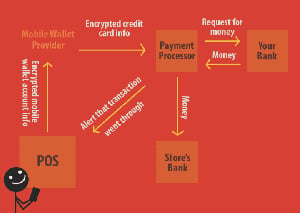 The POS does not read the information; instead, it sends it to the mobile wallet provider, who de-encrypts it, sees which account you want to access and checks your identifying information. Once the provider has satisfactorily verified your identity, they send your card information to your payment processor, who accesses your bank information and requests that your bank sends the money back to them. The payment processor then sends your money to the store's bank and alerts the POS that the transaction has been completed.
Get the latest updates, offers and helpful financial tips.
In this system, situations like the Target hack in 2014 are virtually impossible because your data is never in the retailer's possession, not even during the payment process. When comparing the outdated magnetic stripe encryption to the more secure EMV/NFC encryption developed by security experts, it's evident which one is less susceptible to compromise.
Some individuals may still be concerned about someone accessing their encrypted data from the NFC. However, it is essential to note that the data is encrypted, making it unreadable even if accessed. If a hacker manages to decode what your phone has sent, they would only obtain your wallet provider information, which cannot be used for making payments or accessing your card or bank information.
Furthermore, it's important to note that the encryption sent through the NFC is constantly changing. Your phone generates unique encryption for every transaction, making it virtually impossible for someone to crack a single encryption and make unauthorized purchases using your mobile wallet, as they can with a credit card.
Besides using NFC and encryption technology for in-store payments, specific digital wallets have security features like two-factor authentication. So, in addition to providing your login credentials, your digital wallet provider will also send a unique verification code to your phone or email. You can then enter this code to verify and access your account.
Cell Phone Security
Misplacement or losing your phone is generally more difficult than your wallet. However, it is still possible for your phone to be lost or stolen; in such cases, it could be at risk, just like a physical wallet. The good news is that both your phone and most mobile wallets have implemented security measures to address these concerns.
First, your phone can (and should) be passcoded. It can also be enabled with biometric security features like fingerprint unlock or facial recognition.
Your mobile wallet can also be pass-protected, so a thief must crack an additional passcode to access it. Plus, phone protection keeps improving, with more advanced security functionality being released.
However, it's important to note that these measures alone do not necessarily make mobile wallets safer than carrying physical cards. The key factor that enhances their safety is the ability to remotely disable your mobile payment app by accessing your mobile wallet provider account. This means that if your phone is stolen, the thief won't be able to use the app even if they have access to your device.
Bank and Credit Card Security
In addition to digital wallet and mobile wallet security features, debit and credit card companies like Visa also add their own security functions, so you have many layers of protection. If your smartphone is lost or stolen and someone accesses your mobile wallet, you may not be responsible for any charges they make. The same is true if someone makes unauthorized charges on your physical card. If you suspect you're a victim of fraud, contact your credit card issuer immediately about any unauthorized charges.
Depending on your bank or card issuer, you may be able to set spending limits or set up online banking alerts that can make it easy to determine if your digital wallet is compromised. Typically, you can do this through your mobile banking app. Additionally, many cards offer zero-liability policies, which protect you if someone makes fraudulent charges using your card. If your card offers a policy like this, you won't be responsible for charges you didn't make.
The Bottom Line on Mobile Payment Security
Digital and mobile payment security is ever-evolving and continues to advance with new technologies. But ultimately, mobile wallets eliminate certain risks associated with using physical debit and credit cards. The security features phones possess are much stronger than the security features of physical credit cards, and the technologies should only improve with time.
If you'd like to transition from a physical wallet to a digital one, learn more about adding your Seacoast Visa® Debit Card with Apple Pay™, Samsung Pay, and Google Pay using your mobile device.