For college students, this chapter of life represents brand-new experiences. They might reside in a new city and attend a new academic institution. It can also be their first time dwelling in the dorms, the first time living with a roommate, and the very first time eating at the college dining hall. For some, it might also be their first time choosing a financial institution as an adult.
Whether you're setting up your very first account or switching to a financial institution that better meets your needs, here are some banking considerations that students must bear in mind.
Why Do College Students Need a Bank?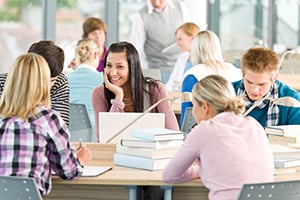 A student checking account can help you establish financial independence and develop money management skills to carry you through life.
As a possible part-time working student, it enables you to facilitate direct deposits. Also, the account has an associated debit card to use at online and brick-and-mortar retailers.
What is the Difference Between a Bank and a Credit Union?
While banks and credit unions have a lot in common: they provide account holders with checking and savings accounts and loans, there are a couple of differences you should know:
Banks will open an account for almost anyone; however, a credit union will only open accounts for members. This membership may be limited to those working in a particular industry, specific employers, or who live in a specific area.
Another difference is the amount each institution pays in interest and what they charge in service fees.
In most instances, credit unions offer limited accessibility due to having fewer branches than banks. Also, they may have limited locations close to your home or college unless they are part of a shared branch network or belong to an extensive ATM network like Allpoint or MoneyPass.
Student Bank Accounts vs Traditional Checking Accounts
Student bank accounts are regular accounts with some unique features for young people. For example, you can earn perks, deposit cash, earn interest, and use the money to pay expenses. Moreover, student accounts encourage students to be responsible with their finances and learn the value of money.
The ideal student bank account should have a low minimum deposit, minimal transaction costs, and reduced service fees as a student's income is limited.
It is a good idea to discuss your banking needs with your bank's customer service regarding any questions you might have about handling your account.
How to Choose a Student Checking Account
Deciding on a student checking account might seem a little overwhelming, particularly if this is your first checking account. Below are some points to keep in mind:
Does the bank have Fee-Free ATMs or offers an ATM fee refund?
Do they offer low or no overdraft fees?
Do you need a joint account?
Will you be able to quickly transfer money in and out of your account?
Do you need to make online bill payments?
Do you need a checking account, savings account, credit card or money market account?
Does the institution offer student perks and rewards?
How close is the nearest ATM?
What are the monthly maintenance fees?
Does the bank offer options to waive monthly fees for college students?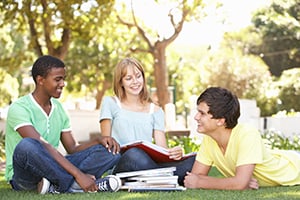 Different circumstances will call for different types of bank accounts for college students. For example, if you are a college student concentrating on your education full-time or working part-time while studying, you may only need a basic checking account with a debit card. However, if you are concerned about overdrawing your bank account, find a bank that provides automatic overdraft protection, allowing transactions exceeding the balance in your checking account to be approved and save you steep overdraft fees. Or, if you need to access money frequently, look for a bank that provides fee-free ATM withdrawals for students and a broad nationwide ATM network.
Choose a Financial Institution With An Outstanding Mobile App
Before you choose a bank, spend time examining the financial institution's mobile app ratings on the App Store or Google Play. After that, review the app's benefits to see what you can do through your mobile device. For example, you should look for an app that lets you check balances, make transfers, pay bills, manage loans, deposit checks, etc.
Mobile applications are vital to managing your bank account and deposit checks. Spend time discovering which financial institution offers the best mobile app for your specific needs.
What Should You Look Out For When Choosing a Student Checking Account?
Before signing up for a checking or savings account, ask these questions:
A checking account is a convenient and excellent introduction to financial independence and life on your own. A student checking account can help create an outstanding financial foundation for the remainder of your life if managed well. Make sure you choose the bank and accounts that fit your needs.