According to the latest McKinsey & Company study on workforce diversity1, more than 18 months into the Covid-19 pandemic, women in corporate America are more burned out than this same time in 2020. More concerning, the study cites, the burnout for women is increasingly more so than their male counterparts. Despite these important distinctions, women continue to excel in the workplace.
Women Leaders Are Actively Supporting Their Businesses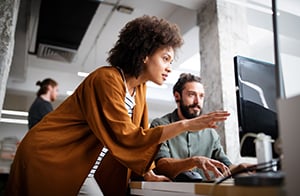 The McKinsey & Company report, conducted in partnership with LeanIn.org, show women are doing more to support their teams and advance diversity, equity and inclusion (DE+I) efforts. They are also more likely to be allies of women of color. As organizations continue to navigate the pandemic, and its impact on company bottom lines, it is critical that organizations take significant steps to recognize and reward these leaders.
According to the report (The Women in the Workplace 2021; LeanIn.org and McKinsey, 20212) study found that despite small gains in the pipeline, women remain underrepresented across the corporate ladder.
Optimism in Women-Owned Businesses
While challenges remain, there is room for optimism. We see continued strength in women-owned businesses. According to the 2020 study by McKinsey, women-owned businesses are driving economic growth in the United States. They represent 42% of all businesses — nearly 13 million — employing 9.4 million workers and generating revenue of $1.9 trillion. In 2018 the same report ranked Florida No. 1 in the country in terms of fastest growth rate of women-owned businesses. So, what does this trend mean for businesses in general?
Julie Kleffel, executive vice president and chief banking officer for Seacoast Bank, says businesses, especially those that operate in the business-to-business (B2B) space, can find and develop leaders who can relate to and meet the needs of the growing number of women business owners. In other words, they need to hire and develop more women leaders and take advantage of the opportunity of growing number of women business owners. Kleffel feels 2022 and the pandemic has created an unprecedented opportunity for businesses to focus on women leaders with a holistic DE+I focus.
Get the latest updates, offers and helpful financial tips.
Kleffel points to McKinsey & Company's Women in the Workplace Study indicating the number of women c-suite executives has increased by 24% since 2015. But, the number of women managers was unchanged in that same time period. Study authors hold the position that since there are fewer women managers, it limits the pool of talented and experienced women who can be considered for c-suite positions.
Kleffel shared firsthand insight regarding the challenge. "As a bank executive, when I meet with businesses to talk about their plans, I am encouraged now to hear them including gender strategies. They talk about marketing, driving sales, driving revenue, expense management and other topics., as they should, but I am also seeing a recognition in the marketplace that gender strategies must be intentional," said Kleffel. "If it's a written strategy, then it's going to happen."
The McKinsey & Company study points out five steps companies can take to improve their pipeline of women leaders which Kleffel endorses:
1. Set a goal for getting more women into first-level management
2. Require diverse slates for hiring and promotions
3. Put evaluators through unconscious bias training
4. Establish clear evaluation criteria
5. Put more women in line for the step up to manager
Businesses that are successful in recruiting and developing more women leaders could find that it's the difference they need to pull ahead of their competitors. A recent study shared by S&P Global Market Intelligence shows that firms with a female CEO or CFO outperformed those with male CEO or CFO. Boards with a greater number of women outperformed those with less women.
Kellie Landwer, senior vice president and director of residential lending, Seacoast Bank, says companies need to implement a gender diversity approach now. "It takes some time before a gender diversity effort starts to bear fruit," said Landwer. "It also takes more time in an individual hiring process to find diverse candidates. Companies who don't already have a process in place are behind."
---
1. https://www.mckinsey.com/featured-insights/diversity-and-inclusion/women-in-the-workplace
2. The Women in the Workplace 2021; LeanIn.org and McKinsey, 2021