A thriving small business sector is the key mainstay of a strong U.S. economy. That's because small businesses account for 99.9% of all U.S. businesses, according to the U.S. Chamber of Commerce. One of the biggest challenges that the owners of the country's 33.2 million small businesses face is securing funding to grow.
Local banks are steadfast partners to small businesses, providing various kinds of essential support to the sector. SBA loans are a key piece of this support; they are specifically designed by the U.S. Small Business Administration (SBA) to help small businesses succeed. It's smart to turn to a local bank or credit union to secure SBA funding, as they are designed to support the backbone of our nation's economy – small business owners.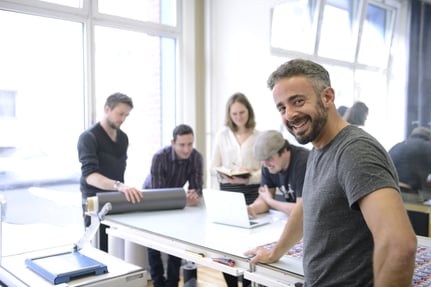 What are SBA loans?
SBA loans are funding for small businesses that is partially guaranteed by the SBA and typically comes with favorable terms and conditions. SBA loans come in various types tailored to the needs of small business owners. They can be used for everything from operating expenses and existing debt to purchasing large equipment or commercial real estate.
The SBA does not itself lend money; instead, the agency partners with financial institutions that administer the loans on its behalf via its Preferred Lender Program. SBA loans have their own particular requirements, which vary depending on the loan program. But in general to be eligible, businesses must operate for profit, do business in the U.S. or its territories, have "reasonable" owner equity to invest and have used any other available financial resources before seeking SBA help.
The requirements for each SBA loan program may be different from those that local banks maintain on their own lending programs. For example, applicants may qualify for an SBA loan using personal tax returns as well as or in lieu of business tax returns, depending on circumstances, whereas local banks are likely to require three years of business tax returns for their own loan products.
What are the most common types of SBA loans?
There are several types of SBA loans, most of which are intended for specific communities or uses. The two most common types of SBA loans are SBA 7(a) and SBA 504 loans.
The SBA 7(a) loan is the most popular type because it can be used for a huge range of business purposes, comes in amounts up to $5 million and features low interest rates and favorable repayment terms.
The SBA 504 loan is designed to help businesses purchase commercial real estate and large equipment, with long repayment terms to match, so it is best suited to those with long-term expansion plans.
Why are local banks good sources for SBA loans?
The SBA Preferred Lender Program requires that participating banks have a proven track record in small business lending, expertise in financial analysis and financial stability. As a result, borrowers seeking SBA loans can feel confident in the reliability of these institutions. Because these lenders have the authority to make SBA loans without waiting for approval from the agency, they can offer a fast and responsive application and approval process that can save borrowers as much as four to six weeks.
Working with an SBA Preferred Lender means that you can trust in the expertise and experience of the institution. It will also be easy for you to access these local institutions and they can serve as a source of a range of business banking services. Local banks are also likely to understand the area's business environment and job market, making them well-equipped to guide you in seeking appropriate funding. They also may be able to offer resources, connections and guidance that can benefit your business in many other ways.
Is an SBA loan right for you?
An SBA loan may be right for you if you own a small business and have exhausted other avenues for getting the funding you need to succeed and grow. You can learn more about SBA loans on the SBA's loans webpage. Many local banks also have dedicated webpages and FAQs to help you determining whether an SBA loan is a good option for you.
As a preferred lending of the SBA, Seacoast Bank knows that the process can be intimidating, so we encourage potential applicants to contact us to discuss the available options.
SBA loans are a great way to get your business the funding it needs to thrive. And by choosing a local SBA preferred lender, you'll get the confidence of working with a financially stable institution, benefit from a streamlined application process, and gain access to valuable local resources and connections.