After multiple months of dealing with the global pandemic, uncertainty is still front and center for many. But with every new challenge comes the opportunity to create a new solution, or be a force for change— either in your business, your industry, or in our greater society.
We're already seeing changes occur on a global scale across industries. Businesses are finding new ways to adapt processes, repairing long-standing flaws in communication, workflow and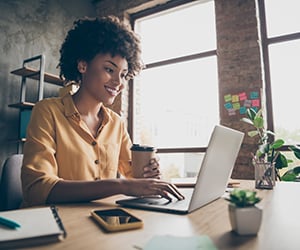 hiring practices. And, since this is new territory for all of us, we're also seeing a broader sharing of knowledge—from "here's what worked for us" ideas to "let's work on it together" cooperative solutions.
And consumers, now more readily analyzing and rethinking their buying habits, are looking to new and different brands for better value, more convenience and, in some cases, branding and messaging that shows a deeper understanding of the greater issues facing the world.
As a multitude of possibilities present themselves, it's an interesting time to be a business owner. Those who are willing to change can make the most of the moment—especially with an expert banking partner on their side.
Focusing On Professional Services
Like many industries right now, professional services finds itself in a moment of redefinition. Old ways of working have been quickly jettisoned to meet the new realities facing both employees and clients. Long-delayed plans of digital integration and cloud infrastructure have been rapidly green-lit in order to stay relevant. Some businesses are suddenly feeling much better about their early adoption of digital solutions, while others are quickly beginning to realize just how far behind they really are.
Get the latest updates, offers and helpful financial tips.
While we're all still trying to predict what the landscape will look like on the other side of this pandemic, the good news is there are proven ways to give your firm a fighting chance to come out ahead—from avoiding hasty decisions to staying agile to recognizing the way forward.
Avoid the Hasty Decision
Cost-control and cost-cutting have no doubt crossed the mind of many professional service owners. And while it could be necessary to ensure short-term survival, history has shown it can also be detrimental to your brand in the long run if you go too far.
Decision making during uncertain times requires a delicate balance of strategies designed to keep things running today and setting your firm up for tomorrow's eventual growth.
And don't forget, every action you take has the potential to impact your clients' businesses as well.
What decisions can you make now that might better position you—and your clients—for future opportunity?
Stay Agile
Being stubborn and stuck in your ways is a dangerous strategy right now. The reality is that what once made your firm so successful may no longer be relevant—or, at the very least, may need some serious rethinking.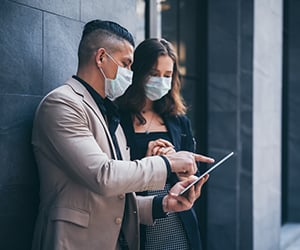 Sure, you need to hold true to your firm's mission, vision and values, but you should also make every effort to adapt and be ready for what's next—be it meeting new demands or expectations from clients or having a deeper understanding of how your employees lives are being impacted.
What areas of your business might you be holding way too dear?
Recognize the Way Forward
Professional services entities frequently prosper because of the finely tuned and personalized services they offer clients. The more you can make clients feel like they're getting special treatment, the more they'll want to stay on your roster.
Developing that healthy relationship requires a good mix of innovation, tools and solutions development and staying close to your clients.
You can also look at altering your current offerings to create entirely new business models—reinventing a service to make it stand out more and positioning your firm as a new thought leader.
What areas of your business could you transform into a subscription-based model or digital-only service?
The Wrap Up
With more than 90 years of working with professional services businesses large and small throughout Florida, Seacoast has the financial knowledge and expertise to help guide and inspire you and your firm right now. Our technology and information rival the nation's biggest banks, but our focus on the community means we never lose sight of you and your business.
Reach out today and start experiencing what it's like to have a banking partner that's always got your back—ready and waiting with solutions that make the most sense for you.