As it tends to happen after major periods of crisis and upheaval, a wave of introspection and questioning of purpose has come over the American people. For example, the bubonic plague ushered in the rise of the Italian Renaissance. And post-WWII peace saw the beatnik generation forsake weapons for words. And in 2021 post-vaccine America? The workforce is quitting in droves and heading for the hills.
Welcome to the Great Resignation
Dubbed "The Great Resignation," "The Big Quit" and a few more choice buzzwords that are unfit to repeat, this unforeseen, long-term effect of COVID-19 was exacerbated by a small glimpse of an office-less future, then shaken volatile by quarantine and isolation—often in already combustibly small urban apartments.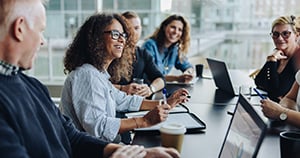 And the numbers are unheard of. Four million people quit their jobs in April 2021—the most in 20 years. As an encore, 3.6 million Americans followed them out the door the very next month—all with a record high number of job positions still available. And there's no sign that the shifting has ceased. Monster.com reports 95% of American workers are currently considering changing jobs, while Microsoft puts the global number at 41%—that's almost every single American worker and almost one-half of the world's workforce.
We Know Why-But What's Behind the Why?
It's easy to say the pandemic has caused a seismic shift in the way people want to work and live, but that doesn't get to the root of the problem—why are workers so unhappy where they are? Only by understanding this can employers truly start to address employee retention during a time of such unprecedented attrition.
According to Monster, the most common factors driving job change are:
Burnout at current job – 32%
No growth opportunity – 26%
Outside job opportunities – 66%
Similar studies have found this self-reporting to be true. Microsoft used Teams data to uncover that the high productivity that stems from remote work is masking an exhausted workforce where 54% of employees feel overworked, with 62% of meetings being unplanned, and the average meeting lasting 10 minutes longer than usual. Even more indicative of the heightened workload, the average user sends 45% more chats per week and 42% more chats after typical work hours.
Was the Great Resignation Inevitable?
Unfortunately, these types of patterns can be traced back over the past decade with quit rates continually on the rise. In fact, we're almost at the same quit rate we would have been without the pandemic. And when you consider that the number of new business applications has been rising along the same rates, and actually accelerated from an all-time high of 3.5 million in 2019 to a record-smashing 4.5 million in 2020, perhaps the shift from worker to business owner—much like the transformation to digital—was inevitable and the pandemic just acted as a catalyst, speeding the transition along.
On top of that, something had to give when it came to employee disengagement, which, according to Gallup, was highly untenable:
Actively disengaged employees have a lost productivity cost equal to 18% of their annual salary.
For a company of 10,000 employees with an average salary of $50k each, disengagement costs $60.3 million a year.
Replacing workers requires one-half to two times the employee's annual salary—or $9,000 a year to keep each disengaged worker and between $25,000 and $100,000 to replace them.
So, not only could losing actively disengaged employees save you money, but if you adopt the right mindset and adapt to the changing winds of employer/ employee relationships, you could set your business up to thrive from The Great Resignation.
Get the latest updates, offers and helpful financial tips.
3 Quick Fixes for Employee Retention
1. Give them what they want even if they want it all. Right now, the future of your business will dictate a longer term strategy, so focus on short-term doables. Competing studies show that 73% of workers want flexible remote work options to continue, while 67% of workers are also craving more in-person time with their teams. The solution? Something 9 out of 10 organizations are already planning on implementing: a hybrid on-site and remote work setup.
2. Find ways to compete in a competitive market. With ~20% of all jobs on ZipRecruiter in June offering signing bonuses and a 10% rise in wages in hard-hit industries since the start of the pandemic, not every company can keep up with hard cash offerings—or can they? There's still far too little knowledge about the Employer Retention Credit (ERC), which offers up to $28,000 cash back per employee annually, payable by the U.S. government. That kind of incentive could be a game-changer.
3. Go beyond traditional incentives to make your company stand out. Hot job markets can start to look the same when everyone is offering the same bonuses, work from home or ping-pong table in the breakroom. And with 60% of HR professionals opening new positions for entry-level hires, you can bet everyone is looking for ways to stand out. Consider offering a company culture that aligns with your hiring goals. For instance, 72% of college seniors would only consider employers who are committed to DEI hiring practices. So, don't just talk the talk—walk the walk.
Long-Term Employee Retention
Taking a step back and considering some of the trends mentioned earlier, it's a good idea to understand why things were headed down this path long before the pandemic. One pandemic-related insight that gives a good indication of how communication plays a key role is that even at this late stage of the economic recovery, only 1 in 10 businesses has started communicating a detailed vision for a post-COVID-19 workplace.
Employees feel left in the lurch and undervalued as partners—this is where disengagement can begin for many. Instead, look to boost transparency, networking, mentoring and idea sharing, following the example of the 67% of productivity-leading businesses that report an increase in improved connections among employees. Improve your connections, improve your engagements.
It can also help to approach retention from an organizational commitment perspective. There are three types of organizational commitment:
1. Continuance Commitment. Employees stay because of compensation.
2. Affective Commitment. Employees stay because of the people, culture, work and emotional attachment.
3. Normative Commitment. Employees stay because they feel obligated due to length of employment or how much the company has invested in an employee.
While Continuance and Affective Commitments are great motivators during hiring, Normative Commitment plays a large role in retention. Therefore, Normative Commitment is a long-term goal, and if you've experienced a high-turnover rate before the pandemic, this could be why. Ask if you're investing enough in an employee to the point where they feel a sense of loyalty to the team.
It may also help to think about your business in a whole new light and consider if it's the type of place people not only want to come to—but to stay. One company that snatched success from failure with this method is Recruit Holdings, a tech and ad company from Japan.
When the CEO of Recruit got caught up in shady share selling that also took down the prime minister of Japan and his entire cabinet, the world thought Recruit was done for. As the company braced for the worst, it realized it had let all of its employees down, so the company started developing and training its workers in ways that would help them get jobs after the demise of Recruit—in short, it became a good company to come from, which made people want to come work for Recruit.
Employee innovation, flexible work and a focus on letting workers follow their passions helped Recruit maintain its top talent—against all odds—and grow to be the $20 billion tech company they are today and owners of Indeed and Glass Door.
The bottom line is that there's no one right way fix employee retention right away—it's many strategies working together as one, learning from the past and moving ahead together. If you have questions about the financial side of employee retention, or want to know more about digital solutions simply use the form below to speak with your local banker.