Ready to start a business but worried about the impact it might have on the environment? If protecting Mother Nature is what you've got in mind, you're in luck: More and more consumers are turning to eco-friendly alternatives to their favorite products and services, and more and more businesses are going green as a result, but The Department of Labor reports that women contribute to less than 25% of the green workforce. Help women in business step up their green game by taking on your own earth-friendly entrepreneurial adventure.
Need some organic inspiration? Check out these eco-friendly business ideas perfect for nature-conscious entrepreneurs, and Seacoast has even compiled a list of resources for female entrepreneurs to help you get started or improve your operations.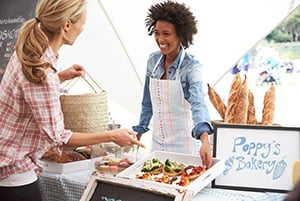 1. Organic Catering
A great way for eco-friendly foodies to share their passion for both food and the environment is to start an organic catering company. Cater local events and business luncheons with foods that are made from organic and locally grown ingredients, and offer free-range meats along with vegan, gluten-free and paleo-meal options and you'll appeal to nature lovers and health and wellness enthusiasts alike. Be sure to keep environmental impact to a minimum by avoiding using plastic and paper goods as much as possible and composting food waste. And if you already own a catering company, switching to organic, eco-friendly foods could be a great way to boost business.
2. Eco-Friendly Beauty Salon
With more and more consumers becoming aware of the foods they're eating, the products they put on their bodies and the impact they have on the environment, it's no surprise that people are looking for natural alternatives to their favorite beauty products. Organic and vegan beauty products — from soaps to shampoos to makeup — are popping up everywhere. A way to make this trend work for you is to open an eco-friendly beauty salon. You can start a hair salon that uses all-natural shampoos and conditioners, or a nail salon that uses environmentally friendly and vegan polishes and spa treatments. If cosmetology is your passion, start a beauty business that's Mother Nature approved.
3. Organic or Recycled Fashion
Organic cotton, reused fabric scraps and even plastic bottles can all be starting points for a green fashion line. You can create silk screen artwork on eco-friendly T-shirts, or design handbags and accessories made of recycled materials. Many distributors brand themselves as "organic," "fair trade" and "eco-friendly," so do your research on their practices to make sure you're sourcing your fabrics from reputable organizations.
4. Green App Developer
Want to help others help themselves go green? Build an app. From reference guides to activity trackers and games, green-app developers can create apps to help users learn more about going green and guide them toward achieving their sustainable lifestyle goals. Your app can cover green living as a whole or focus on niche areas — such as energy conservation; recycling and upcycling; eco-friendly products, and green living — at home or at work. It can be as simple as an app listing local green businesses, or something complex and interactive that users can enjoy on a day-to-day basis. You can also build educational apps to teach children about going green and help them grow up to be environmentally conscious citizens.
5. Eco-Friendly Landscaping
Professional landscaping may make the front lawn look nice, but all that maintenance isn't necessarily great for the environment. With some eco-friendly techniques, you can help homeowners make their yards literally and figuratively greener. SheKnows recommends synthetic turf, drought-resistant plants and strategically placed trees for a lawn that saves water, energy and money.
6. Sustainable Event Planning
Whether they're big or small, meetings and events can generate large amounts of waste and consume high levels of energy and water. Green event planners can use their green expertise and event-planning skills to find eco-friendly venues, materials, accommodations and other considerations to help curb the effects that meetings and events have on the environment. By taking the environmental footprint into consideration when planning events, sustainable event management benefits more than just the planet: According to the United Nations Environment Programme's Sustainable Event Guide 2012, sustainable considerations also have financial advantages and create a positive image for event planners while raising awareness and inspiring change in the community.
7. Air Duct Cleaning
Dust, debris and other particulates that collect in ventilation systems can make a home much less energy-efficient. Help homeowners save money, gas and electricity by cleaning out their air ducts. You may need to purchase some equipment to get started if you don't have a portable vacuum, and a strong working knowledge of heating, ventilation and air conditioning (HVAC) is a must. Spring is a great time for this business: Seasonal allergy sufferers will be more than happy to pay you to remove allergens from their air ducts.
8. Bicycle Repair and Refurbishing
Biking, instead of driving, short distances is better for both the environment and your health. Like most modes of transportation, bicycles occasionally need a tune-up. You could be the person local cyclists come to when their bikes are in need of some light repair or cleaning. If you have some extra garage or shed space, you could also purchase inexpensive older bikes, fix them up and sell them for a profit.
Get the latest updates, offers and helpful financial tips.
9. Handmade All-Natural/Organic Products
Soaps, cosmetics and cleaning products are just a few of the household products that can be made using common organic materials. Sure, anyone can find a recipe for a sugar scrub or vinegar-based cleaning solution and do it themselves, but if you package and sell them in sets, your customers can have those all-natural products at their fingertips without having to use their own time and resources. Local markets and events are a good place to sell, or you could start an online store.
10. Eco-Consulting
Are you an expert on green living? Help others make their lives more eco-friendly by starting an eco-consulting service. These consultants evaluate homes and offices, and offer solutions to make them more environmentally friendly. This could mean advising people on how to switch to energy-efficient appliances or simply implementing a recycling program. Become a certified eco-consultant to boost your credibility with potential clients.
11. Recycling Pickup
Most homeowners have pickup bins for standard recyclables like paper, glass and plastic, but they often don't make the effort to properly recycle electronics and batteries, which can be extremely harmful to the environment when left in landfills. Offer to pick up all the e-waste that's been collecting in their garages — old televisions, broken laptops, defunct cellphones — and bring them to your local electronic recycling facility. Charge per item, by weight or a flat fee plus travel to and from the location.
12. Farmers Market Vendor
Thanks to the ongoing organic movement, those with a green thumb have a golden opportunity to make money by selling produce at their local farmers market. Having naturally grown fruits and vegetables will give you an advantage over competing growers that use conventional methods. You may have to go through an application process and/or get certified by your local board of health to begin selling. Visit Wikihow for more information.
13. Green House Cleaning
For working parents with long hours, cleaning the house can quickly fall to the bottom of the to-do list. Market yourself as the green solution to their housekeeping woes, offering everything from light dusting to heavy-duty chores like cleaning the kitchen and bathroom, using only approved all-natural and eco-friendly cleaning products. Charge an hourly rate, or create your own service packages for a flat fee. Remember that your clients will be giving you access to their entire homes, so make sure you build up a trustworthy reputation with people you know before advertising to strangers.
14. Composting
Home gardeners in urban areas or with smaller properties don't often have the space to start their own compost pile. If you can spare a corner of your own yard, you can create and sell compost to local green thumbs. It's a messy business (you're dealing with food scraps, lawn trimmings and worms, after all), but there's high demand for this all-natural fertilizer among organic gardeners. Farmers markets and community supported agriculture (CSA) organizations will often purchase compost in bulk and distribute it, or you can sell directly to consumers. Visit Eartheasy for composting tips.
15. 'Upcycled' Furniture
Don't let your old, broken furniture end up in a landfill. With basic templates and access to power tools, you can break down and reassemble chairs, tables and dressers into new pieces that you can paint and sell. Shelving and storage units are easy to make from wood scraps, but depending on what you have, you might even be able to bring a piece back to life in its original form. Alternatively, you could reupholster old chairs and couches with new fabric.
16. Green Franchises
Want to run an established business with a brand and customer base already in place? Investing in a franchise might be the answer. While "franchising" might call to mind fast-food joints and hotel chains, there are quite a few eco-friendly businesses that are willing to sell you your own branch.
If you're looking for advice on how to get started with any of the green business ideas above, or just seeking some insight in regards to your own professional development, there's no better place to find it than from a seasoned professional. Use the form below to ask your questions.
Read the original article on BusinessNewsDaily. Copyright 2016.