You are currently running a business in an unprecedented time. Every day brings new information— good or not-so-good—and new challenges. Change is the word of the day. And the best way for you and your business to deal with change? Become more resilient.
Resiliency means your business can withstand whatever gets thrown at it. With everything going on in the world right now, what better time to embrace that philosophy? The businesses that will make it through this moment are the ones that will shake off their rigid pasts and embrace the constant stream of change that's surrounding them.
In short, this is a time to act, not a time to hold on dearly to what might have worked once before. The way we work is evolving. Where we work. The processes we use. The supply chains we rely on. Yes, it can be a frightening time—but it can also be an exciting time. A time for trying new ideas, exploring new avenues and transforming your business into something that's ready for anything.
Goodbye, Old Normal. Hello, New Normal.
We're not going back. The old normal as we knew it is behind us.
With that in mind, let's welcome the new normal—or what many are referring to as the next normal—into our lives and businesses. Resiliency will play a key role in helping to define what this next normal looks and feels like. Making quicker decisions. Adapting on the fly. Continuously learning from the new forms of data we're being presented with—and the mistakes we'll make along the way.
To make your business ready, you'll need to incorporate resilient thinking on many levels. McKinsey & Company suggests five key resilience areas to consider: financial, operational, organizational, reputational, and business-model.
Get the latest updates, offers and helpful financial tips.
Financial Resilience
How are things going financially right now? No, how are they really going? It's okay, the pandemic caught almost everyone off guard. If the situation is a bit down, we know someone who can help make sense of things and get your business back on track. If everything's going well, we also know someone who can help you make sure it stays that way.
Operational Resilience
Do you have any processes that are slowing you down or holding you back? Before you answer, take a step back and really look at how your business is running. Has the pandemic exposed any flaws in your systems? Now is the time to make any necessary tweaks. You never know how a simple change to the flow of work can make a drastic improvement in ideas—or income.
Organizational Resilience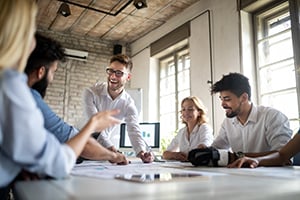 Having the right pieces in place is always essential, even more so in times of great chaos. However, organizational resilience is less about putting everyone under a microscope to overanalyze their every move and more about making sure they feel empowered to stretch themselves in their positions. Are rigid roles and job descriptions making your business feel less resilient? Remember any new culture shift such as embracing resiliency has to start at the top and trickle down. As the leader, you need to believe resiliency can and will make your business better. Otherwise, adopting a more resilient culture/structure will be stuck in neutral.
Reputational Resilience
The world is changing. Over the past couple years, some businesses have found themselves on the wrong side of a topic or debate, quickly backpedaling or apologizing for a mistake/comment/egregious social media post. Reputational resilience means you have the people or process in place to handle things when a potential situation goes from bad to much, much worse.
Business-Model Resilience
The world is changing. (Wait, we used that line already.) Your world is changing—specifically the business landscape of your industry. Things are getting faster and more streamlined, moving to the cloud, embracing a more flexible work schedule. Expect things to morph in many new ways over the next couple years. The workforce has experienced a completely different way of working for the last year. It's been a rollercoaster of emotions, connections and trying to make sales/deals/deadlines in the face of occasionally frightening uncertainty. The true leaders of tomorrow are paying attention and making the necessary changes to their business models.
The Wrap Up
The way we were is no more. The way we will be is taking shape right before our eyes. Becoming a more resilient business will take time, effort and resources, but it will be worth it in the long run. And we're here to help you through it all.
With more than 90 years of servicing businesses large and small throughout Florida, Seacoast has the financial knowledge and expertise to guide and inspire. Our technology and information rival the nation's biggest banks, but our focus on the community means we never lose sight of you and your business.
Reach out today and experience what it's like to have a banking partner that's always got your back—ready and waiting with solutions that fit your business perfectly.