Faced with a fast-spreading global pandemic that threatened not only employee health but the financial survival of many businesses as well, most corporate decision makers acted swiftly. Face coverings, health monitoring, reporting apps, rapid testing and work-from-home policies quickly became the norm. Of course, given the fact that 84% of employers believe health and wellness programs have a positive impact on employee performance and productivity, this type of response should be expected in a modern economy.
Putting Emphasis on Employee Mental Health
Perhaps more surprising was the near-unanimous corporate response to employee mental health, which—just a few years after making its way into the window of discourse—was also quickly addressed. Many forward-thinking companies chose to take actions such as expanding their mental telehealth options or offering free subscriptions to personal wellness and meditation apps—with good reason.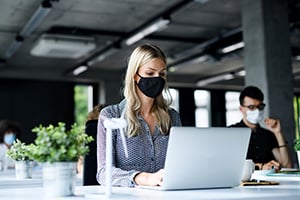 Similar to the return on employee physical health regarding productivity, studies show that for every dollar companies invest in scaled-up treatment for mental health care, they net a return of $5 in improved health and productivity, making this an investment in not only the health and humanity of employees but in overall profitability as well. This could factor into why, even at the onset of the pandemic, 53% of employers started providing special mental and emotional health programs for their workforce.
As we enter each new phase on the road to wherever our new normal is taking us, it's important that business owners continue to keep employee emotional health and physical health on the radar. When deciding on your own policies, it can be helpful to look at approaches that have worked for other organizations.
Amazon: From Big Numbers to Small Changes
Considering the scale of Amazon's operations, the impressive numbers this titan of industry touts across its numerous sites isn't surprising: 100 million+ masks, 48 million gallons of hand sanitizer, 34 million gloves, 93 million sanitizing sprays and wipes, 31,000 thermometers, 1,115+ thermal cameras, 2,298 handwashing stations and 5,765+ janitorial staffers added.
But it's the little touches that show how a company of any size can make a difference, mainly by implementing practical changes based on public health directives and observing employee behavior to find the right changes to make. Ever the data king, Amazon assigned some of their top machine-learning technologists to capture real-time information to help develop opportunities to enhance social distancing and reduce employee spread of COVID-19. This led to:
Rearranging breakroom tables and microwaves to encourage social distancing
Eliminating shift stand-up meetings and replacing them with distance-friendly communications like signboards and text messages
Relaxing previously stringent time logout protocols so employees could wash their hands as needed without affecting performance goals
Staggering shifts, streamlining time clocking and changing training procedures to reduce large gatherings of employees
Get the latest updates, offers and helpful financial tips.
Marimn Health: Listening to What Employees Want
While it may be easy for a multibillion dollar company like Amazon to make sweeping, generalized changes to the way employee mental and physical health is handled during an economic downturn, some smaller businesses were able to procure similar results by taking a more measured, employee-centric approach.
Marimn Health, a 200-strong health system located on an Idaho Native American reservation owned and operated by the Coeur d'Alene Tribe, set up a benefit system for employees that addressed stress, anxiety and financial concerns. But as local schools shut down, they foresaw another problem—home schooling or daycare interfering with productivity and attendance. One option that management considered was bringing teachers on location for the children of employees, only to find out that this type of support wasn't needed. But just making the offer was enough to build trust with the workers—something that goes a long way toward stabilizing mental and emotional health.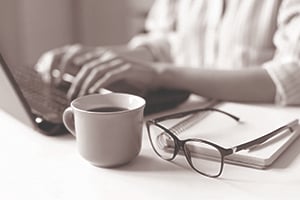 Staying creative and anticipatory, Marimn made a commitment to not implement layoffs and instead repurposed employees, moving them from departments that shut down to departments that were in need. Having a sense of job security during this time surely had a large impact on stress levels, which in turn can have an impact on overall physical and mental health, showing that there are many different ways to address employee health other than simply providing health insurance.
This commitment to job security further served to foster trust between management and employees during a time when the healthcare industry would soon undergo a massive stress test itself. By providing employees exactly what they need—and forgoing what they don't—smaller businesses may be able to create a happier, more productive work environment for their employees.
Other localized healthcare organizations have followed similar paths, such as Conway Regional Health System in Arkansas. During the pandemic, they converted a gym to provide free daycare services, offered free meals in the hospital cafeteria and provided discounted, prepared take-home meals to employees. It's no surprise that both Marimn and Conway Regional have been named among the most family-friendly places to work in healthcare.
Actively Listening and Responsibly Responding
For both large companies like Amazon and smaller companies like Marimn, the key to successfully managing your employees' health and well-being isn't simply giving them what you think they want but rather assessing and delivering what they need. Whether you're using machine learning to formulate your plans or just outright asking your employees, building a level of trust and dependability through caring and flexibility is crucial.
As a recent McKinsey study points out, three insights leaders should pay attention to over the next few phases of recovery include:
1. Building on the trust you've earned from changes you've already made by continuing to remain present, empathetic, transparent and ready for action.
2. Placing emphasis on building individual purpose, trusting relationships and social cohesion, three themes shown to impact employee health and effectiveness.
3. Recognizing the individual ways your employees are being affected and breaking them into segments the way you would with customers, enabling you to offer support in meaningful and personal ways.
Putting in the extra effort to take care of your employees now will pay off in the long run in a number of ways, including increased productivity, loyalty, happiness and, of course, mental and physical well-being.
At Seacoast Bank, we're here to help with everything from financial to organizational health. If you have questions about the financial side of your business, or want to know more about solutions we offer for business banking, use the form below to contact your local banker.