The construction industry has been a critical part of Florida's economy for decades, and according to a report from the Florida Department of Economic Opportunity, it's the fastest-growing major industry in the state. But, research conducted by The McKinsey Global Institute and released in February of 2017, says it's also been one of the slowest industries to digitize. That could be changing as the emergence of building information modeling (BIM) and digital twins, lower computing and sensor costs, labor shortage, and increased venture capital investment drive a long-overdue digital transformation.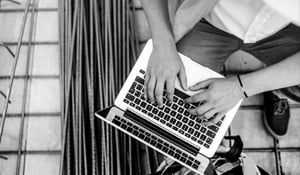 Industry-wide, contractors are digitizing more of their processes in an effort to gain an important advantage over their market peers. Those who lag in adopting digital technology could soon find themselves losing to competitors who have found ways to work smarter and faster.
Industry experts at McKinsey & Company in research released in April of this year cite various reasons why the construction industry has dragged its steel-toed boots to the digitization table. The unique hurdles created by its dynamic and physical nature are one reason. Remote locations that require interaction with building materials and heavy machinery are another. It also has proven tough to get frontline workers to adopt new tech; if it's not easy and intuitive, they simply won't use it. Finally, the construction industry has long viewed implementing technology as a cost rather than a means of increasing efficiency.

Despite the reticence, digitization may be the best opportunity to streamline work processes, increase efficiency and save costs in an industry that often does things as it has for the past 50 years. To reap the benefits of digitization, contractors will need to quickly learn from first-mover firms that have already taken their first digital steps as they invest in their own digital transformation.
Get the latest updates, offers and helpful financial tips.
According to leading industry trade publications, Construction World magazine, and ConstructionWeek Online, one of the most promising of the aforementioned technologies is BIM -- an intelligent 3D model-based process that gives architecture, engineering, and construction professionals the insight and tools to more efficiently plan, design, construct and manage buildings and infrastructure. In essence, users can build a digital twin of the building they are constructing that is accessible to all project participants. Subcontractors then record work progress to the digital twin in real-time.
It dramatically increases collaboration as various trades are better able to sequence and time their work with others. It gives managers real-time views of progress and costs. It also stores all this data allowing managers, with the aid of machine learning and AI, to continually improve efficiencies and the accuracy of work completion estimates for future jobs.
"DESPITE THE RETICENCE, DIGITIZATION MAY BE THE BEST OPPORTUNITY TO STREAMLINE WORK PROCESSES, INCREASE EFFICIENCY AND SAVE COSTS."
Contractors also are beginning to implement more "Internet of things" (IoT) technology to automate manual and paper-based processes, increase visibility, and make work safer. Wearable devices and sensors are collecting job site data more affordably, efficiently and effectively than previously possible. On-site supervisors and off-site managers now can see snapshots of daily operations, worker location and safety in real-time.
Task management software is another natural application for an industry that can have hundreds or even thousands of workers at a single job site. It improves participation and speeds communication among project managers, engineers, general contractors, subcontractors, and crew members on the job site.
Other technology that industry members soon may see on a job site includes surveillance drones that track construction progress, 3D printing and virtual reality training tools. Of course, these advances aren't free. Many smaller firms may be tempted to continue delaying the adoption of these new technologies as they struggle to finance their purchase.
More important than price is how quickly the software or technology creates efficiencies and streamline processes. If you save X number of hours a week in rework and reduce the number of laborers required, that results in very tangible and specific savings to the bottom line. Most construction firm CFOs are going to get behind investing in that kind of technology. However, John Schnell, senior vice president and business banking executive at Seacoast Bank, reminds the bank's clients that these aren't just plug-and-play technologies.
"There's careful integration work that must be done to maximize the potential efficiencies the technology promises," said Schnell. "This includes close collaboration with your business partners and clients in the development phase. It means real-world testing to make sure the technology not only meets the rigors of the rugged environment but also that it is what the users really want."
Schnell also recommends having a close working relationship with a local financial service expert to help protect your investments. Ideally, a dedicated local banking partner would work with you every step of the way. When you are ready to make the shift to acquire new technology for your business, this same banking partner can help you have the appropriate resources, products and services ready at the right time, he said.
At Seacoast Bank, we're here to help. If you have questions about the financial side of your business or want to know more about solutions we offer for business banking, contact your local banker using the form below.