Ten years ago, licensed psychotherapist Bob Zaccheo struggled to find a way to connect with the teen boys he counseled at a non-profit mental health agency in Martin County, Florida. They resisted his help and refused to participate in substance abuse therapy sessions. Not willing to give up, he carefully interviewed the boys about their interests and made a discovery: they all wanted to learn a trade or work on automobiles. Zaccheo knew it was a critical breakthrough.
"I was thrilled to find something they wanted to do with their lives. I thought if they could learn a trade or skill, they would see the value of their own lives and leave their substance abuse issues behind," said Zaccheo.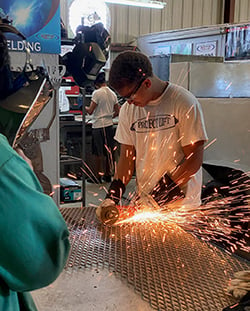 Zaccheo seized the opportunity and traded in his desk for a pair of work boots, rented a nearby garage, and spent time working with his patients repairing vehicles. He invited five teens to participate in an intensive 14-week session combining vocational skills training, substance abuse treatment, group and individual mental health therapy and mentoring. His bet paid off as the boys started engaging and responding. Zaccheo named his program Project LIFT, with LIFT being an acronym for Life Initiatives For Teens.
From these humble beginnings, Project LIFT has evolved rapidly. It is now an innovative non-profit that seamlessly combines mental health strategies and industry trades training for teens in Martin County facing mental health and substance abuse challenges. Its goal is to help its enrollees replace negative behaviors with a productive career path. Project LIFT uses the skilled trades to provide onsite, paid, apprentice-style training in a real shop setting with real shop outputs in 11 different in-demand trades such as heating, ventilation and air conditioning (HVAC), welding, construction, auto repair, boat building, screen printing and manufacturing. Project LIFT employs full-time licensed psychotherapists and professional skilled trades instructors and provides its services free of charge to the teens enrolled in its programs.
"It's hard to believe what we've accomplished, but we never would have made it this far without Seacoast Bank as our financial partner," Zaccheo said.
Having been born and raised in Martin County, Zaccheo was familiar with Seacoast Bank because his parents banked there. Patty McAuley, a branch manager has lived across the street from him for years. When Project LIFT grew beyond his modest financial management skills, he knew where to go for help.
"I realized I needed banking advice. I was a psychoanalyst, not a finance major, yet there I was trying to do something that no other organization that I know of had previously done," Zaccheo said. "I hoped Patty would be able to help me."
McAuley got the right people involved and the whole Seacoast team adopted the Project LIFT cause.
"They asked me questions I never would have thought to ask myself like, what will your average account balance be? How much do you need to have? How many checks will you write on a monthly basis? Do you have sponsors to help finance your needs?" Zaccheo said.
Get the latest updates, offers and helpful financial tips.
As Project LIFT grew from a small organization to one with various departments and a $3.1 million annual budget, it needed a complete online banking strategy. Seacoast helped the organization integrate its accounting software with its online accounts to provide the detail and information for Project LIFT's annual audits required by its 501(c)(3) status.
Beyond financial management, Seacoast's integrated team looked for more ways to help Project LIFT succeed. In addition to sponsoring many of the organization's events, Jennifer Powers, a longtime member of the Seacoast marketing team, bought tickets to the organization's fundraising events and gave them away to other bank clients who might develop into donors. She also connected Zaccheo with other non-profit leaders who had experienced similar growing pains, from recruiting talent to fundraising, and could mentor Zaccheo through the process.
Project LIFT did so well, it outgrew its space and needed a larger building.
"Robert Barfield a commercial banker with Seacoast, was able to help us secure a $250,000 loan to buy a building. We then held a fundraising campaign to pay it off," Zaccheo said. "Seacoast helped us find donors who helped us pay off the loan in six months!"
Wendy Hudson, wife of Denny Hudson, the bank's current chairman and CEO, invited Zaccheo to a Mar-a-Lago fashion show the bank hosted for its managed-wealth clients. A silent auction was held at the event that generated at $16,000 donation for Project LIFT.
In addition to the finance management and fundraising help, Seacoast sent its bankers to teach personal finance skills to the youth enrolled in Project LIFT's programs.
Despite the support and growth, Zaccheo still faces challenges, especially as it confronts the COVID-19 pandemic. Donations dropped precipitously during the resulting economic shutdown. He turned to Seacoast once again. Seacoast business banker Jenny Yingling was able to help Project LIFT secure a Paycheck Protection Program loan that not only kept the doors open but enabled it to grow its capacity by 37%. Without the growth, Project LIFT could never have met the increased demand for its services from suffering teens shut out of school, work and sports by the pandemic.
Zaccheo said what makes Seacoast so effective for him is the bank's ability to see beyond checking and savings accounts and deposits and withdrawals.
"Seacoast is an excellent bank, but its service doesn't end and begin with our account manager. Clients represent a long-term investment in the community that Seacoast is making," Zaccheo said. "Denny, the CEO, knows me by name. His dad was my parents' banker. The relationship with Seacoast is so very personal. For Project LIFT, Seacoast has become what all community banks strive to be – a member of its client's family."