Gilberto Robinson always dreamed of being an entrepreneur. After working in the fast casual food industry for 30 years, he had seen the impact providing jobs and serving others can have on a community. With a sharp business sense and years of management experience, he knew he was ready – if he could find the right financial partner.
"We opened our Planet Smoothie location in February of 2020. It has always been a lifelong dream of mine to be a franchise owner, to help serve the community in which we live," he said.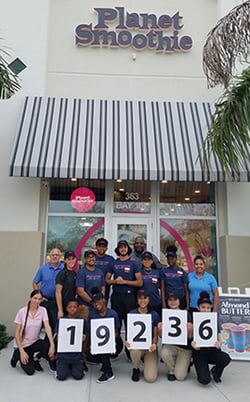 Robinson heard about Seacoast Bank through his Planet Smoothie contacts. After meeting with Seacoast's Vice President and SBA Sales Manager Patrick Ellis, he immediately knew it was the right fit.
"I was initially introduced to Seacoast Bank by the Planet Smoothie franchisor, who spoke volumes about Seacoast – and after sitting down and speaking with Patrick Ellis, I knew that I wanted Seacoast Bank as our preferred business partner."
Robinson's determination was unshakable, despite the growing concerns of a world-wide pandemic. With Seacoast Bank's help, he carefully navigated an ever-changing business environment and provided jobs for Boynton Beach residents at a time when many businesses were struggling.
"Seacoast Bank is proud to support small business owners just like Gilberto, who have the passion and perseverance to make their dreams a reality. Often, all they lack is a trusted financial partner who understands their needs and stands ready with tools and expertise to help them succeed – Seacoast is proud to be that partner. Our business banking solutions, SBA loans and commercial loan options are designed to meet the needs of businesses today and years down the road. " said Ellis.
Get the latest updates, offers and helpful financial tips.
"Our business – Planet Smoothie store number 19236 – has grown tremendously with Seacoast Bank by our side, and we know that we can always count on them," Gilberto says.
With the help of Seacoast, Gilberto Robinson has been able to fulfill his dream – and his family's dream – and make all the hard work pay off.
"Where we are today is a testament to the drive and passion of my family and the hard work we've all had to put in. This is a family dream come true and is 100% driven by family – with Seacoast Bank behind us every step of the way."
From commercial loans to business banking, Seacoast Bank has been Florida's trusted local bank for over 90 years. Looking for guidance to help fuel your growth? Complete the form below to speak with a banker.