When Chip Sollins purchased Gardens Home Management in Palm Beach Gardens in 2008, Seacoast Bank was already providing banking services like Business Checking. He knew he wanted a local bank, so he stuck with them.
"I didn't know much about Seacoast Bank when I bought the business, but I quickly learned they shared my same business philosophy: make it easy for people to do business with you."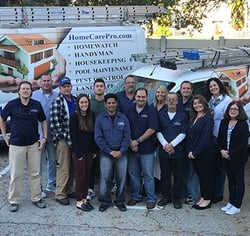 Gardens Home Management is a full-service home management and maintenance business. Many of their customers spend half the year out of state and the other half in South Florida. Sollins' company takes care of its clients' homes while they are away, and continues to help them even when they are in town. Some of their services include home watch services, interior/exterior house cleaning, pool & spa maintenance, handyman services and more.
"We do whatever our customers need us to do to take care of their homes. We make it easy; all they need to do is call and we take care of it," Sollins said. "Seacoast Bank does the same for us. They communicate well, they are super responsive, and they make things happen for us. The branch manager knows me by name and takes time to speak with me every time I visit the Seacoast PGA Boulevard branch. They became a dependable business partner for us."
Get the latest updates, offers and helpful financial tips.
In a market with a high percentage of retirees and snowbirds, demand for Gardens Home Management's services grew. Seacoast Bank's services grew with it. The branch manager was there to offer advice and coaching that made banking even easier including services like Business Checking Plus, ACH, Business Credit Card, Business Internet Banking and Remote Deposit Capture. Each of these services saves Sollins time.
"The Seacoast service that saves me the most time is Remote Deposit Capture," Sollins said. "The vast majority of our clients pay by check. Being able to scan multiple checks at once for immediate deposit without having to leave the office is the type of convenience I have come to expect from Seacoast."
Gardens Home Management grew to the point that Sollins hired a controller to oversee the business's finance. According to Sollins, the controller gets the same great service he himself has always gotten.
"They never set up roadblocks for my controller," said Sollins. "Seacoast always offer solutions – ways to overcome problems."
Sollins had no way of knowing that size of the roadblock he and Seacoast would face in 2020. Most businesses hadn't experienced an economic shutdown like the one created by the COVID-19 pandemic, and Gardens Home Management was no exception. The clients that hire Gardens Home Management for its home watch service leave South Florida by Easter or Passover. Because of the pandemic, no one could travel and everyone stayed in South Florida. It cut home watch revenues by 50%. Clients also cut all housekeeping and handyman services to avoid having people enter their homes.
When Sollins heard about the CARES Act and the Paycheck Protection Program, he reached out to Seacoast and worked with Cory Bell, a business banker.
"Cory told us what we needed to put together and we submitted our Paycheck Protection Program loan application. When we were shut out of the first round, he pushed hard to make sure we were included in the second round," Sollins said. "Each day he communicated to me the status until it finally came through. Without his perseverance we would not have received the loan. He was a pleasure to work with and had a great attitude during the process, which was very nice as I am sure he was swamped with helping many customers."
Sollins was able to use the funds to keep current employees on the payroll and bring back others that he was forced to lay off.
"With our revenue off and not knowing how the pandemic would play out in the future, I was worried, Sollins said. "But, Cory came through for us. The loan gave us the money to be able to pay everyone and allows me to sleep better at night. I'm grateful to have a business partner like Seacoast."