Being smart about money management can be essential to the success of your small business. Part of this involves finding the right financial tools to help with cash flow, such as paying bills, financing equipment, and covering everyday costs. Fortunately, several options are available for small business owners, including business credit cards and business debit cards.
If you're determining whether a business debit or credit card makes sense for everyday transactions, here's what to know and when you might want to use one over the other.
How Business Debit Cards Work
Like personal debit cards, business debit cards are linked to a small business checking account and provide quick and convenient access to your cash. You can generally use a business debit card with any merchant that accepts card transactions, and it can be used to withdraw money from an ATM if you need to make a cash purchase. These cards can help separate your personal and business finances.
Because business debit cards are linked to your bank account, you can only use them to spend money you already have, which can be beneficial if you want to avoid overspending.
In addition, many banks and credit unions also offer employee cards with card controls, allowing you to provide business debit cards to your employees and set use restrictions, such as, spending and location limits.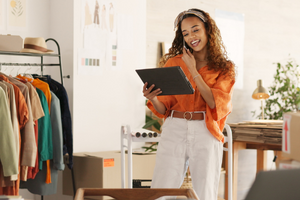 Though unauthorized purchase protections are commonly associated with credit cards, they're commonly offered with debit cards as well, protecting you against fraudulent transactions.
When it makes sense to use a business debit card
While every business owner's financial situation is slightly different, in general, it could make sense to use a business debit card for these purchases or costs:
Utility bills and cell phone bills

Rent payments

Everyday purchases like supplies

Assets you want to pay off immediately


How Business Credit Cards Work
A business credit card provides an unsecured line of credit for your business that you can use as needed for business purchases. As with debit cards, business credit cards are widely accepted by merchants who allow card transactions. These financial tools can be used to build credit for your business, which in turn could result in favorable financing options with better rates and terms.
Similar to personal credit cards, business credit cards come with a monthly spending limit, and it's a best practice to repay your card's balance in full each month to avoid costly interest charges. Credit cards typically have higher annual percentage rates (APR) than other forms of financing, so it generally only makes sense to use them for purchases you can afford to repay at the end of your statement cycle.
Certain cards may also come with an annual fee, which can be a small amount or hundreds of dollars, depending on which card you choose. Keep this in mind as you explore business credit cards options.
Cashback rewards and low introductory APR bonuses have become a hallmark for many credit cards, including those designed for business use. If you're considering a business credit card, be sure to compare lender offers and align the card benefits with your specific needs. Keep in mind, business debit cards may also offer exclusive perks for cardholders.
Depending on the card issuer, you can also get business credit cards for your employees and have access to card controls.
When it makes sense to use a business credit card
In general, it could make sense to use a business credit card to cover the following costs:
If used wisely, small business credit cards can be an effective spending tool that allows you to keep more cash on hand.
Which Financial Tool is Right for You?
Financial tools such as debit and credit cards can simplify money management for a small business, and in many cases, using a business debit card for one set of costs and a credit card for another can make sense. There's no reason why you can't have both.
Small business owners may find it useful to keep all of your accounts at the same bank or credit union and manage the accounts within a single online and mobile banking platform to streamline bookkeeping and manage card controls within the same app.
If you're considering a new card, Seacoast Bank offers business debit cards and business credit cards with benefits suited for a wide-range of Florida small business owners. Our knowledgeable bankers are happy to discuss your unique needs and provide solutions that make sense for your small business.