Did you know that if you do independent contractor work, you should have a business bank account? Do you have familiarity with business banking accounts, but your frustrations with business checking options led you to keep using your personal account?
Whether you fall into one of those categories or are just starting your business, opening a business bank account is essential for getting and keeping your business on track. While a business bank account requires more paperwork to set up and it may seem easier to only use your personal bank account, there are benefits to keeping your business transactions separate.
Business Bank Accounts are Required for All Business Types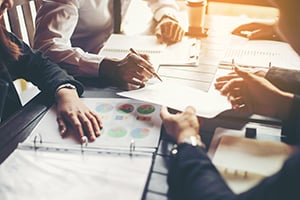 Whether you run a franchise business or you're a small sole proprietor, you still need to open a separate business bank account. Federal law gives different protections to personal checking accounts and business bank accounts, so you need to open the right one to protect your rights in the event you have to dispute something on your account.
Your bank account terms also probably state that you can't use personal accounts for business reasons. Banks do this to make sure they follow federal law and to give you the proper services and pricing. If you don't follow your account terms, your bank may close your account which could disrupt your business if you suddenly can't receive payments or pay your vendors. You may also be at risk of a lawsuit if your personal assets are mixed in with your business assets.
A Business Bank Account Protects Your LLC or Corporation Status
If you have an LLC or corporation, it must have its own business bank account in its own name. An LLC or corporation is a separate legal entity from you, so it isn't proper to put its money into your personal bank accounts even if you're the sole business owner.
Get the latest updates, offers and helpful financial tips.
Instead, you should accept all business payments into and pay all business expenses from your business bank account. When it's time to pay yourself, write yourself a check or set up direct deposit.
If you mix your business money with your personal money, a court could decide that you weren't really operating as an LLC or corporation. If that happens, you could lose the legal protections you thought you received by incorporating.
Business Bank Accounts Make Your Accounting Easier
Having a separate business bank account also makes your accounting easier. Whether you automatically import to your bookkeeping software or send everything to your accountant, you won't have to waste time separating out your personal transactions.
You'll also have a clean, easy-to-understand set of financial records to use if you apply for a business loan, decide to sell your business, or get audited by the IRS. In addition, you won't have to worry about losing your privacy by having your personal transactions placed under the microscope when your business transactions are reviewed.
Business Bank Accounts Offer More Services
One of the most important features of business bank accounts is controlling the level of access your employees have to your accounts. You can decide who has check-signing authority, who can only make deposits, and who can use a debit card. You can also set limits on debit card use.
Depending on your account tier, you may also receive benefits such as unlimited transactions, earning interest on your cash reserves, and lower-cost cash and change processing.
Many business checking accounts don't charge monthly service fees if you stay within your cash and transaction limits. Additionally, some accounts pay interest if your account is in good standing and your fees are low. Learning about all the ways in which a business bank account can work for you will help you make the banking decision that is best for your business.
Ready to set up your Business Bank Account? At Seacoast Bank, we understand how important convenience is to you, and our services are 100% committed to providing a hassle-free experience. Contact your local banker today using the form below.