Ever since the Australian government opened its doors for private investors, Australia's infrastructure innovation has led the world in planning, investment and execution. The United States could certainly stand to learn a thing or two about the future of infrastructure given that the American Society of Civil Engineers (ASCE) has graded America's infrastructure at a D+ (including an estimated price tag of $4.59 trillion to improve), but it's unclear if Australia's model will work here.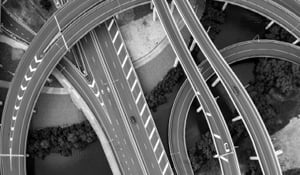 Interestingly enough, Jacksonville, Florida – home to the ever-growing and record-setting cargo hub of the Sunshine State, the Jacksonville Port Authority (JAXPORT) – has provided one of America's current battlegrounds for infrastructure privatization.
Can Infrastructure Privatization Work in America?
The problem with privatization of infrastructure in America has to do with the politics that play so heavily into such a decision. Can our politicians come to an agreement on something the entire country virtually already agrees on? Some would say they have to if we want to stave off the collapse of bridges and tunnels, or the further deterioration of roads, that threaten the supply chain of the entire country.
In a speech to Third Global Roundtable on Infrastructure Governance and Tools in June 2019, the Australian ambassador to the United States, Joe Hockey, certainly made his case for America to follow his country's example, saying:
"As we did in Australia, the U.S. will need to allow the private sector to step up to the plate. The last three years have seen the U.S. private sector raise record levels of money for infrastructure investment. In the third quarter of 2018 alone, infrastructure funds raised almost $37 billion, with three quarters of that allocated to transactions in North America. However, utilizing these funds has been a challenge. It's a challenge which only political reform will address."
That challenge proved lofty in Jacksonville. It began when the city discussed putting the eighth largest public utility up for sale: Jacksonville's power, water and sewer utility, known as JEA. Estimated to bring a price tag of $7.5 billion to $11 billion – netting the city about $2.9 billion to $6.4 billion after debt repayment – the sale concerned local leaders and community members, who feared losing control over rates and a yearly influx of money into city coffers.
But even the suggestion of the sale led to calls from ex-mayors for votes of no confidence in the city council, threats of ethics investigations and a 2018 referendum passed by citizens requiring voter approval of the sale of any part of JEA. Today, it is unclear what will happen with JEA as privatizing infrastructure assets in the U.S. remains a difficult task.
A Deeper Look at Where Australia's Infrastructure Innovation Is Today
To see exactly what the privatization of Australia's infrastructure can teach us — and understand why some Jacksonville business leaders are fighting so hard for change — it helps to look at the new challenges that lie ahead for Australia, specifically as a global leader in infrastructure innovation and public-private investment cooperation.
Get the latest updates, offers and helpful financial tips.
On September 6, 2019, more than 40 leaders of Australian industry sat down for a roundtable discussion on the future of infrastructure. The event was hosted by McKinsey's Global Infrastructure Initiative (GII) and the dialogue centered on McKinsey Australia's extensive and revealing report, Australia's Infrastructure Innovation Imperative.
Four Things to Consider for the Future of Infrastructure
The report takes a deep look at the major issues facing the nation's next wave of infrastructure. Four insights from the roundtable and report stood out as possibly relevant to the future of American infrastructure:
1. Future-proofing infrastructure.
Australia is taking a hard look at how factors like autonomous and electric cars, climate change, rails vs. road and tech-heavy mobility hubs will affect future infrastructure upkeep. This forward-thinking approach may prove problematic in America, a country that is vastly larger and more populated than Australia – and with no consensus on politically driven issues like climate change or high-speed railways.

But this could also be an area where America looks at Australian efforts to future-proof infrastructure from a cost-benefit viewpoint – reduced commuter times, lower greenhouse emissions, enhanced infrastructure life, optimized spending and more – rather than our current political scope.
2. Rethinking project selection.
America may not necessarily have a problem with project selection – though we need more done as a whole – we can probably learn from the issues Australia has with infrastructure spending and selection. Many current and completed projects aren't the most vital as benefit-cost ratios and biases come into play during decision-making.

To avoid these pitfalls, Australia has decided to focus on strategic objectives during greenlighting discussions, utilize techniques that remove bias, create technology to speed up strategic analyses and prioritize projects by categorizing different types of investments. If done stateside, this method of data-driven evaluation could help sidestep some of the more politically driven issues holding up American infrastructure.
3. Addressing workforce shortages.
Australia is facing a potential lack of manpower needed to execute their next wave of infrastructure expansion. The McKinsey report estimated the need for not only an additional 260,000 to 385,000 construction workers over the next few years but also an immediate need for skilled workers. The Australian mining boom is expected to intensify this potential labor shortage.

The roundtable's solution was to begin training current workers in new skills now, rebranding the industry's culture to improve employee retention and looking for more innovative ways to recruit talent. For an American economy with the lowest unemployment rate in almost 50 years, a labor shortage during a stretch of infrastructure expansion isn't unimaginable, and a skilled-worker shortage is almost a guarantee. Retraining employees in professions that have failed to see a resurgence – such as coal mining – and upskilling current construction workers could ready the American workforce should policymakers pass an infrastructure package.
4. Boosting productivity
You don't have to sit in Florida traffic very long to wonder about the productivity levels of new road construction and repairs, and apparently, this is a worldwide problem. Australia has chosen to address efficiency as part of their plan for future infrastructure innovation.

When compared to the total economy, construction productivity costs the global economy $1.6 trillion per year, and one-third of that comes from the United States alone. McKinsey predicts that technology is the best way to improve construction productivity, with 47% of the industry having automation potential. This is a huge incentive for America's enormous tech industry to step in and come up with innovative ways to improve infrastructure productivity, possibly thrusting America to the forefront of the infrastructure innovation field.
No Clear Answer on Privatization But Lessons to Be Learned
While it's unclear if the privatization of infrastructure will ever be politically feasible in the United States, it is worth examining the innovation and outcomes taking place throughout the rest of the world. One prime example of Australian infrastructure innovation – and privatization – is how the largest state in the country, New South Wales, rented off operator rights to state-owned assets like electricity distribution and then used the proceeds to build new roads and railways.
This program resulted in $26 billion (U.S.) in revenue, most of which was spent on public infrastructure projects that were politically popular. The rest of the money was used to reduce government deficits and pay down debt. If you scale that revenue up to a hypothetically similar program in the U.S., it would translate to $1.1 trillion – more than five times the current American infrastructure spending proposal. That money could go a long way toward helping Floridian manufacturing and shipping industries that rely on America's roads, bridges, tunnels and railways.
---
At Seacoast Bank, we're here to help. If you have questions about the financial side of your business or want to know more about solutions we offer for business banking, contact your local banker using the form below.