You might already know that community banks like Seacoast Bank typically offer financial benefits, such as lower fees and more competitive rates, but opening a business bank account at a local institution can also help your business stay connected with your community. It's even one of Seacoast's brand promises to invest in you and your community. Consider these four community-centered advantages of local business banking.
1. Injecting Money into the Local Economy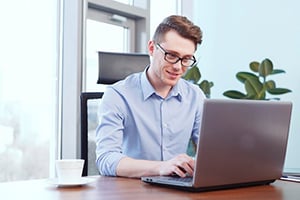 When you trust your money to a national bank, you have no idea what area or sector of the economy you're supporting. A local bank, however, hosts the accounts of local residents and businesses and invests right back into the communities we work, live and serve in. When you open business bank accounts, take out small business loans, and conduct other business at a community bank like ours, you're directly supporting your local economy.
Your deposits help other businesses stay afloat financially and improve the market for local businesses rather than national chains. Restaurants, retail outlets, manufacturing plants, and other types of businesses receive stimulation from this positive impact.
Get the latest updates, offers and helpful financial tips.
You're also helping to fund local jobs because a community bank employs local residents. From the tellers to the loan officers, each individual at your bank has roots in your community. The more the fiscal environment improves, the more benefits local workers receive.
As the economy thrives in your local community, residents have access to more money, which they can then spend at your business. It's a cyclical process that starts with a community-focused local bank like Seacoast. When residents of a community enjoy financial success, they benefit all of the local businesses.
2. Fueling Economic Growth in Your Community
Community banks lend borrowing power to the local economy. Businesses that cannot get loans from national banks often enjoy more favorable odds at community institutions, primarily because a local bank takes into account more than numbers in an account or on a credit score.
According to the Financial Post, an economy improves when businesses and consumers have more borrowing power. Banks can charge lower interest rates for products like business loans and business bank accounts, which means businesses keep more money in their coffers.
Furthermore, you have an opportunity to establish a personal relationship with a reliable banking institution. As we like to say at Seacoast, sometimes your best business partner isn't even on the payroll. By this we mean that our team will learn your business's goals, history, track record, and performance, which opens up new financing options for the future. Seacoast truly becomes a partner in your success, rather than just a place to deposit your checks.
3. Connecting Your Business With Other Professionals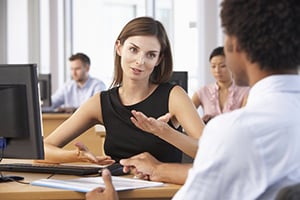 Community banks like Seacoast Bank offer additional services to help businesses thrive. They connect business owners with professionals and advisors who can help them realize their goals.
For example, you might need an attorney to help you iron out the details on a contract with a new supplier. Perhaps you need an angel investor to fuel your expansion plans or an insurance agent to help you protect your most valuable assets.
Community banks have ties to the local economy and relationships with other business leaders. Enjoying access to those same connections can fuel your business's upward trajectory and help you contribute to your community in exciting ways.
If you're ready to become a more active member of your community, take your business bank account needs to a community bank. We'll help you choose the business checking solutions and other products that will most benefit your company.