Research Cars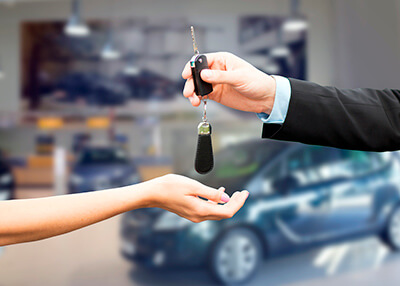 You're anxious to get the keys to your new car, but first you need to know what type of car you want.

Never walk into a dealership or apply for a loan without some idea of what you want to buy. For instance, an auto loan isn't the only cost of buying a car. You must also pay taxes on the purchase, buy auto insurance, and pay the title and licensing fees. These costs add up, so you don't want to apply for a loan without a basic understanding of what you'll spend.

If you know you want a new car, for instance, you can look up MSRPs and average insurance rates for the cars you're considering. Narrow it down by class first (such as SUVs, sedans, coupes, and trucks), and by make if you prefer a specific manufacturer. Have at least a few options in mind when you apply for the loan.
Fill Out an Application
Now that you have all your ducks in a row, you can apply for an auto loan. You'll know what you want to spend and how your credit rating will influence your interest rate and loan-approval odds.

For personalized service and excellent auto loan rates, learn more about getting an auto loan with Seacoast Bank and how we can best serve you as you prepare to make this exciting purchase. We'll ensure that you're able to drive away in your new car as quickly and painlessly as possible.
Calculate your monthly payment with our auto loan calculator.