Whether you're purchasing a home or refinancing an existing mortgage, the mortgage loan that you apply for is a process made up of multiple steps. Your application requires information about your finances and income, and you'll need to submit the right documentation to ensure that you can qualify for a mortgage loan.
To make your mortgage loan application a smooth, frustration-free experience, we've put together our insights on the kinds of mortgages available, what you'll want to have ready for your application and how to guarantee a faster mortgage loan closing.
What follows are ten helpful tips for Florida homeowners going through the application process, so you're able to navigate each step with confidence.
Know Before You Apply: What Goes Into Your Application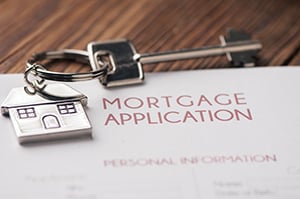 When you're applying for a mortgage loan or refinance, the lender that you work with will require information on the following:
Details about the property you own or want to purchase

Employment information for any borrowers

Credit history and financial information for borrowers
All of that information in your mortgage loan application will help your lender determine how much they can lend to you and the terms of that loan.
Establish Good Credit and Savings
Before you start the application process, you'll want to make sure you're in a position to afford your mortgage and own a home. It's recommended that your housing expenses make up 35% (or less) of your income. Housing expenses aren't just your mortgage payment, but includes insurance, taxes and other costs.
To help ensure that you're in a good place to qualify for a mortgage loan, many homeowners will first pay off any excessive debt that they owe to lower their debt-to-income ratio. Not all of your credit balances need to be at zero, but the less you owe to other creditors, the better.
And your lender will also verify your employment history to see that you have a regular source of monthly income. It's not recommended that you leave your job before or during the mortgage loan application process.
Know What Type of Mortgage Loan You Need
Whether you're building your new home or refinancing, there are a few types of mortgages that you can apply for.
An adjustable rate mortgage (ARM)is a great option for homeowners who want the benefit of lower monthly payments, but don't intend on staying in their home for the long run. An ARM offers a lower rate on the loan up front, making your initial monthly payments more affordable. The initial loan rate is fixed for a three, five, seven or 10-year period.
A fixed rate mortgage, on the other hand, means your rate and monthly payment won't change over the life of the loan. This makes budgeting for housing expenses easier, since you know your rate will stay fixed over the life of the loan.
If you're building or remodeling your home, you can apply for a construction loan to help with the costs of building. Seacoast Bank offers competitive rates (both fixed and adjustable) for homeowners looking to build or remodel. We even offer lot loans, if you've found the perfect location for a new home but aren't ready to build yet.
Know How Much You're Able to Spend on a Mortgage Loan
Take a look at your family's budget and personal finance goals before you start the process. Your lender will only look at your credit report and monthly income to qualify you for a loan. The amount that you're approved for doesn't always take into account the money you spend on groceries, your commute, or child care.
While you might be approved for a generous amount when you submit a mortgage loan application, you'll want to determine first how your housing expenses figure into your personal budget. Use our Mortgage Loan Calculator to help determine how much home you may be able to afford.
Get Prequalified First for an Easier Loan Application
Ready to get the process started? Work with your lender directly to make the process as smooth as possible, and get prequalified for your mortgage loan.
Your lender will run your credit and can make an estimate on how much they're able to lend you. This will help to ensure you're staying within your personal budget, and means you can start looking around for homes in your price range.
Prepare to Make a Down Payment
If you've already been putting back money in savings, you're a step ahead in the application process. Most mortgage loans require that you pay a percent of the loan amount up front, or a down payment. It depends on the type of loan you're able to qualify for:
Most conventional mortgages require 5%

FHA mortgages

require less of a down payment at 3.5%

VA loans will finance

100% of the mortgage
Loan Application Documents: Get Ready to Get Verified
Your lender will look into your employment and credit history, but will also verify additional information during the application process. This could require additional documentation from you, to include the following:
Create an Account Online to Manage the Process
Some banks make the mortgage loan application an easier process for customers with an online account.

The mortgage application process can be time consuming, so Seacoast Bank provides an online personal mortgage portal. This makes it easier for you can start an application and save each step of your progress, so you can apply at your own pace.
Dealing With a Mortgage Loan Denial
You might find after the application process that you don't meet the qualifications for an approval. While this can be disappointing, it doesn't mean you won't be able to qualify for a mortgage in the future.
Many borrowers are able to improve their credit issues, even after foreclosure or bankruptcy, with solid financial planning and budgeting. An application denial a great opportunity to get your credit back on track and set budgeting goals for your new home in the years to come.
Contact a Local Florida Mortgage Loan Lender
The mortgage application process is made up of multiple steps, and it helps to talk with someone throughout your application experience.
When you work with Seacoast Bank for your Florida home mortgage, you'll have access to information and a helpful team of professionals with the knowledge and background to serve you.
Ready to start your application? Seacoast offers several loan options depending on your needs. Contact our lending experts to help you through the process and make an appointment today.