Start securing your financial future today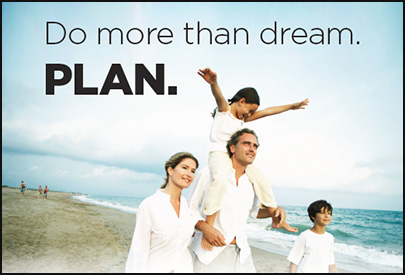 We all have dreams -
Dreams of career, family, or a comfortable retirement. But realizing dreams takes foresight, planning and serious investment in your future. That's why we're here.

We cannot stress enough the importance of having a financial plan. Developing a plan helps you map your strategy for retirement with all of your financial goals. Retirement savings have to be balanced and integrated with all the other financial goals in your life such as home purchase, children's schooling, caring for aging parents, insurance and so on.
Simple steps in our financial planning process to establish a baseline for your financial well being:
We review your overall personal financial situation, past and present, to ascertain your financial objectives.
We help you set your priorities for the future - education costs, retirement, or prudent investments.
We help you determine the degree of risk you are comfortable with when it comes to your money. Risk is a balance against your desire to make your money grow over time.
We identify the resources you will need to meet your goals and outline a systematic program to enable you to meet tomorrow's objectives.
We offer solutions for reaching your goals by recommending the types of financial investments we feel are best suited to your needs.
We help monitor and update plan recommendations.