Every day in business is another play for success. Players at every level of the game – aspiring amateurs, rookies, and even seasoned professionals -are dedicated to pushing the limits by putting everything on the line for their goals. Join us for a month-long discussion dedicated to "Going for the Gold" in celebration of this year's OBJ Golden 100 honorees, and bring your business game to the next level.
In the modern game of business, leaders rely on being the quickest to adapt to consumerism's ever-changing digital trends. What if the real advantage isn't in who is the quickest to implement a practice, but the fastest to maintain relevancy?
While the digital age makes it easier for the competition to join the rat race, the true champions keep a few key factors in mind to ensure they finish strong in the game of business.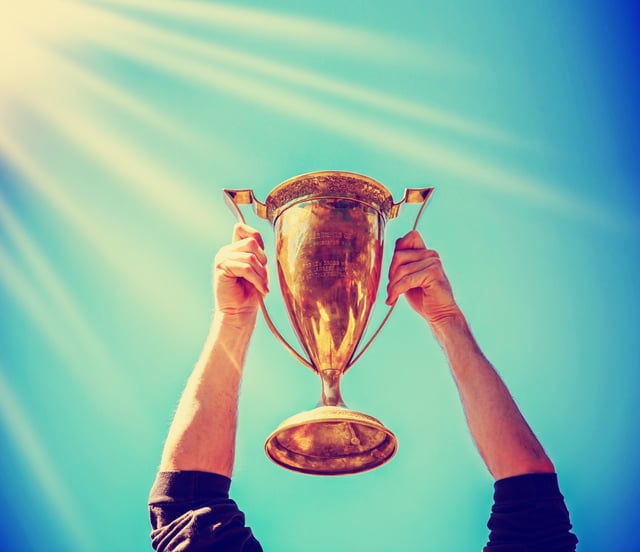 The Real Game Changer in the Digital Age
Since the invention of the personal computer, technology has always provided new opportunities for advancement in the business sector. The possibilities have expanded far beyond the mere goal of making the daily work operation an easier task, but building on itself to continually create new methods where consumers and brands can directly interact.
The rapid rate of these advancements has led business leaders to the dot-com boom, birth of social media, past the emphasis of accelerated mobile development, and onto the next stop in whatever the growing digital age has in store. Each of these elements at one point was the "Game Changer" forcing business owners to evaluate their practices and adjust quickly.
The most successful leaders aimed to get their businesses ahead of the most popular digital trends so time wasn't wasted on rewriting an outdated business playbook down the line. It was widespread belief that staying ahead of the digital age was merely done through quickly implementing whatever new trend became available, and then do research later regarding whether the activity was profitable.
This reactive strategy to an attempt at a proactive approach won't last in the modern age. The largest generation of consumers – the Millennials – are more tech savvy and careful about where they spend their dollars, given that the digital age is broadcasting the brands they support and using them as reflections of their character. They can see through in genuine implementation and call for a more authentic practice of engagement.
The real Game Changer in gaining the competitive advantage in the digital age isn't how fast you can implement a trending digital practice, but how relevant that activity is to your audience.
The research mentioned in the Harvard Business Review showcases support for "relevancy" being the key, after releasing their results from a consumer study in 2010. Their results support that a customer's moment of influence in the buying cycle has shifted in multiple ways due to the changes of the digital age. These areas included new stages where users are most impressionable given the right method, and taking full advantage of a two-way channel of interaction.
Digital activity must be aligned with the correct "touch point" during the window of influence that will receive the maximum amount of impact on the buyer. The perk of addressing this advantage is one series of relevant interactions can lead to a present buyer with great potential to be a repeat customer.
Understanding what this shift looks like for your unique target market is critical in maintaining relevancy through digital practices. As with all growth within a business, change is not possible without overcoming obstacles. The first of these hurdles for owners begins with being willing to move out of their own way.
"The biggest obstacle keeping businesses from connecting with their audience in the digital age is their fear of the unknown," said Seacoast Bank's Executive Vice President, Small Business Banking Leader - Julie Kleffel. "They assume that people are not interested in what is happening in their business and what they have to say. Most business owners forget that emotions drive online and offline interactions so it is vital for them to connect with their clients on a personal level in order to get them to buy their product or service."


Old habits may be hard to break, but the sooner your business does away with outdated philosophies feeding the fear of change, the sooner your advantage will become a lucrative habits
Why Being Different Doesn't Always Mean Successful
Consumers are no longer trapped in the traditional sales funnel, according to the experts at Practical Ecommerce. Leads were limited to very minor activity through the main 3 points, which were interest, awareness, and buy. This outdated model emphasized digital practices focusing on increasing awareness without taking into account all of the complexities of the current consumers' habits, trends, and points of influence.
The traditional sales funnel was formed in 1898, which was a long time before the current digital era surfaced. When the ability to produce ads everywhere became an option, these traditional businesses over stimulated users with ads on every digital opportunity imaginable. In the long run, these practices had a reverse effect on the consumer cycle and became noise that users still tune out to this day.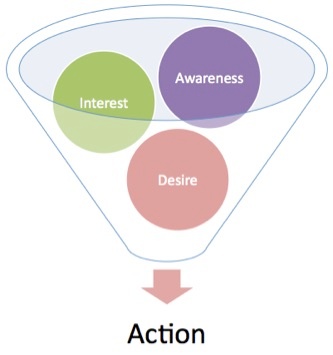 Image via Practical Ecommerce.com
Research suggests that the average person receives anywhere between 300 - 5,000 brand messages each day, and most of these are through digital resources. When you subtract the amount of time the average person sleeps, that means your potential target market could be receiving some a message from a business about 11.52 seconds each day. Focusing on the awareness model that emphasizes the message of "how we are different" from competitors sounds both expensive and pointless when it comes to harnessing a digital advantage.
Many consumer researchers – including those published in The McKinsey Quarterly - have found that current consumer's buying cycle looks more like a circle with the users' unique personality, experiences, and needs at the core of their transactions. This version allows multiple points of interaction and – most importantly – opportunities for engagement that creates relevance in the digital age.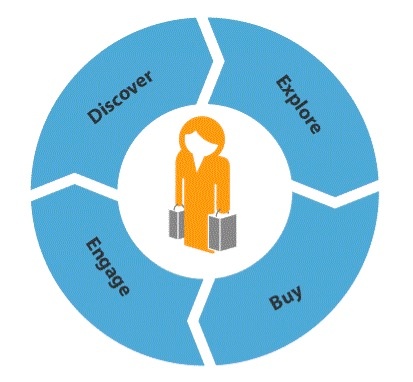 Image via Practical Ecommerce.com
The digital age allows more than enough access to multiple options and research to push any target market towards your brand or turn them to a competitor. The key to staying relevant in the digital age comes from what options your brand is offering while the buyer is in their most crucial stages.
Ways to Gauge the Performance of Current Practices
Taking time to make shifts within current digital practices can save your business funds while creating more opportunities for new loyal customers. Keep the relevancy of your current lead audience, customers, and digital practices in mind as you evaluate the major areas of influence in the modern consumer's purchase cycle.
Discover
There are a variety of digital options to help point your audience in the right direction. Outside of the general digital applications in this area, like PPC campaigns, SEO development, and obviously investing into an engaging website, consider what digital content you're using to target the audience.
Does it relate to their needs, and give an approachable opportunity for users to listen to digest your message? Before they can even hear your message, consider where these messages will be found. There might be current digital platforms and media buys that aren't worth the investment. Remember, cultural popularity doesn't always mean an area is relevant to your brand.
Explore
Modern consumers don't want to be "sold" on your product. They want to explore what you have to offer and come to a sound conclusion on their own. Content-based strategies are essential to growing relevancy, and the company's website is the most impactful area to help the audience get to know your brand.
A paramount statistic for gaining insight about the power of a website's messaging engagement is the bounce rate. Comparing a business' current bounce rate to the industry average will help leaders make drastically better decisions about the relevancy of their digital practices.
The general standard that you want to stay below will depend on your business' industry. The average for e-commerce sites are about 33% according to industry researchers, which could also apply to your company even if you have a physical storefront as well. It's a good idea to research all of the industry bounce rates that could apply to your business to discover new niche areas where you may have an advantage. Google Analytics allows their users to receive benchmark reports to stay updated with the industry's current overall performance.
If the bounce rate for your website is lower than the average, then your current practices are keeping your users engaged with the message they are finding on the site. Business leaders should consider making changes to their plan if the rate is above the industry average. This can mean your practices aren't reaching your target market, or they're arriving at your site but not connecting with the message.
When looking for new strategies to improve how long users are spending on your site, investing in fresh content could be the facelift your digital presence needs.
Buy
This point of influence needs to be as simple as possible for consumers. If they run into an issue, they may put off the purchase or become frustrated and change their minds. Relevancy in this area comes from making the user experience a pleasant one.
Payment options can make a difference in what digital advantages are available to help close transactions. At least 50% of consumers in a YouGov survey stated that they would not follow through with a digital transaction if the web store did not accept their preferred method of payment.
While offering multiple payment options for online stores is a significant advantage, business owners with physical shops have a variety of digital options that can make payments faster for customers. Offering touch to pay services or even taking advantage of mobile payment accessories like Square can help give you a digital advantage over the competition.
Engage
Engagement isn't a new emphasis for business owners, but what some might overlook is evaluating the importance of which members of the target market are the most engaged. If potential leads are the primary producers of engagement, it's time to question why previous buyers won't join in the brand's digital conversation.
Focusing digital business practices on becoming more relevant to current customers or past customers is when the real advantage of relevancy is at work. It allows you to validate the decision in choosing your product or service, while also instilling a relationship that can be cultivated into future purchases or referrals.
Business analyst, Ray Wang, reported that companies who increased engagement improved cross sales by 22%, up-sold revenue between 13% - 51%, and also increased order sizes by 80% in 2015. Driving relative engagement pushes a business towards the larger vision of their future goals. The more authentically this can be done, the better the loyalty will pay off.
"The only real disruption that I see possible is to stop "Advertising" and start "True Vertexing " the brands. True Vertexing is to share the true vision and purpose of a brand with consumers for the brand to reach the Vertex, the highest point it can go to, with consumer empathy. The purpose is not about tactical ideas developed for a season. The purpose will have to be based on incredibly rich human insights, not from researches done to validate an already existing hypothesis, but by real understanding of what people seek, " said business leader, S. Yesudas, in The Economic Times.


The Real Race to Relevancy is Being the Quickest Business to Adjust
Staying relevant means you're not just using technology for the sake of being the quickest to use a method, simply just to use it. Digital practices are more meaningful to your target audience than buying as many digital ad placements as possible, knowing that is a relic practice wasting a golden opportunity.
Have a competitive advantage is arming your digital strategies by applying the research that supports consumers are attempting to limit advertising noise from their digital landscape. Almost 250 million people have paid for extended features and services to avoid ad-free entertainment, which reasons why 89%of these ads aren't seen by their target group, according to The Economic Times.
The leaders with the greatest competitive advantage aren't out to sell through their digital assets. These leaders are changing their game through new forms of interactive storytelling, and opening digital channels for a conversation, versus a broadcast. Train hard in discovering new forms of digital relevancy, business champions, as you continue to improve your endurance in the old businesses game of success in new ways.
About Julie Kleffel

Julie Kleffel is Seacoast Bank's EVP, Small Business Banking Leader. She joined the Seacoast leadership team as a result of a merger between her former institution BankFIRST and Seacoast Bank. She is responsible for developing, implementing and overseeing the bank's small business banking strategies and initatives statewide. Prior to the merger, Julie was BankFIRST's Executive Vice President and Commercial Sales Leader. She has over 19 years of overall banking experience.

As a fourth generation Central Florida native Ms. Kleffel has strong ties in the community. Ms. Kleffel currently serves as the Treasurer for the Garden Theatre, Executive Board Member for the Dr. Phillips YMCA, Finance Committee for the Central Florida YMCA, and Executive Director for the National Entrepreneur Center. She is a Lifetime Director for the West Orange County Chamber of Commerce. Previously she served as the Past President for the West Orange Committee 101, Past Chairman of the Roper YMCA, Past for Oakland Park Foundation Board, and Past Advisory Board Member for Westside VoTech. She is a graduate of Leadership West Orange.

A graduate of the ABA National and Graduate Commercial Lending Schools, Ms. Kleffel has also received the prestigious "Certified Lender Business Banker" designation from the Institute of Certified Bankers. She completed her professional education by graduating with distinction from the American Bankers Association Stonier Graduate School of Banking at the Wharton School of Business at the University of Pennsylvania in 2009. Her graduate Capstone Strategic Project was published by the ABA immediately following her graduation. She has served as an Advisor and Advocate for the school since 2009.
Connect with Julie Kleffel on LinkedIn