March served a great reflection on Women's History Month honoring the path women have traveled to get to where we are today, but throughout the month of April we're looking forward to the future of strong women in business, so let's continue the conversation about the importance of women in leadership roles.
Join us as we discuss female leadership roles in businesses and communities, tips on how businesswomen can pull ahead in the workplace and business ownership, interesting facts and statistics about businesswomen and leaders, and how women can step up within their industries and lead a new appreciation of female-driven business.
WHY MENTORING MATTERS
Seacoast's own Julie Kleffel, Executive Vice President, Small Business Banking Leader, was selected by the Orlando Business Journal to participate in yesterday's Orlando Business Journal's 2016 Bizwomen Mentoring Monday Networking Event, sparking our deep-dive into what it means to be a woman in business today, and further driving Julie's zeal for strong female leaders in the business world. In addition to the OBJ excitement, Julie will be hosting a Twitter Chat on April 20, where you can ask questions and get useful insight straight from a female business leader.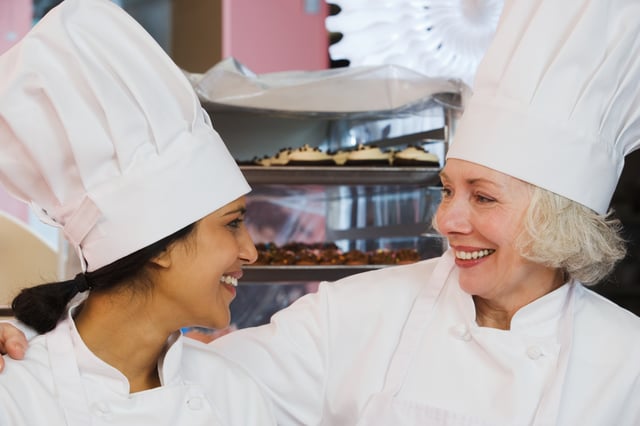 Every woman in the workforce needs a support system with all of the right pieces to achieve a successful career. One element many underestimate is the value of a good mentor that understands the unique perspective, challenges, and skills that women bring to the table. Many female leaders agree that it's important for women to mentor other women in the workplace.
"Women bring a special dimension to these foundational blocks of mentorship
and it is important that we are willing the take the time to share them regularly.
Honest and continual feedback from a real place,
preferably a place you have been yourself
is extremely beneficial to any mentor/mentee relationship."
-Julie Kleffel, Seacoast Bank's Executive Vice President, Small Business Banking Leader
(Click Here to Ask Julie Kleffel a Question)
Studies have found that women are projected to make up about 51% of the workforce growth until 2018, at the very least. To maximize the full potential of this growth trend, it's imperative for female workforce leaders to have the knowledge and desire to guide the growth of others.
Julie touched on this important point when discussing how she first began to understand and see first-hand the importance of mentoring and leadership in her own personal life. "As a coach's daughter, I know first-hand the value of investing in people,as I have had the privilege of hearing the stories about the thousands of lives my Dad has changed throughout his 45+ years as a coach and mentor to students across Central Florida. It is my sincere hope that I can leave the same legacy and positive fingerprints on the lives I touch throughout my lifetime."
However, there are some surprising statistics about women not rising to the occasion, on both sides of the mentoring table. 1 out of 5 Women confirming in a LinkedIn survey that they have never had a mentor in their work environment throughout their career, and 95% of women admit to never seeking out a mentor. It leaves us wondering, why might this be?
Below are 3 areas of interest that may help you step out and make the first move toward becoming a more involved leader, or finding the mentor you need to help further hone and develop your skills and your connections to become one of the next great female leaders within your workplace and your industry as a whole.
1. FIND A CAUSE THAT IS SPECIAL TO YOU
Seacoast's Julie Kleffel is not only an incredible leader in the workplace, she is a special needs advocate that has testified in both Florida and Tennessee to create awareness and support laws affecting those with special needs. As the mother of a special needs child, she understands the unique challenges and needs of this community and uses her time, resources and dedicated fervor toward the cause. Some of the organizations she has volunteered for are the Down Syndrome Association of Central Florida and Step Up for Students.
2. GET INVOLVED IN LOCAL COMMERCE
As a business leader, it's important to support the local economy and lend your voice to the local economic conversation and development. Kleffel serves as the Lifetime Director of the West Orange Chamber of Commerce to advocate for local businesses in Central Florida and help strategize opportunities to build economic growth. There are numerous committees and groups in this area of interest to participate in, which can cater to any lifestyle or industry specialty. You can easily search online to learn more about your own local Chambers of Commerce.
Someone will be shaping the future of business and commerce in your local community because they chose to step up to the plate and lend their experience and understanding of what matters to businesses and to the local community – will it be you?
3. STAY ACTIVE WITH UP AND COMERS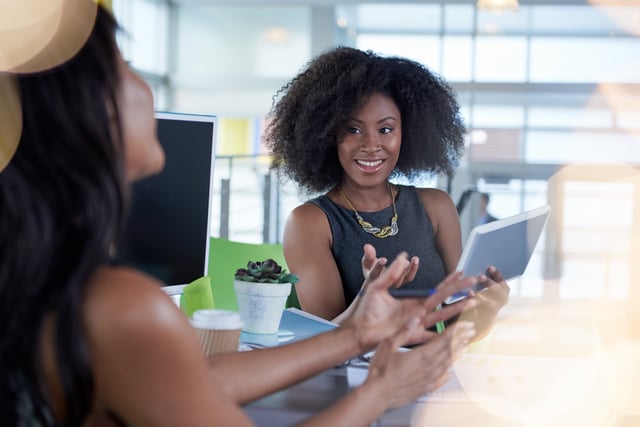 A great way to give back to the community while showcasing and building upon your expertise is getting involved in local initiatives that focus on training and developing future leaders and innovators of business. Did you know black females are the fastest growing group of entrepreneurs in the U.S.? The number of businesses owned by African American women has grown 322% since 1997. Because of this kind of upsurge in the business world, the need for strong, passionate female business leaders in these mentorship roles for up-and-coming entrepreneurs cannot be overstated.
Julie currently serves as the Executive Director for the National Entrepreneur Center, where the need for volunteers to step up to the plate and choose to lead is constant. This organization is know for its innovative approach to "Main Street Gardening" economic development and advanced training in Central Florida businesses.
LET'S DO LUNCH! JOIN OUR TWITTER CHAT WITH JULIE:
Finding the right place to serve (or to learn!) can be an overwhelming task, as the options are seemingly endless. Take your first step toward learning more about finding your place as a mentee or mentor in your local community by joining us on Twitter on April 26th at 12pm EST, as Julie takes over Seacoast's Twitter (@SeacoastBankCom) to provide insight on her own experiences as both a business and community leader, to open a discussion up for women in business to share their thoughts on mentorship, the role of women in business today as well as in the future, and dive deeper into how we begin to make a meaningful shift in the involvement and profile of female leaders in the workplace. If you have a question you'd love to see answered during this chat, be sure to submit it to the form below. We can't wait to learn more about your thoughts on the subject, so mark your calendars for April 26 at 12pm, and let's do lunch.
Other upcoming events include:
Orlando Business Journal Women Who Mean Business Honoree Reception: April 11
Orlando Business Journal Women Who Mean Business Awards Luncheon: April 29
ASK A WOMEN IN BUSINESS MENTOR A QUESTION:

About Julie Kleffel
Julie Kleffel is Seacoast Bank's EVP, Small Business Banking Leader. She joined the Seacoast leadership team as a result of a merger between her former institution BankFIRST and Seacoast Bank. She is responsible for developing, implementing and overseeing the bank's small business banking strategies and initatives statewide. Prior to the merger, Julie was BankFIRST's Executive Vice President and Commercial Sales Leader. She has over 19 years of overall banking experience.

As a fourth generation Central Florida native Ms. Kleffel has strong ties in the community. Ms. Kleffel currently serves as the Treasurer for the Garden Theatre, Executive Board Member for the Dr. Phillips YMCA, Finance Committee for the Central Florida YMCA, and Executive Director for the National Entrepreneur Center. She is a Lifetime Director for the West Orange County Chamber of Commerce. Previously she served as the Past President for the West Orange Committee 101, Past Chairman of the Roper YMCA, Past for Oakland Park Foundation Board, and Past Advisory Board Member for Westside VoTech. She is a graduate of Leadership West Orange.

A graduate of the ABA National and Graduate Commercial Lending Schools, Ms. Kleffel has also received the prestigious "Certified Lender Business Banker" designation from the Institute of Certified Bankers. She completed her professional education by graduating with distinction from the American Bankers Association Stonier Graduate School of Banking at the Wharton School of Business at the University of Pennsylvania in 2009. Her graduate Capstone Strategic Project was published by the ABA immediately following her graduation. She has served as an Advisor and Advocate for the school since 2009.
Connect with Julie Kleffel on LinkedIn