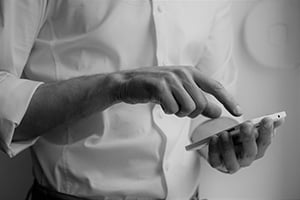 With costs of labor and nurse workload ever increasing, virtual nursing assistants are becoming more popular in order to help mitigate these problems. Patients are looking for ways to interact with brands digitally, and their healthcare provider is no exception.

According to Accenture, virtual nursing assistants are expected to bring about $20 billion to the healthcare industry by the year 2026. Industry experts see virtual nursing assistants as an important player in patients' health care journey, as well as a needed improvement in nursing.
What Do Virtual Nurse Assistants Do?
Beginning with trends like telenurses and teledocs, virtual nursing assistants take the experience to a new level. Instead of chatting with a healthcare professional on the phone or video conference, apps like MedWhat provide a chatbot experience, where patients can log their daily exercise and fitness habits, as well as ask questions, like "What are the symptoms of the flu?" This type of app is helpful for patients and healthcare professionals, as both can see and understand personal health data that might contribute to an ailment or condition.
Other apps like GreatCall are targeted to a specific audience, combining AI with wearable devices to gain more data on the patients' health. Many apps also include telenurses and teledocs in their services, as well as instructions for getting through a medical emergency, like performing CPR.
Get the latest updates, offers and helpful financial tips.
A Custom Solution for Your Practice
While these apps can be used by patients independent of their regular healthcare provider, Sensely partners with HCPs to create a unique nurse avatar, specific to their practice. These nurse avatars aid in outpatient care, as well as direct patients to the correct location for their ailment or illness (HCP, urgent care, emergency room), reducing the amount of unnecessary (and costly) visits to the emergency room.

If your nurses have a high workload, or your practice is losing time seeing patients that would be better served somewhere else, virtual nursing assistants may make a lot of sense for you. While the initial cost of customizing a virtual nurse assistant to your practice may seem high, you will benefit in the end from more connection with your patients, more cost-effective time in practice, as well as employees who have a manageable workload. If this is something you're interested in, contact your local banker using the form below to learn how you can leverage your finances to invest in virtual nursing assistants.