Expanding operations is a milestone that any entrepreneur strives for when starting their small business, and the increased financial and operational security that small businesses today are experiencing make it an ideal time to expand.
According to the Small Business Association, the rate of small businesses failing is drastically decreasing. When compared to larger corporations, which have eliminated more than 4 million jobs since 1990, small businesses have added at least double this number of positions within the same time frame.
Most small business growth comes from opening a new location or expanding existing operations as current space and capacity allows. Business growth can also include securing a higher level of financing, reaching greater exposure within your target audiences or even being acquired by a larger company. The goals of small business owners may vary, but proper preparation is always the key to business growth and success.
Each industry and business model is different, but all require a mixture of the right timing, target audience, development and patience to know when to start taking steps towards growth. There are a few common signs across the diverse fields of small businesses that owners can use to gauge the desire and necessity for operational growth.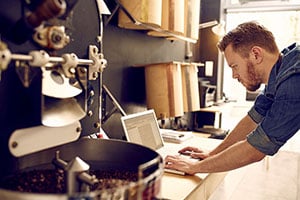 Reliable Demand
Taking an honest look at the demand for your small business's product or service is critical in estimating the future impact of expansion.
Take the time to accurately estimate the future demand of your business - this can help keep you in the green, determine the best future for your company and identify the key factors that drive your demand.
If you're gaining new business easily based on lasting resources like long-standing partnerships or through a strong reputation, then you'll be able to forecast the strength of the niche market you've created for your brand. The strength of your expansion will rely heavily on the foundation created with a loyal following, rather than leaning on current trends.
Operational Need
Having more business than you can handle is a problem that most small business owners would love to have. When the issue becomes consistent for a long period of time, however, you should consider where your operation can improve. Before jumping to expansion plans, consider other options that could address the lag in your process through a potentially more affordable solution.
Get the latest updates, offers and helpful financial tips.
Some Cost Effective Operational Solutions to Keep in Mind:
Make equipment improvements
Purchase additional equipment
Hire additional staff
Outsource some (or all) manufacturing
Partner with a complementary company
Consider new sources for materials
Re-evaluate the efficiency of current processes
Quality Control
Any small business operation relies on the perception of quality your customers expect and rely on. If maintaining the quality of your product and customer service is a struggle, you may need to consider focusing on expanding on your quality control efforts in order to continue providing a high level of service to your customers.
Expanding your quality control efforts could mean increasing customer service staff or offering additional policies and resources that aim to benefit your customers. It's best to correct any quality control issues prior to any additional business growth to keep your brand reputation and demand steady.
Adopting a mentality of quality control throughout your organization can help you remove defects from processes and continually provide high-quality products. Programs such as Lean, that highlights areas in which waste can be eliminated from production processes, and Six Sigma, which seeks to identify and remove the causes of errors and minimize variability. Using these philosophies on their own or in tandem can help cut production costs, improve speed of production and ultimately contribute to a higher-quality manufacturing process.
Financial Health
Once your business is able to maintain financial health - you've maintained liquidity, as well as steady operating margin - for an extended period of time, then it may be time to invest in growth opportunities. Feel secure in your decision to grow by sitting down with a financial advisor and reviewing and discussing your business's current financial state and potential future growth and earnings.
A business banking adviser can help you understand if the necessary capital is already in the bank, assist in developing a plan or refer you to experts in a variety of fields to assist in your business planning, and provide affordable financing options to help you grow your small business or find your way to the stability you need. There are a variety of financing options to consider for funding your expansion or securing the funds you need to stabilize or improve your current operations:
From managing unexpected costs to covering seasonal ups and downs in earnings to planning for a large project, a business line of credit allows you to cover the costs you need to continue striving toward your goals.
Whether you're considering a brand-new location or looking to overhaul your current facilities, this type of loan may be a great fit to meet your needs.
Investing in new equipment may be more efficient through a repayment plan rather than purchasing it outright, with low fixed rates that give you the flexibility to pay back the amount of the loan over time.
If you're not quite sure which, if any, of these solutions would be the best fit for your business's needs, would be happy to discuss your options with you and provide more information to help you make an informed decision in the best interest of your operation.
An important step in preparing for growth is creating an action plan before excessive demand begins affecting your revenue or your business's reputation for reliability. Getting advice from trusted mentors can help owners find out where to start, in addition to resources that can help organize your business's big-picture goals to share your vision with other entities.
Want to learn more about how to nurture and grow your small business? Learn more about Seacoast Bank and how we can help you jump-start your business's growth. Contact your local banker today by using the form below.