Dentists in Florida have an opportunity for growth because the state is experiencing a shortage of qualified dentists. However, the industry is not without its challenges. Regulatory changes, insurance providers and billing all take time away from treating patients. So what can you do to help streamline your practice and grow your patient base? Here are 7 questions you should be asking about your dental practice.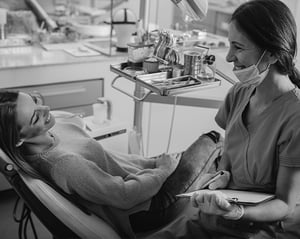 1. Are you taking advantage of resources available to you?
The Florida Dental Association (FDA) (and other resources we've included below) offers up-to-date information on new regulations, licensing requirements, practice management tips and continuing education for dentists. Membership in organizations like this can help you stay on the cutting edge of developments in dentistry.
2. Is there a plan in place for how you communicate changes in insurance coverage, regulations, etc. to your patients?
When something changes, patients want to know too. Being transparent in how you communicate issues, developments and other information to your patients can help you build trust and a good reputation.
3. Do you have a marketing plan in place?
Keeping your existing patients happy is great, but are you encouraging new patients to come in for cleanings? Or advertising new services like screenings or teeth whitening? A marketing plan with clear goals and actions (e.g., create a newsletter or advertise on a bus) can help you grow your practice's patient base.
Get the latest updates, offers and helpful financial tips.
4. Have you considered partnering with a hospital or medical practice to help you expand?
Medical professionals have partnered together for years, building one-stop shops for your general practitioner, specialist and even laboratory services. If you're looking to establish a new location, consider working with a hospital or large practice in your area to combine forces. The American Dental Association (ADA) is working to place community dental health coordinators inside hospitals around the country to help patients navigate oral health and connect with dentists.
5. Are you shopping for the best price on supplies and materials?
It's easy to fall into the routine of ordering the same things from the same people. Consider reevaluating your suppliers on an annual basis to make sure you're getting the best products for the best price.
6. Are you setting yourself up for financial success?
According to the FDA, many dentists struggle with getting their financial practice in order. It's important to take the time to set up the money side of your business to ensure you're successful. You should have a plan for how to handle income, salary, business overhead expenses and billing patients.
7. Do you have a plan for retirement?
Important enough to call out on its own is your retirement. Working for yourself is great, but don't forget to plan for your future with retirement accounts. These can be individual retirement accounts (IRAs), Roth IRAs or 401(k) plans as your practice grows.
Resource List for Dentists
We've put together the following list to help you keep your dental practice running smoothly.
Now that you've got a starting point, you can give your practice a checkup and see where you stand. At Seacoast Bank, we're here to help. To find out more about our solutions for business banking, contact your local banker using the form below.