Dr. Barbara Sharief, owner of South Florida Pediatric Homecare, was trying to find a way to buy an office building in 2005. Her pediatric healthcare business provides intensive care to patients on ventilators and with chronic debilitating conditions at home. In order to grow she needed an administrative headquarters in Miami, as well as space to expand to hire more employees and store medical records. Her bank at the time didn't seem to have any answers or have a business banker available to provide the help she needed.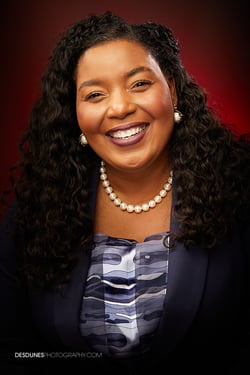 "I was trying to purchase a building to expand my company, and the bank that I had been with for 14 years could not get the job done," Sharief said. "Clinton Taylor of Seacoast Bank reached out just checking to see if I needed anything. I told him about my situation and within a matter of weeks Seacoast purchased my debt from my previous bank, financed my building, and granted me a line of credit to grow my business."
In 2017, Seacoast provided Sharief a loan to purchase a high-volume scanner to convert her paper files to electronic medical records.
Sharief is a Broward County Commissioner and former Mayor of Broward County. She's watched the needs of her community and industry change and has worked hard to change with it.
"You have to be observant and adjust to your clients' needs in order to succeed as an elected official and in business," Sharief said. "Seacoast has always been willing to help my business evolve in order to continue succeeding."
Get the latest updates, offers and helpful financial tips.
In 2019, Seacoast helped her finance the construction of a stand-alone building.
"Clinton follows the project and communicates with all parties involved to ensure that things stay on track," Sharief said. "We are looking at moving into our new building in a matter of months. I am so humble and eternally grateful for the help that Seacoast and Clinton have given me."
In March of 2020, one of the biggest business challenges Sharief has ever faced hit. She noticed that COVID-19 had caused her caseload to change. Considering it is a respiratory illness, it made sense to Sharief that her business was serving more patients, but she did not anticipate insurance payers would pay slower than usual.
"My cash flow was down and I was struggling to make my payroll," said Sharief. "I asked Clinton if Seacoast was processing Paycheck Protection Program (PPP) loan applications and he said yes."
Taylor immediately sent Sharief a list of the documents he would need to complete her application and asked that she return them as soon as possible. There was intense demand for PPP loans, but limited funding. Sharief delivered the requested documents that same day. Within two days, Taylor confirmed they would process the loan. Within 10 days of submitting the application, Seacoast had closed the loan and delivered the funds to Sharief's account.
Sharief said the loan saved her company. The business has more than 200 registered nurses, licensed practical nurses, home health aides, certified nursing assistants, physical therapists, occupational therapists, speech therapists and medical social workers.
"I have a very large payroll for my nurses, and I was afraid I would fall short. The PPP helped me to make my payroll and continue to cover my overhead costs and expenses," said Sharief. "If it weren't for Seacoast helping me get the PPP loan as quickly as it did, my company would have gone out of business."
Will there be more changes in the months ahead?
"Of course there will be," Sharief said. "But I try not to worry. I know Clinton and Seacoast will be right there helping me adapt to whatever comes our way."