Mothers often give great advice, even about banking.
"My office manager's mom worked for Seacoast," said Jeffrey Tucker, CEO and owner of Premier Physical Therapy and Sports Medicine, Inc. "She was always in my ear to go to Seacoast. I went with another bank at the time and regretted it."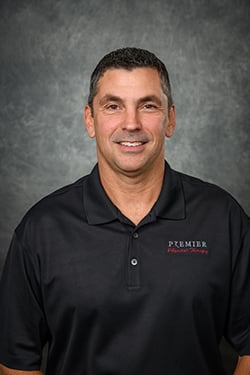 In 2015 Tucker finally switched over to Seacoast. His first challenge for the 90-plus-year old Florida bank was to help him secure loans to purchase the buildings his business rented. Tucker's physical therapy practice treats and rehabilitates all sports injuries, musculoskeletal injuries, auto injuries, spinal pain, osteoarthritis, balance problems and more. At the time it had six locations in Port St. Lucie, St. Lucie West, Fort Pierce, Palm City, South Stuart and Jensen Beach. Tucker has since opened an additional location in Melbourne and soon will be opening a facility in western Port St Lucie near Paar. An important part of his business are the buildings where patients meet with therapists and use specialized equipment.
During the process of purchasing the buildings that housed his business, Tucker began to think about improving the overall performance of his business and expanding it for the possibility of a selling it someday. He decided to call his banker, Vanessa Farnes with Seacoast.
"Working with my Seacoast banker, she helped me with some essential planning. Based on the plan, we purchased equipment, refinanced loans and improved overall cashflow," said Tucker. "She helped us grow, save money and become more profitable – all the things we needed for today and tomorrow."
When asked why he left his previous bank, Tucker said he felt like a number to them.
"I didn't enjoy the relationship," said Tucker. "It was a much larger bank and very hard to get a hold of people when there were issues. They never would have sat down with me and helped me plan and grow. Nothing was ever convenient with them."
Get the latest updates, offers and helpful financial tips.
Tucker feels the relationship he has with Seacoast is what every business owner needs.
"Whenever I have a question, it's easy to reach out and talk to Vanessa or anyone else at Seacoast," said Tucker. "Her answers and guidance are actually meaningful because she knows me and my business."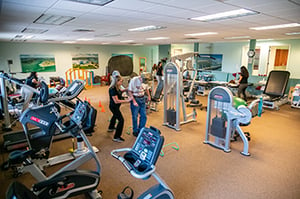 Seacoast continued to stand by Tucker as the COVID-19 pandemic impacted his business in mid-March 2020. Despite adding visits in patients' homes and utilizing telemedicine, it wasn't enough to maintain the needed revenue. Within three to four weeks of the lockdown he had lost 70% of his outpatient business. The number of patient visits to his facilities was cut by more than half.
"We were still getting referrals from doctors' offices, but patients weren't comfortable coming in, said Tucker. "We were following safe practices in light of the pandemic, but we treat a lot of elderly people, and they didn't want to leave their homes or receive visitors."
After more than a few sleepless and stressful nights, Tucker reached out to Farnes. She immediately responded and helped him defer payments on his business and personal loans he had with Seacoast. She told him his business might be a candidate for a Paycheck Protection Program (PPP) loan and helped him apply.
"During the process I was calling Vanessa in the evenings and Sundays, she was always available and kept me informed up to the minute about PPP," said Tucker. "My friends with other banks weren't getting half the information I was and were asking me who I was banking with. It made me realize how good my bank was."
Tucker submitted his application on a Sunday afternoon. His banker called him Monday and told him to be ready for next steps including signatures. The next morning – Tuesday, his funding was secured.
Tucker was able to hire back all the employees he had furloughed. His patient visits have begun to increase after falling for multiple weeks in a row. Referrals, which had dried up, also have begun to increase in number.
"The loan allowed us to stay operational. We would have closed without the loan," said Tucker. "I was able to bring back the employees I had furloughed. It was a horrible feeling to have to let them go. I have the best staff on the Treasure Coast. To be able to bring everyone back was amazing."to increase after falling for multiple weeks in a row. Referrals, which had dried up, also have begun to increase in number.
Tucker said he has used as many as five different banks over the years.
"There's no comparison between Seacoast and any other bank that I've used in the past. Because of Seacoast, my business is still around to see numbers trend upward again," said Tucker.
For more information about business banking services at Seacoast Bank, contact your local banker by using the form below.