Risky and Safe Sources of Capital for Small Businesses
You might have a great credit score or profitable company, but that's often not enough to get you a personal or business loan. Even if you'll qualify for a loan, there are things you can do to increase the amount of credit you can get and pay a lower annual percentage interest rate.
Follow these five steps before applying for any credit card or student, vehicle, home or business loan and you'll increase your chance of getting the best deal possible.
#1 Pull your Credit Reports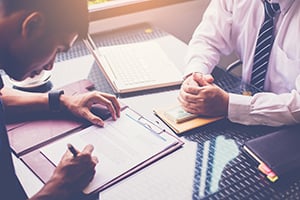 One of the main factors lenders use to decide whether or not to give you a loan, letter of credit,credit card or other capital is your credit history. They get your credit history from one of the three major credit reporting companies: Equifax, Experian and TransUnion.
Want to see what potential lenders will see when they pull your credit reports? Get free copies of your three credit reports by visiting AnnualCreditReport.com. Follow the instructions and you'll be able to see them online or have them mailed to you.
You can also visit the websites of the three agencies and request your reports one at a time.
You can get one free copy of your report each year. If you want to see your reports more often, you can pay for them, ordering them directly from the three agencies, or by signing up for a credit monitoring agency.
Get the latest updates, offers and helpful financial tips.
#2 Correct any Errors
Once you have your credit reports, make sure everything on them is correct. Look for any discrepancies in the spelling of your name, a previous address, employer history or status of credit cards or loans you currently have or had in the past.
Negative statements on your credit reports are known as derogatory items. Derogatory items can lower your credit score or cause potential lenders to deny you credit. Derogatory items include:
Late payments

Missed payments

Debt consolidation

Bankruptcy

Collection

Garnished wages

Loan default
If you see any incorrect information, follow the steps at the website of the credit agency that has the error. This process can take up to 30 days. It will go quicker if you can get the lender who made the derogatory statement to ask for its removal. If not, then you can challenge the item. If you don't get the result you think is fair, you can then take legal action.
Even if a derogatory item on your report is correct, you can add a note to the report explaining your side.
#3 Increase your Credit Scores
If you have credit cards, you might be able to get your current credit score from at least one of the reporting agencies. You can also get your scores directly from each of the three agencies. This might be the best way to get the most accurate score, since there are literally dozens of scores available from FICO and VantageScore, the two main scoring companies.
If you have multiple credit cards with a scoring review, you might notice that the scores they give you vary from card issuer to card issuer. Look for your rank among other U.S. consumers to get a better feel of where you stand.
Your credit reports will not provide your credit scores, but they will tell you what's affecting your scores. This can include missed or late payments, or too much of your available credit used.
Use this information to try and raise your credit score. Paying down cards is one way to quickly improve your score. Don't close cards if you're not using them. The older they are, the more they raise your score. Additionally, the more credit you have that you're not using, the better. When you close a card, your debt-to-credit ratio increases.
Opening a new card to increase your available credit might not be a good idea. New cards can lower your score, and credit inquiries (which ding your score) are often required to get a new card.
#4 Monitor your Credit
Many credit-monitoring services aren't very accurate, but they can help you detect major problems that might pop up shortly before you apply for a loan or credit card. Talk to your banker about any credit monitoring services they recommend and keep an eye on your information up until you get your loan. It's probably a good idea to continue to monitor your credit even if you're not applying for any more.
#5 Meet with a Potential Lender
Your first meeting with a potential lender, especially a bank, should be to gather information about what you'll need to do secure a loan. A Seacoast Bank representative can help you determine which documents you'll need to provide with a loan application, such as business balance sheet, recent bank statements, list of receivables or past three years' tax returns.
Your loan officer can review your credit reports and scores with you and tell you how they'll affect your ability to get a loan, the amount you'll get and the interest rate you'll pay.
You're Ready to Apply
Once you've reviewed your credit reports, corrected any errors, done your best to raise your credit scores and put together the correct, up-to-date documents, you're ready to apply for your loan.
Follow the instructions your bank representative gives you and review your application with him or her one more time before you formally submit your application.
Meeting with a Seacoast Bank loan officer can help you learn about financial products and programs you didn't know were available that might be right for your business.
To learn more about your options, call us now or schedule an appointment with an advisor.