National Small Business Week is being held May 1-7, but we're continuing the celebration throughout the month of May, discussing small businesses and the crucial role they all play in the success of our thriving local communities.
Join us as we cover best practices, next steps toward success and the challenges small businesses face (as well as how to overcome them). If you're a small business owners or dream of one day following your entrepreneurial dreams, you don't want to miss this month-long series of useful content and tools for success.
The Best Conferences for Small Businesses to Attend in 2016
As a small business owner you need to grow if you are serious about growing your small business. Because of this, it's highly recommended to attend at least one of the best small business conferences each year.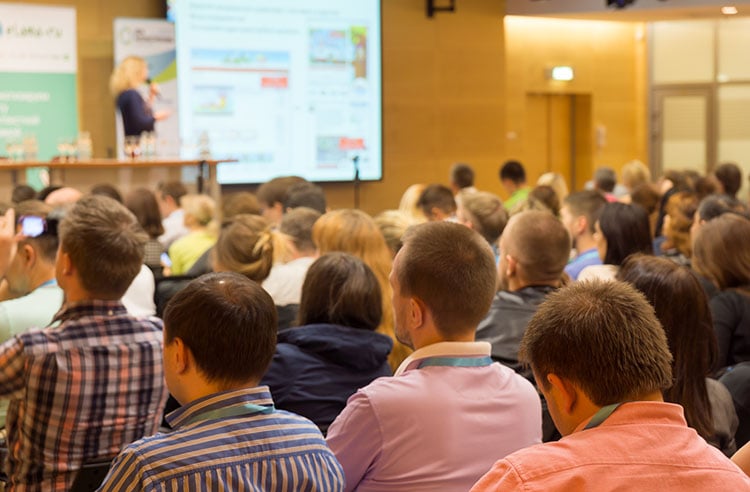 To make this a little easier for you, Susan Solovic has compiled a list of some of the best tech, startup and small business conferences 2016 has to offer. Do a little exploring and you'll find:
Great 2016 marketing conferences,
Top tech topics,
Business networking opportunities,
Cutting edge online strategies,
Social media marketing conferences,
And much more.
Further, it's likely you can find a small business conference that's not too far away from your home turf and at a time that's convenient for you to attend in 2016. And don't forget about your team. Sending your employees to one of the best 2016 small business conferences not only brings new skills and knowledge into your business, it's a tangible way to demonstrate your support and one of the best ways to build loyalty.
In some cases, organizers hadn't yet confirmed the exact dates of their events. Check their websites for more details. Also – with a Canadian and a global exception – all of these top 2016 small business conferences are in the United States. There are some fantastic business and tech conferences around the world, and especially in Europe, if foreign travel would work into your remaining 2016 plans.
Finally, be sure you and your employees take a strategic approach to your conference attendance so you squeeze out every last drop of good information and make all the connections you need to fuel your 2016 success.


| | | | |
| --- | --- | --- | --- |
| Incite Summit West | May 17-18 | San Francisco | Web info |
| GrowCo 2016 | May 17-19, 2016 | Las Vegas | Web info |
| The Startup Conference 2016 | May 19, 2016 | Redwood City, CA | Web info |
| Small Business Market Expo | May 21, 2016 | Atlanta, GA | Web info |
| Techweek Chicago 2016 | June | Chicago | Web info |
| BMA16: Masters of B2B Marketing | June 1-3 | Chicago | Web info |
| America's Small Business Summit 2016 | June 13-15, 2016 | Washington. D.C. | Web info |
| Velocity Conference | June 20-23 | Santa Clara | Web info |
| The Corporate Social Media Conference | June 20-21 | New York City | Web info |
| Techweek Toronto 2016 | July | Toronto | Web info |
| Sage Summit | July 25-28 | Chicago | Web info |
| #BlogHer16 | August 4-6 | Los Angeles | Web info |
| 7th Lean Startup Conference | Fall 2016 | San Francisco, CA | Web info |
| Techweek Kansas City 2016 | Sept | Kansas City | Web info |
| Content Marketing World | Sept 6-9 | Cleveland | Web info |
| MozCon | Sept 12-14 | Seattle | Web info |
| TechCrunch Disrupt San Francisco | Sept 12-14 | San Francisco | Web info |
| Business Innovation Factory (BIF) Summit | Sept. 16-18 | Providence, RI | Web info |
| Velocity Conference | Sept. 19-22 | New York City | Web info |
| Techweek New York 2016 | Oct | New York City | Web info |
| B2B Marketing Forum | Oct 18-21 | Boston | Web info |
| WSJDLive | Oct. 24-26 | Laguna Beach | Web info |
| Techweek Miami 2016 | Nov | Miami | Web info |
| Techweek Dallas 2016 | Nov | Dallas | Web info |
| Techweek Los Angeles 2016 | Nov | Los Angeles | Web info |
| Empire Startups Fintech conference | Nov | San Francisco | Web info |
| Global Entrepreneurship Week | Nov | Worldwide | Web info |
| Inbound 2016 | Nov. 8-11 | Boston | Web info |
| World Business Forum: Be Beta | Nov. 17-18 | New York City | Web info |
| Growth Marketing Conference | Dec. 2-4 | San Francisco | Web info |
If you, have questions sparked by the list above or are looking for some insight in regards to your own small business development, there's no better place to find it than from a seasoned small business owner, banker and professional -Don't miss your opportunity to ask Seacoast's Executive Vice President, Small Business Banking Leader, Julie Kleffel any question you'd like about small business in the form below. Learn more about Seacoast's small business banking solutions.
AND mark your calendars for May 31st at 12pm EST, as Julie hosts a #SeacoastSmallBiz Twitter Chat with Seacoast Bank(@SeacoastBankCom) to provide insight on her own experiences as a successful small business owner, mentor and lender, and dive deeper into how to launch, nurture and grow successful small businesses in the state of Florida.
ASK A SMALL BUSINESS EXPERT A QUESTION:
About Julie Kleffel
Julie Kleffel is Seacoast Bank's EVP, Small Business Banking Leader. She joined the Seacoast leadership team as a result of a merger between her former institution BankFIRST and Seacoast Bank. She is responsible for developing, implementing and overseeing the bank's small business banking strategies and initatives statewide. Prior to the merger, Julie was BankFIRST's Executive Vice President and Commercial Sales Leader. She has over 19 years of overall banking experience, plus was a successful entrepreneur, having owned and sold four small businesses.

As a fourth generation Central Florida native Ms. Kleffel has strong ties in the community. Ms. Kleffel currently serves as the Treasurer for the Garden Theatre, Executive Board Member for the Dr. Phillips YMCA, Finance Committee for the Central Florida YMCA, and Executive Director for the National Entrepreneur Center. She is a Lifetime Director for the West Orange County Chamber of Commerce. Previously she served as the Past President for the West Orange Committee 101, Past Chairman of the Roper YMCA, Past for Oakland Park Foundation Board, and Past Advisory Board Member for Westside VoTech. She is a graduate of Leadership West Orange.

A graduate of the ABA National and Graduate Commercial Lending Schools, Ms. Kleffel has also received the prestigious "Certified Lender Business Banker" designation from the Institute of Certified Bankers. She completed her professional education by graduating with distinction from the American Bankers Association Stonier Graduate School of Banking at the Wharton School of Business at the University of Pennsylvania in 2009. Her graduate Capstone Strategic Project was published by the ABA immediately following her graduation. She has served as an Advisor and Advocate for the school since 2009.
Connect with Julie Kleffel on LinkedIn

Read the original article on SusanSolovic.com. Copyright 2016.