Independent Banker magazine, the award-winning monthly publication of the Independent Community Bankers of America, is pleased to announce Busey Bank, Bank of Ann Arbor and Seacoast Bank as the three Social Media Leaders of 2016. IB magazine recognizes community banks that effectively utilize social media to further their messaging, cross-sell, promote bank events or special services.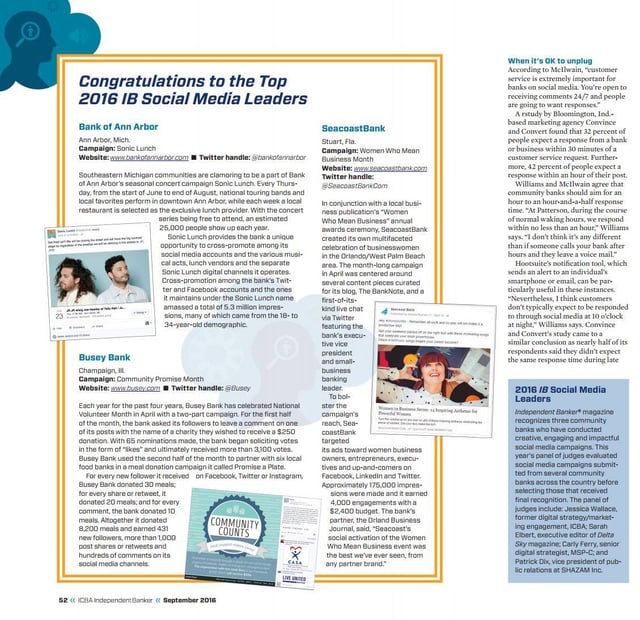 This year's panel of judges evaluated social media campaigns of more than 40 community banks, and the honor recognizes the three community banks that conducted creative, engaging and impactful social media campaigns. This is the fourth year the magazine has held this contest, with SHAZAM as this year's sponsor.
"Seacoast Bank believes social media is the window into your brand's soul and engaging through this channel offers a window into your brand's heart," said Casey Koppenhoefer, Seacoast Bank's VP Digital Marketing Officer. "We are honored to be recognized as a 2016 Social Media Leader among community banks and wish to thank our amazing communities in Florida, our passionate associates, and most notably our customers for inspiring us to lead the way each and every day."
In conjunction with the Orland Business Journal's "Women Who Mean Business" annual awards ceremony, Seacoast Bank created its own multifaceted celebration of businesswomen in the Orlando/West Palm Beach area. The month-long campaign centered around several content pieces curated for its blog, The BankNote, and a first-of-its-kind live Twitter chat featuring the bank's executive vice president and small-business banking leader. To bolster the campaign's reach, Seacoast Bank targeted its ads toward women business owners, entrepreneurs, executives and up-and-comers on Facebook, LinkedIn and Twitter. Approximately 175,000 impressions were made and it earned 4,000 engagements with a $2,400 budget. The bank's partner, the Orland Business Journal, said, "Seacoast's social activation of the Women Who Mean Business event was the best we've ever seen, from any partner brand."
Profiles of the three winners will be highlighted in the September 2016 issue of Independent Banker magazine. Check them out here.
About Independent Banker
Independent Banker is the award-winning monthly publication of the Independent Community Bankers of America—the number one source ICBA members rely on for community banking news. IB covers the news topics and trends that are important to the nation's community bank senior executives. The magazine's mission is twofold: to keep members informed about and connected with their national association and its activities; and provide members with timely, relevant information on developments to growth their business franchise within the rapidly evolving financial services industry. For more information, visit http://independentbanker.org.