March served a great reflection on Women's History Month honoring the path women have traveled to get to where we are today, but throughout the month of April we're looking forward to the future of strong women in business, so let's continue the conversation about the importance of women in leadership roles.
Join us as we discuss female leadership roles in businesses and communities, tips on how businesswomen can pull ahead in the workplace and business ownership, interesting facts and statistics about businesswomen and leaders, and how women can step up within their industries and lead a new appreciation of female-driven business.
Anti-Slavery Activist Harriet Tubman to Replace Jackson on $20 Bill
Exciting news for women of the US!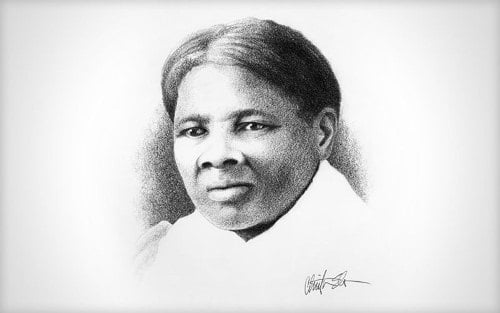 Abolitionist Harriet Tubman's image will appear on a new series of $20 bills, becoming the first African-American to appear on U.S. paper currency and the first woman in more than a century, the Treasury Department announced Wednesday.
In replacing replace President Andrew Jackson on the front of the $20 bill, the Treasury Department abandoned a previous plan to have a woman replace founding father Alexander Hamilton on the $10.
Treasury Secretary Jacob Lew said the about-face came in response to an unexpected show of support for Hamilton in the weeks after he announced that plan last June — a response fueled, in part, by the popularity of the Pulitzer Prize-winning Broadway musical based on Hamilton's life by Lin-Manuel Miranda.
"The show has certainly caught people's imagination, and I think it's a great thing," Lew told USA TODAY. "What we've been doing on the currency and what they've been doing on the show were really quite complementary."
But just as important was a book Lew read early on in his quest to find the woman most worthy of being honored on U.S. currency: Catherine Clinton's Harriet Tubman: The Road to Freedom, published just last year. What he found, he said, was a different Tubman than he learned about in school.
Clinton said Tubman is a much more multi-dimensional figure than she was portrayed as in the children's books that defined her image for decades. "I think most people are unaware of the full dimensions of her Civil War career. I'm a Civil War historian, and I was unaware," said Clinton, a professor at the University of Texas at San Antonio. "It took her 30 years to get her pension from the government, because she was a spy and a scout and she worked behind enemy lines."
The $5, $10 and $20 bills will all be redesigned over the next four years, but will be put into production at various times over the next decade.
The long-awaited currency redesign will have a cascading effect on bills of all denominations over the next decades, as new security features are introduced to make the bills harder to counterfeit. New bills will also have tactile features to make them easier for blind citizens to distinguish.
And, Lew said, the redesign will affect the fronts and backs of each denomination. "We want people to pay attention to the whole bill," he said. Among the changes announced:
President Lincoln will remain on the front of the $5 bill, but the image of the Lincoln Memorial on the back will be redesigned to depict historic events that happened there: Opera singer Marian Anderson's 1939 concert and Martin Luther King Jr.'s 1963 "I Have a Dream" speech.
The back of the $10 bill will tell the story of the women's suffrage movement, which culminated in the 19th amendment giving women the right to vote in 1920. Among the women to be honored on the back of that bill: Lucretia Mott, Sojourner Truth, Susan B. Anthony, Elizabeth Cady Stanton and Alice Paul.
To make room for Tubman on the front of the $20 bill, Jackson will be moved to the back where he'll be incorporated into the existing image of the White House. Lew said that image could depict the statue of Jackson riding horseback in Lafayette Square across Pennsylvania Avenue from the White House.
When completed, the currency changes will mark the biggest overhaul of the look of U.S. currency since 1928, when the current system of "dead presidents" was designed.
Women on 20s, a group that had lobbied for a woman on the $20 bill, said they're happy to see Lew abandon his original plan to leave Jackson on the front of the $20 bill — but they're worried that it could be more than a decade before the new Tubman $20s see the inside of a wallet.
"I'm happy to have a commitment. I'd be happier to have a date," said Susan Ades Stone of Women on 20s.
The Treasury Department has said it needs to redesign the $10 bill next because it's most prone to counterfeiting — even though there are four times more $20 bills in circulation, according to Federal Reserve data. Lew said he can't completely control the sophisticated retooling process that will take place at the Bureau of Engraving and Printing, which is currently set up to produce only one series of bills at a time.
"There's a reason it takes so many years to design and produce money," he said. "These timelines are not written into law. It's a question of how fast these wheels can move. It can be sped up."
He acknowledged that the next Treasury secretary could change course, but would likely face a backlash if he or she decided to take Tubman off the $20. "I don't think someone is going to want to do that," he said.
President Obama launched the effort in 2014, when he said he had gotten a letter from a girl from Massachusetts saying women should appear on currency. Obama called it "a pretty good idea."
While Congress maintains authority over coins under the Constitution, the Treasury secretary has the legal authority to design paper currency — except for the $1 bill, where Congress requires a portrait of President Washington. And according to a memo obtained by TheWall Street Journal, Lew considered putting women's voting rights pioneer Susan B. Anthony on the $10 bill early last year.
He then changed course and decided to ask for public comment about which woman should be on the bill, and the resulting feedback from social media campaigns forced him to delay a decision until this year.
"We said we were going to listen to people, and we actually listened to people. And there was a legitimate concern about what bill a woman goes on the front of, and what story we had to tell," Lew said.
Former secretary of State Hillary Clinton, the leading Democratic candidate for president, praised the pick once the news broke. "I can't think of a better choice than Harriet Tubman," she said on Twitter.
Historian Doris Kearns Goodwin, who had personally lobbied Lew to put Eleanor Roosevelt on money instead, said she was heartened that the process generated such passion about American history on all sides.
She hopes more and more women will be added to currency "such that a century from now Americans will begin to ask, 'Where are the men?'"
While history is incredibly influential and crucial to our future, inspiration can also come on a much more local scale. If you are looking for some insight in regards to your own professional development, there's no better place to find it than from a seasoned professional and female business leader who truly does it all - Don't miss your opportunity to ask Seacoast's Executive Vice President, Small Business Banking Leader, Julie Kleffel any question you'd like about being a women in business in the form below.
AND mark your calendars for April 26th at 12pm EST, as Julie takes over Seacoast's Twitter (@SeacoastBankCom) to provide insight on her own experiences as both a business and community leader, to open a discussion up for women in business to share their thoughts on mentorship, the role of women in business today as well as in the future, and dive deeper into how we begin to make a meaningful shift in the involvement and profile of female leaders in the workplace.
ASK A WOMEN IN BUSINESS MENTOR A QUESTION:

About Julie Kleffel
Julie Kleffel is Seacoast Bank's EVP, Small Business Banking Leader. She joined the Seacoast leadership team as a result of a merger between her former institution BankFIRST and Seacoast Bank. She is responsible for developing, implementing and overseeing the bank's small business banking strategies and initatives statewide. Prior to the merger, Julie was BankFIRST's Executive Vice President and Commercial Sales Leader. She has over 19 years of overall banking experience.

As a fourth generation Central Florida native Ms. Kleffel has strong ties in the community. Ms. Kleffel currently serves as the Treasurer for the Garden Theatre, Executive Board Member for the Dr. Phillips YMCA, Finance Committee for the Central Florida YMCA, and Executive Director for the National Entrepreneur Center. She is a Lifetime Director for the West Orange County Chamber of Commerce. Previously she served as the Past President for the West Orange Committee 101, Past Chairman of the Roper YMCA, Past for Oakland Park Foundation Board, and Past Advisory Board Member for Westside VoTech. She is a graduate of Leadership West Orange.

A graduate of the ABA National and Graduate Commercial Lending Schools, Ms. Kleffel has also received the prestigious "Certified Lender Business Banker" designation from the Institute of Certified Bankers. She completed her professional education by graduating with distinction from the American Bankers Association Stonier Graduate School of Banking at the Wharton School of Business at the University of Pennsylvania in 2009. Her graduate Capstone Strategic Project was published by the ABA immediately following her graduation. She has served as an Advisor and Advocate for the school since 2009.
Connect with Julie Kleffel on LinkedIn
Read the original article on USAToday. Copyright 2016.