March served a great reflection on Women's History Month honoring the path women have traveled to get to where we are today, but throughout the month of April we're looking forward to the future of strong women in business, so let's continue the conversation about the importance of women in leadership roles.
Join us as we discuss female leadership roles in businesses and communities, tips on how businesswomen can pull ahead in the workplace and business ownership, interesting facts and statistics about businesswomen and leaders, and how women can step up within their industries and lead a new appreciation of female-driven business.
How Can Women in Business Pull Ahead of the Pack?
The sign of a great leader is a dedication to development both on a personal and professional level. Proactively planning and making steps toward achieving the vision for your business and career looks different for each of us depending on the goals we've set and the future we foresee, but for female business owners there are a few areas of focus that can pull your business ahead of the pack, no matter your industry or business size.
Hire Top Talent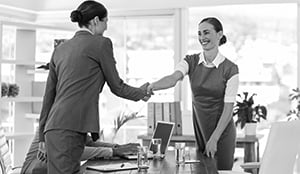 Female-owned businesses contribute just 14% of overall employment,according to the National Association of Women Business Owners, so smart and impactful hiring is imperative to ensure your team stands out among the competition.
One of the main ways to attract top talent is a strong, positive reputation of not only your business as a whole, but also your leadership style. Businesses and business leaders within local communities are more connected and "under the microscope" than ever due to the level of accountability and transparency that consumers and communities have come to expect, making your peers' and community members' perception of your style, knowledge, and platform more important than in years past.
You can't always control opinions, but you can make a commitment to what you want your reputation and the reputation of your business to be, and work diligently toward making that vision your reality.
Some areas female business leaders like you can consider for reputation management, and thereby hiring potential, start through paying attention to small details in your daily operations.
Ensure the health of your company culture by creating a positive workplace that makes your team happy to come to work each day. This begins with you and how you live out the qualities, actions and performance you'd like to see from your team.
Make your staff feels valued and respected in their opinions. The importance of this cannot be overstated.
As a company, get involved with causes in your local community to not only give back to your customers, but to also build a positive presence and allow your team members the opportunity to have an impact and make a contribution they're proud of. Listen to your team about what causes matter to them and what they'd be excited to do in regards to community service/participation.


After all, according to PeopleSpark, companies with engaged employees outperform those without by up to 202% and highly engaged employees are 87% less likely to leave their company.
Build Business Credit
Out of the national average of entrepreneurs making a six-figure salary, women are still making a smaller income than their male counterparts.
On average, women in Florida specifically are paid 85 cents for every dollar paid to men, according to the National Partnership for Women & Families.
Because of these additional factors mounted against women in business, a crucial element many female leaders will rely on to acquire additional funding is their business credit score.
To investment and lending entities, your business credit score is the picture of the business' financial health. Studies show that the majority of female business owners have a lower business credit score than males in the sector, and are putting their personal credit scores at risk to secure funds.
Help your company prepare for future financial needs, ideally before they even occur, while building healthy financial habits by paying attention to the smaller details and changing habits that you may not know are damaging, outlined in the clickable "building healthy financial habits" link.
An easy place to start is ensuring your business is paying current debt back on time and in full whenever possible. The ideal debt ratio is under 30% of the credit amount available to your business, so when it comes to borrowing, choose your priorities wisely and make a long term plan so as to not load your business down with too much debt in a short amount of time. Many vendors and suppliers will extend business lines of credit to their customers. The additional line will help your score as long as it's paid on time and doesn't increase your debt ratio past a healthy level.
Get the latest updates, offers and helpful financial tips.
Settle in the Right Location for Your Business to Flourish
Another impactful decision to prepare for a scalable business starts with deciding on a few important questions about location.
Are the current operations needs met with the current space?
Can the business margins improve from a different space or additional space?
What revenue goals need to be met for a future location?
What is the timeline for scaling the business into a larger operation?


If you foresee a new space or additional location in your businesses future, read more on the process of applying for a Commercial Real Estate Loan to ensure you're properly preparing and considering all of the key factors in determining when and if this is the right next step for your business. The sooner you start preparing, the smoother the process will be.
Start the process by calculating the cost of obtaining the property and creating a detailed business plan outlining the impact the investment will have within your business. Next take a very careful look at your finances. This is where starting preparation as soon as possible is important.
Lenders will need to see that your business is financially responsible with a healthy ratio between capital, debt, and income. Having you finances in good standing and a detailed plan will increase the possibilities of getting a loan at a favorable rate, and reduce obstacles throughout the process.
Another tip to help increase your appeals to lenders – especially working with community banks that lean towards supporting smaller local businesses – is having a location in mind. It doesn't have to be set in stone, but the proposed area will assist in giving a realistic picture to your overall plans.


Invest in Other Female Businesses
The surrounding community of a business can greatly impact a company's success. That's why it's so important for female entrepreneurs to consider how they can grow with other female-owned businesses in the area.
Supporting each other will help both businesses grow and strengthen the influencing network within the local economy. There are a variety of changes that can happen from simply evaluating your current business operation. Consider finding local female vendors that you can use for suppliers and outsourced services. Building a relationship with them based on these intentions of growing and flourishing the community is a great foundation to keep business affordable and local.
The impact investment industry is another option if you are looking to make some extra capital work for you. Studies show that the impact investment industry is not only growing, but female businesses are showing the highest financial and social return.